Ethereum is up over 6% in the past 24 hours as the market momentum intensifies. After trading in the $160 level the past week, the price jumped over $16 looking for new support in the $170 range.
One speculation as to the cause of the recent bullish momentum for Ethereum, is Elon Musk's mysterious tweet that simply spelled "Ethereum"
Ethereum

— Elon Musk (@elonmusk) April 30, 2019
The recent Ethereum price rise comes amid a crypto bull market which pushed the overall cryptocurrency market over $10 billion in valuation since the beginning of the month. This time, Bitcoin has been leading the bull run as BTC reached a new all time high for 2019 on May 3rd.
At the time of writing, the market has stagnated quite a bit and trading volume decreased slightly since May 3rd as traders are on the sidelines waiting for crypto's next move.
Ethereum Price Technical Analysis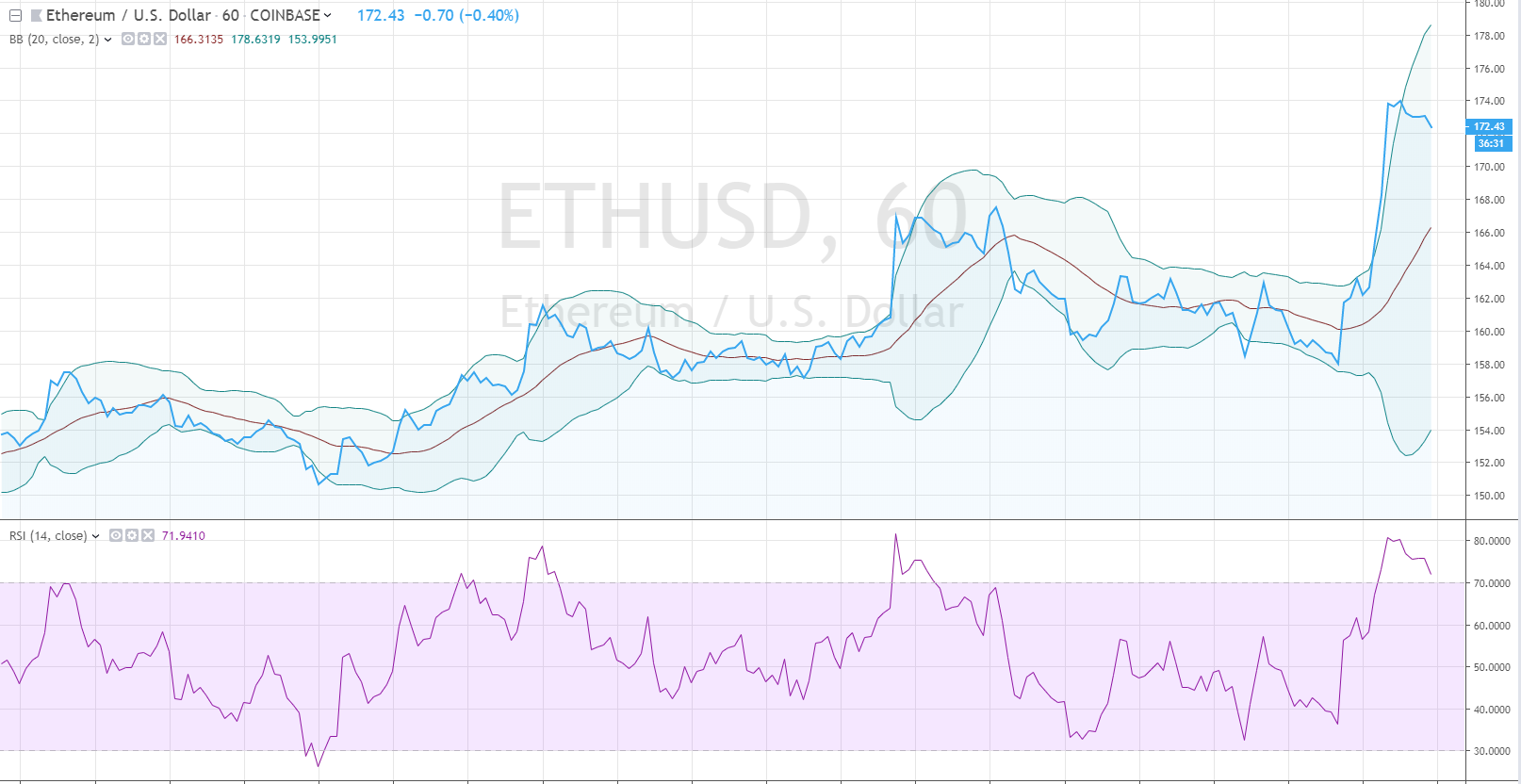 Relative Strength Index –  The RSI for ETH/USD is currently at 72 and falling. It's expected that the RSI will drop down to normal levels in the next few hours. At the time of writing the RSI is in the overbought territory which only makes sense since Ethereum's price pumped pretty aggresively the past few hours.
Bollinged Bands – After briefly breaking through the upper band level, the price has since retracted a bit putting it back within range. The good news is, there is still some room for more bullish momentum to push the price up an extra 1-2%.
Expecting further price gains in the short term after such an aggressive pump may be wishful thinking. At this point, if Ethereum can at least stay at the $170 level and turn that into support, that can provide enough fuel for further price gains if Bitcoin decides to continue it's bullish move.
While it's nice to see Ethereum's price rise as the market is beginning to stagnate, all eyes are still on Bitcoin to see if it can continue rising in price and pushing the rest of the market upwards.
---
Disclaimer: This is not trading or investment advice. The above article is for entertainment and education purposes only. Please do your own research before purchasing or investing into any cryptocurrency.