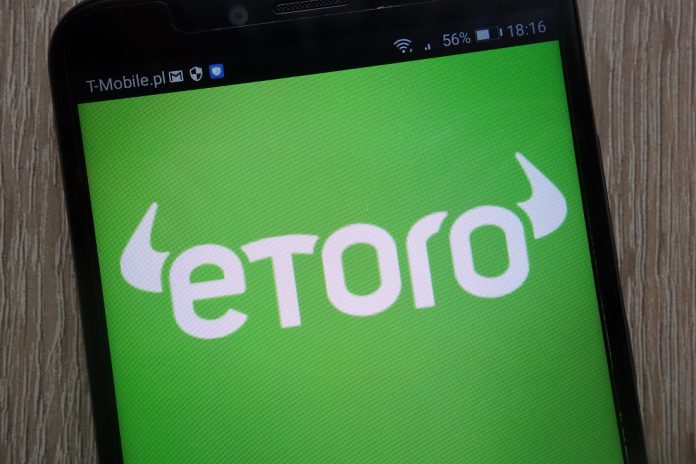 On December 13th eToro announced in a blog post that the company will introduce XRP support to their wallets come December 25th. On Christmas day, eToro announced that their wallet now supports XRP. However, due to certain restrictions in the wallet, the XRP community heavily criticized the platform on twitter.
We are happy to announce that the eToro wallet now supports #XRP.

For a limited period of time, no fees will be charged for both XRP wallet creation and XRP coin transfer.
Click to read more.

Have a Merry Christmas!

— eToro (@eToro) December 25, 2018
To make sense of the issues, we first have to look at how regular XRP wallets work. Usually, on cryptocurrency exchanges like Binance, one is able to deposit and withdraw XRP tokens at their leisure – similar to how you would deposit and withdraw BTC or ETH. That is how cryptocurrency deposits always worked, whether it was on an unregulated exchange or on a regulated platform like Coinbase.
Things are slightly different with eToro. First, it is important to clarify that the platform is not comparable to a regular cryptocurrency exchange. Instead, it is comprised of two services: a regulated brokerage service and a cryptocurrency wallet.
To further clarify, one cannot withdraw XRP directly from the wallet as of right now as the features are still being rolled out. When we asked for an ETA of when the full features of the wallet would be available, Managing Director of eToro UK Mr. Iqbal Gandham had the following to say:
"In the next couple of weeks, as part of the gradual rollout we will expand the new product offering to more customers."
Furthermore if you want to withdraw XRP from your account, you first need to fund it with the equivalent wire transfer amount. You can't simply withdraw the XRP from your account to which you just deposited them to. In response, eToro explains in their blog post that the reasoning behind them needing to secure a wire transfer for any XRP deposits is due to risk management:
"This is a risk management decision based on several factors including the fact that funds sent by wire are more secure and have a higher level of customer due diligence, as the source is a regulated bank."
While the reasoning for the wire deposit makes perfect sense for the platform, it creates confusion among their users. One user claims to have bought around $9000 in XRP from eToro, but was only able to withdraw $1500 of it because he purchased the tokens using a credit card and not a wire transfer.
etoro are not SCAM?
Have you any money there???
I have and cannot move away from there
I have almost 9500 xrp, and just can move 1500xrp to wallet
The other 8000 cause they were bought by credit card, they dont allow to transfer
WTF?
They mislead people cause u buy the real coins

— JoAz⚡️ (@JorgeMCAzevedo) December 26, 2018
Jamie explains further that you need to fund your XRP account with a wire transfer before you can move the funds out of the platform.
@EToro stance is if you have purchased any crypto/asset via PayPal/credit/debit card and want to remove it to a wallet you have to first wire transfer the equivalent value to them first before you move them off @EToro. Our funds are literally been held hostage https://t.co/ibVU3Rfdl6

— jamie (@jamiemakey) December 26, 2018
According to Gandham, eToro offered a workaround for clients in the above position. The solution is to switch their deposit method and withdrawing the initial amount:
"We have offered a workaround for clients who funded through other payment methods and would like to access their digital assets urgently. The solution is to switch their deposit method retroactively by making an additional deposit by wire transfer and then withdrawing the initial amount. This way, the client can withdraw an amount of digital assets, up to the amount they've deposited by wire. In addition, we charge them no fees should they decide to withdraw their remaining funds upon successful transfer of their coins to the wallet."
There are three main issues that the community has with eToro's recent announcement. The first is regarding the wire transfer requirement, the other two involve the disclosure of eToro's cold XRP wallet address and the 133 XRP minimum deposit requirement.
Because eToro advertises itself as a platform that holds the assets for you, it is only natural that traders want to know their official cold wallet addresses for XRP. That way traders can have the transparency and be sure that their tokens are in fact being held by the platform.
Regarding the minimum deposit issue, eToro clarifies in their blog post that the protocol requirement for the creation of an XRP account and a multisig address is 45 XRP. The question is, why does eToro need the extra 88 XRP? Mr. Iqbal Gandham clarified:
"133 XRP is actually the required minimum XRP for transfer from the trading platform to the wallet. The minimum amount to open a new wallet as you stated is 45 XRP. Also, to get started on the right foot, eToro is offering to cover the 45 XRP for the first 25,000 clients who open an XRP wallet."
eToro's implementation of XRP speaks to the issues that regulation can have on an industry. It is clear that the platform is trying to adhere to strict existing regulations while integrating with new technologies. However, that may come at a price that creates a turn off for consumers.
As regulation becomes clear regarding cryptocurrencies and digital assets, there will be a set standard for users. Certain cryptocurrencies might require various degrees of KYC/AML verification and collateral deposits. However, at this time with little information especially when it comes to digital assets, which leads some companies to take a more proactive approach to cover their bases.
The SEC even tweeted an Investor alert earlier today to watch out for false claims about SEC and CFTC endorsements. There are some bad actors in the space who use claims of SEC endorsement to perpetuate their scams.
Pls provide clarity for #xrp soon

— ⚡️Birdseye 🦅⚡️XRP ⚡️ (@Birdeye19) December 26, 2018

It is understandable that the cryptocurrency community is eagerly awaiting clarification on digital assets such as XRP and XLM. The sooner these regulations come, the quicker the industry can make progress. eToro's implementation of XRP is a unique take on integrating with digital assets that took the community by surprise. Perhaps if there was clear regulation about the way to handle digital assets these kind of situations could be avoided in the future.
Image(s): Shutterstock.com