With Christmas over, cryptocurrency markets at at a standstill. Traders are on the sidelines waiting for the next move. With New Year coming up, the sentiment is hopeful. However, as of right now there isn't much momentum in either direction. XRP is staying above the $0.36 support but the real question is whether it will hold.
It has been a crazy few days for cryptocurrency and XRP especially. After seeing gains of over 20% on Christmas eve, the asset dropped back down on Christmas eve. Unfortunately, the asset hasn't recovered since then because cryptocurrency markets as a whole have been pretty static.
XRP News
When it comes to relevant XRP news we have to mention the recent announcement by eToro – a social trading network. The platform announced yesterday that they will be adding support for XRP, but the conditions which they described regarding the integration of XRP had the community enraged.
https://twitter.com/edisss88/status/1077662264956731393
The issue is, you cannot deposit XRP into the wallet unless you secured it by a wire transfer to the platform. In other words, you have to fund the wallet using a wire transfer to the eToro platform.
In response, eToro provided a blog post which quotes regulation as part of the reason for the inability to fund the wallet with external XRP.
"As a regulated brokerage service, eToro EU and eToro UK allows users to trade and invest in the global markets but does not offer third party payments, meaning clients can only deposit and withdraw fiat from their personal accounts."
eToro also responded to many community concerns clarifying various issued brought up on twitter.
XRP Price Analysis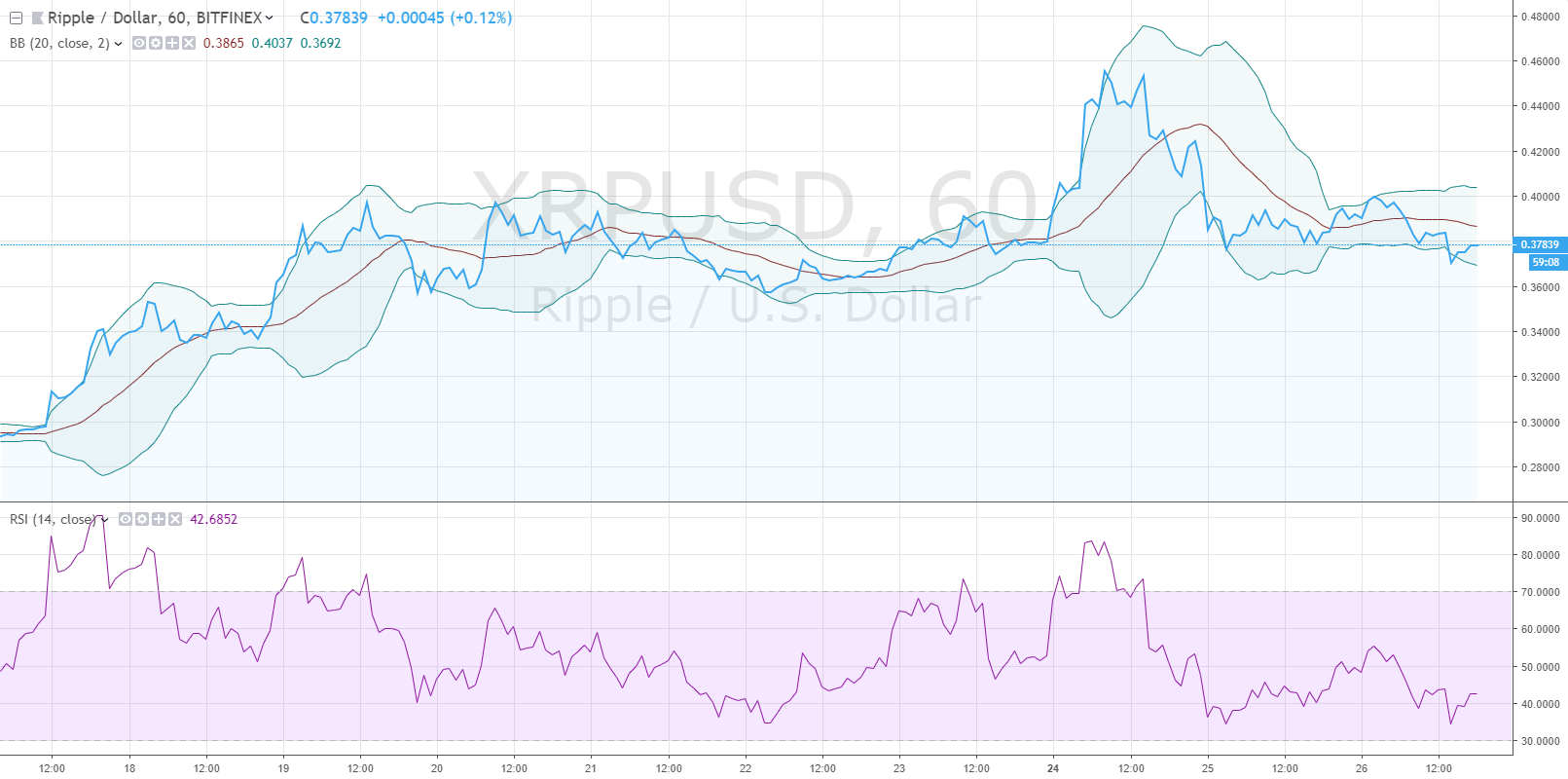 Relative Strength Index: The current RSI is at a healthy 43 points. That suggests that the market is neither overbought nor oversold. Unfortunately the RSI is on the lower side, meaning that major market movement in the near future is unlikely.
Bollinger Bands: The two bands are converging which suggests that the market is getting ready to trade sideways. Furthermore, the price has bounced off the lower bollinger band which means that the market will be looking for support.
Currently XRP is trading at $0.36 and will be testing that support line. The good news is, there is major support at $0.35 so it is unlikely that the market will dip lower than that. As always, keep a close eye on Bitcoin's price as that still seems to be the market maker during this period.
---
Disclaimer: This is not trading or investment advice. The above article is for entertainment and education purposes only. Please do your own research before purchasing or investing into any cryptocurrency.
Image(s): Shutterstock.com