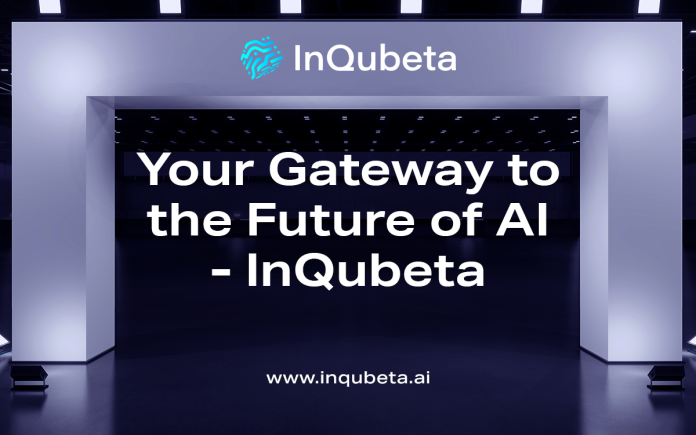 Hedera (HBAR) prices have surged by over 25% in the past month, but that hasn't been enough to stop investors from flocking to the InQubeta (QUBE) presale with over $1.7 million in tokens sold early on. The progressive price changes that occur at each of the event's ten stages have been a hit with investors who stand to grow their investments by up to 4x.
Hedera is an enterprise-grade network that simplifies the process of creating powerful decentralized applications. Its network is designed to be more efficient than older blockchains like the Ethereum (ETH) network, providing improved stability and performance.
The InQubeta project's primary objective is to make investment opportunities in companies that push the progression of artificial intelligence (AI), making them more accessible for everyday people. Doing this also helps to guide funds to firms that need capital to advance their projects.
InQubeta (QUBE) investors remain bullish despite Hedera price increases
The InQubeta project making investment opportunities in artificial intelligence more accessible for many people has attracted a growing number of investors to its presale. Mainstream investment channels are notorious for entry barriers that frequently prevent countless people from taking advantage of investment opportunities. Some of these firms require investors to move in elite circles for entry while others require depositors to prove they earn significantly more than the average person in the U.S. makes yearly.
InQubeta takes a crowd-funding approach to get AI startups the capital they need to innovate while making investment opportunities easier to access.
Major advancements have been made in the artificial intelligence industry in the past decade and, at this point, it's clear AI is poised to be the next major tech revolution. Many tech experts have predicted that AI has the potential to be the most transformative technological breakthrough in human history.
The InQubeta way
The InQubeta project makes investing in AI startups less complicated by harnessing the power of non-fungible tokens (NFTs). Companies can raise capital for their projects on the InQubeta network by making equity-based NFTs that are listed on the ecosystem's marketplace once approved by the InQubeta operations team.
Investors can learn more about the companies behind these NFTs on the marketplace and they get to choose which firms they want to invest in, if any. Sales are done using $QUBE tokens and NFTs are transferred to investors once sales are finalized, giving them full ownership of their tokens.
InQubeta investors don't have to invest in AI startups to earn exponential returns. Holding on to $QUBE has the potential to be just as rewarding thanks to a 1.5 billion token cap and a burn tax that chops down the supply even further. InQubeta tokens are currently undervalued and prices are projected to rise exponentially once the project is officially launched.
Holders can earn more $QUBE by staking to help run the platform. Rewards are regularly sent out to stakers via a dedicated pool that is funded by a tax on all $QUBE sell transactions.

Hedera (HBAR) investors hoping for more growth
The Hedera network is a proof-of-stake, open-source ecosystem for the creation and deployment of decentralized applications. The ecosystem provides developers with token, consensus, and solidity-based smart contract services.
Hedera gives users incredibly fast transaction speeds, a secure network, and an energy-efficient network. The hashgraph consensus algorithm used to process transactions is credited for the effectiveness of the network.
While Hedera prices have enjoyed substantial growth lately, it's not expected to keep up with InQubeta's projected 50x growth.
Summary
The InQubeta presale continues to bring in investors eager to grow their investments by up to 400% before the event ends. InQubeta providing a much-needed solution by bringing AI startups and investors together perfectly positions the project to ride the AI wave.
Disclosure: This is a sponsored press release. Please do your research before buying any cryptocurrency or investing in any projects. Read the full disclosure here.