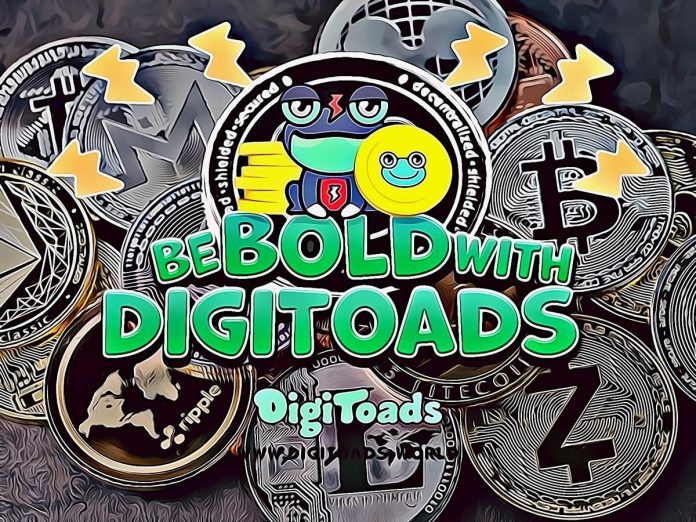 DigiToads (TOADS) and Hedera (HBAR) have been making headlines in the world of cryptocurrency lately, with many investors and traders talking about the potential of these two projects. So what is it about these projects that have caught the attention of the crypto community? Let's take a closer look.
DigiToads is a new project that has generated a lot of buzz in cryptocurrency. It is a high-growth token that allows its holders to earn residual income through NFT staking, P2E gaming, and holding TOADS tokens. The project's P2E gaming ecosystem allows players to collect, nurture, and battle unique DigiToads, with players using TOADS tokens to purchase food, potions, and training equipment for their DigiToads. The game also includes monthly trading competitions on-chain, providing opportunities for traders to earn rewards.
DigiToads has become a hot topic on Reddit, and this is due to its charity pledge. The project has committed to donating 2.5% of its profits to charities focused on replanting trees and preserving rainforests.

DigiToads also strongly focuses on rewarding its community, with TOADS holders receiving monthly rewards from the prize pool and 10% of funds raised being airdropped to token holders.
Hedera (HBAR)
Hedera (HBAR) is another project that has been gaining much attention lately. It is a decentralized public network that uses a unique consensus algorithm to provide fast, secure, and fair transactions.
One of the key features of Hedera is its use of the Hashgraph consensus algorithm. This algorithm provides a high level of security while also enabling fast transaction speeds, making it an attractive option for businesses that require both security and speed in their transactions.
Hedera also offers a variety of other features, including the ability to create and manage assets on the network, file storage, and smart contracts. This makes it a versatile platform that can be used for a wide range of applications.
TOADS & HBAR Growth Potential
So why are people talking about DigiToads and Hedera in the same breath? One reason could be that both projects strongly focus on community and rewarding their users. DigiToads rewards its token holders through a variety of mechanisms, while Hedera's token holders can participate in governance and receive rewards for staking their tokens.
Another reason could be that both projects offer unique features that set them apart from other cryptocurrencies. DigiToads' P2E gaming ecosystem and charitable pledge make it stand out in a crowded market, while Hedera's use of the Hashgraph consensus algorithm and partnerships with major corporations make it an attractive option for businesses.
Join The DigiToads Presale Today
Overall, it is clear that DigiToads and Hedera are two projects that are worth keeping an eye on in 2023. Their focus on community, unique features, and partnerships with major corporations could help propel them to new heights within crypto.
For More Information on DigiToads visit the website Here, join the presale or join the community
Disclosure: This is a sponsored press release. Please do your research before buying any cryptocurrency or investing in any projects. Read the full disclosure here.