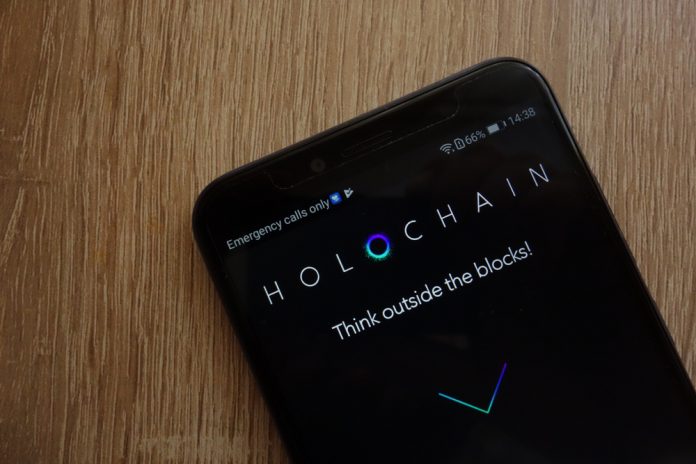 It has been a while since the Holo price got a lot of positive attention. Now that all markets are going up in spectacular fashion, this volatile altcoin cannot remain behind. For the time being, it seems as if Holo is checking the right boxes and may even retake the 40 Satoshi level in the coming days.
Holo Price Heads in the Right Direction Again
In the cryptocurrency world, nothing is ever certain or guaranteed. Anything can and potentially will happen when people least suspect it. As far as Holo is concerned, it seems the underpinning ecosystem is finally starting to hit its stride. While there is always plenty of work to be done, one has to acknowledge the developers are effectively come through on their initial promises. That is not always a given where altcoins are concerned.
Over the past 24 hours, the Holo momentum has been quite interesting to keep an eye on. With a 7.7% increase in USD value, HOT is now valued at $0.001527. There is also a 2.5% gain in HOT/BTC, which pushes that particular value back to 39 Satoshi. A further push to 40 Satoshi and above is not entirely out of the question, although it will not necessarily happen automatically.
In terms of developing the underpinning Holochain ecosystem, a big change looms on the horizon. More specifically, there is a Holochain-Rust package in development which should strengthen the ties between this project and the Firefox browser. Although this development has hit a few minor roadblocks, it should be coming to market fairly soon.
We need to finish a mature version of Holochain-Rust which compiles to WASM to test with Firefox so we can advance to next steps with them. It's taken longer to build the Rust version than we hoped. So no forward movement until then. Which should be fairly soon. (Finally!)

— Arthur Brock (@artbrock) February 17, 2019
Jason Faraday is not too bothered about the current market momentum. While it would always be better to walk away from all of this with a profit of some sort, it doesn't really matter much to this individual for some reason. Instead, he is just keen to be part of something that may change the world as people know it today. A remarkable sentiment, especially because Holo has been making traders a ton of money lately.
Maybe I'll be very rich, or loose all my invesment. No metter what will be. What's metter? Being a part of an inovation, part of something which will change the internet and world. I want to be changed. But rmmbr when you change something, you gain lots of money. $hot #holo #btc

— jason faraday (@FaradayJason) February 19, 2019
When looking at the actual HOT price chart, it would appear things are getting pretty interesting. After successfully breaking through a resistance line, it now seems the sky is the proverbial limit for Holo. However, there will be two more key resistance levels to break through before a new notable high can be reached. How all of this will pan out, remains to be seen, but the trading volume looks relatively promising.
Looking good

One thing I noticed is the earlier S/R flip wasn't nearly as valid as the more recent one that I've pointed out.#Holo pic.twitter.com/soZSBwtTrl

— Posty 📭 (@Crypt_Malone) February 19, 2019
All of the signs point toward a potentially bullish week for Bitcoin and all other markets. As is always the case, this momentum can easily turn around and cause major dips without too much effort. It is never possible to say for certain whether or not the bottom is finally in. Nor will there be all-time highs for the top markets in the near future either. These uptrends are crucial, but they need to be turned into higher support levels as well.
---
Disclaimer: This is not trading or investment advice. The above article is for entertainment and education purposes only. Please do your own research before purchasing or investing into any cryptocurrency.
Image(s): Shutterstock.com