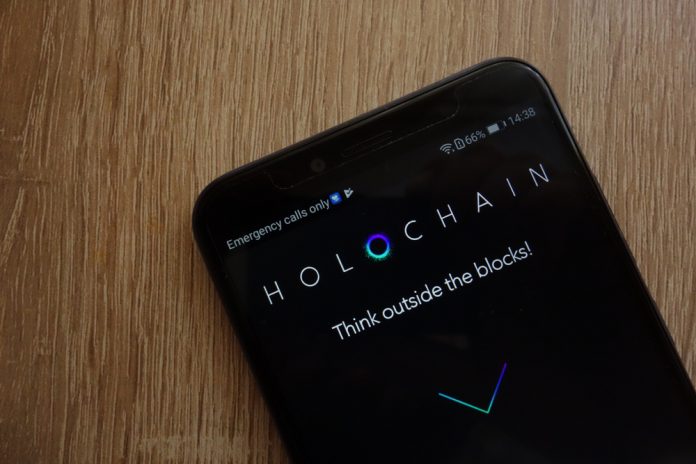 As another day dawns upon the cryptocurrency industry, the wind seems to blow in a bullish direction once again.  All of the major currencies are going through an uptrend right now, which is always promising to see. Surprisingly, it seems the Holo price is still in the red despite some new developments taking place behind the scenes.
Holo Price Isn't on the Mend Just yet
In the cryptocurrency world, there is never any certainty in terms of value development. While it is possible most markets will follow Bitcoin's momentum, there will always be some exceptions to this unwritten rule. Whereas most markets are moving up, some of the more popular altcoins are still struggling first and foremost.
In the case of the Holo price, it is evident there is still a lot of work to be done. More specifically, the value has dropped even further in the past few hours, even though there wasn't necessarily a reason for this downtrend. Because of the most recent 4% drop, one HOT is now valued at $0.0014, or 35 Satoshi. Holo is also giving up 6.3% over Ethereum, which is even more problematic.
There is always some good news in the cryptocurrency world users need to be aware of. For Holo fans, the big news is how MetaMorph.pro is now officially supporting this altcoin. Although this might not necessarily have any impact on the price whatsoever, it is still a very intriguing development, all things concerned.
https://t.co/w4qygC2hcP is happy to announce that Holochain (HOT) is now listed on our platform!

Simply connect your Metamask or Ledger and start trading! https://t.co/j0hg8Li3qw#HOLO #HOT #HOLOCHAIN #METM pic.twitter.com/7khgGO16jr

— MetaMorphPro (@MetaMorphPro) February 20, 2019
For those who want a more technical analysis of the current market momentum, the 35 Satoshi level may not remain in play for very long. More specifically, Hakan Aykanat is confident this is a "dangerous level" which will need to act as support. However, it remains to be determined if that actually will happen. Falling below 35 Sats will undoubtedly cause some further bearish pressure.
#HOT #HOLO : Grafik göstergeleri için tehlikeli olan 34 destek noktasına dayandı. Fiyat 34 -35. Bu destek noktası altına iner ve günlerce tekrar 34 üzerine çıkamazsa ,grafikte aşağı yönlü satış baskısı devam edecektir.Destek noktaları: 31// 27 //24 // 20

— HakanAykanat4 (@HakanAykanat4) February 21, 2019
Despite the bearish pressure, it would appear as if some traders and speculators remain confident things will improve from here on out. More specifically, Fat Elvis is convinced the dip is in and people should have stocked up by now. Others see this as a bagholder trying to offload his remaining coins at a less steep loss. Advice like this should never be taken to heart whatsoever, as this is Twitter, after all.
#holochain #Holo
I hope you have been accumulating on the dip.

— 🚀Fat Elvis🚀 (@fatelviscrypto) February 20, 2019
All of this seems to indicate there may be further bearish pressure on Holo for quite some time to come. With all of these losses in USD, BTC, and ETH value alike, it is evident things are not necessarily looking too great. At the same time, all other markets are bullish once again, thus it would appear to be a matter of time until Holo follows suit.
---
Disclaimer: This is not trading or investment advice. The above article is for entertainment and education purposes only. Please do your own research before purchasing or investing into any cryptocurrency.
Image(s): Shutterstock.com