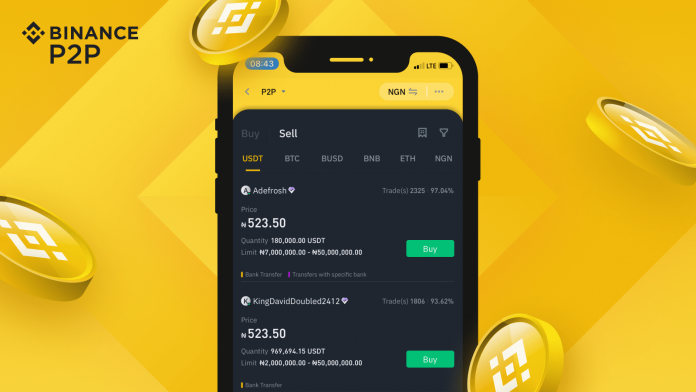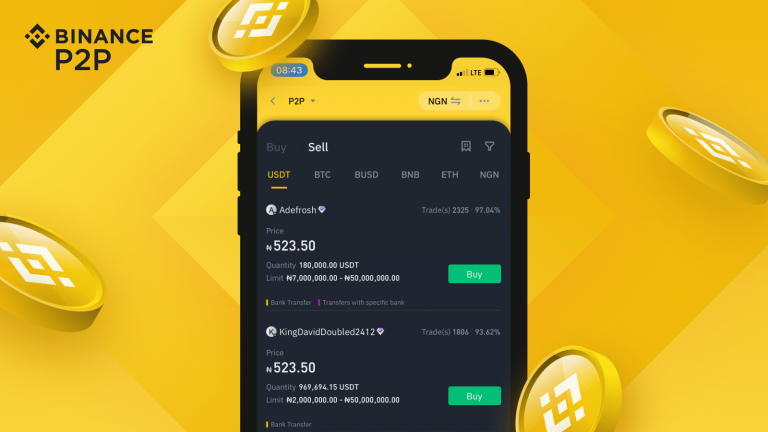 The cryptocurrency market can be volatile. The prices of digital assets can fluctuate by up to tens of percent in a day. This is why it is important to realize profits regularly. In today's article, you will learn how to sell bitcoin for GBP using the Binance P2P platform. But first, we will explain what peer-to-peer trading is and why the Binance platform is the undisputed leader in this matter.
What is P2P trading?
Peer-to-peer (P2P) trading is when users sell or buy cryptocurrencies directly from each other. How? They use a P2P exchange to do so, where they can list their offers. The process is somewhat similar to selling on popular auction sites like eBay. The seller and buyer make direct contact, agree on the price, currency, payment method and complete the transaction.
Binance P2P is one of the most trusted platforms of this type currently available on the market. The platform offers a large number of payment methods and low fees, and transactions take place quickly and efficiently.
Why use Binance P2P?
High liquidity and volume – Binance is the largest cryptocurrency exchange in the world. This means that it also has the highest liquidity and processes the largest volumes, so transactions are completed quickly and efficiently.
High security and impeccable reputation – Binance is an exchange that has managed to firmly establish itself and applies the highest security standards.
Access to the entire Binance ecosystem – By signing up for an account on Binance, you can simultaneously use many different other products that are part of the ecosystem.
Fast transactions – On Binance P2P, a transaction takes a maximum of 15 minutes.
Low fees – Binance P2P offers low fees compared to competing platforms.
Escrow – Binance P2P uses escrow. This means that cryptocurrencies are safely held by the company until the transfer is completed.
Hundreds of payment methods – Binance P2P supports over 150 different payment methods.
Now that you know why you should use Binance P2P when realizing profits, let's get down to the details. In the next part of this guide, you will find step by step tutorial that will explain to you how to sell bitcoin for GBP in the United Kingdom.
How to sell bitcoin for GBP? Step by step guide
Selling bitcoin on Binance P2P is a very easy process that even a beginner can handle. All you need to do is follow a few simple steps. The first one is to create an account on Binance and verify (KYC). You can do it by clicking on this link. Once you have successfully registered and verified your account, follow the steps below.
Go to the main Binance page and log in. Then in the top menu go to the "Trade" tab and click "P2P". Alternatively, you can just click directly on this link.

Now you will need to add a new payment method by which you will receive funds for the bitcoin you sell. In this guide we will use Revolut, however, Binance offers 150+ different methods so you should easily find one that suits your needs. To add a new payment method hover your mouse over "More" and select "Payment Methods". Then press "Add payment method", enter your details, and click "Confirm".

After adding a payment method you can proceed to sell bitcoin for GBP. To do this go back to the main Binance P2P page, select BTC, and Sell.

Then filter the results by amount, currency (in our case GBP), and payment method. At this point, you will see the offers that meet your criteria. Sometimes the number of sellers can be so large that it is difficult to decide which one to trade with. If this is the case, you will need to base your decision on price, the number of completed orders, and the completion rate, which is the number of successfully completed transactions by the seller. Also read the seller's profile, requirements, and reviews carefully before making your decision. Once you have found a suitable counterparty, click on the "Sell BTC" button.
You will now need to enter details such as the amount of BTC you wish to sell and the payment method with which you wish to receive the funds. Here you will also find information regarding the price, payment term, rules, etc. If everything is correct, click "Sell BTC" again.

At this point, you will be taken to the transaction window. Here you will find information about the order and a chat where you can contact the other side of the transaction.
Your bitcoins at this point go into escrow, which is a kind of "waiting room". Before your BTC can get into the hands of the other party you must first release them. However, always make sure that the money is already in your bank account! If you have received the transfer, click the "Payment Received" button and then "Confirm".
That's it! You have just sold your first bitcoins for GBP using Binance P2P!
Summary
Binance P2P is a safe and proven platform that allows you to buy and sell cryptocurrencies in local currency. What else makes it stand out from the competition are low fees and a huge number of payment methods. Beginning cryptocurrency traders will also appreciate the simple interface and the extensive Binance Academy, where the exchange explains in detail how each function works.
Follow us on Twitter @nulltxnews to stay updated with the latest cryptocurrency and Metaverse news!