If you've been lurking in the cryptocurrency space and keeping track of various digital assets, one exchange you've bound to see come up is Huobi Global. It's usually towards the top of the list regarding trading volume. As one of the longer-standing exchange platforms on the market, it's an excellent option for those looking for a straightforward trading experience. Today we will be reviewing the Huobi Global cryptocurrency exchange from the point of view of an average trader.
Note: The author of this article isn't affiliated with Huobi Global.
What Is Huobi Global?
Founded in 2013, Huobi Global is an exchange owned by Huobi Group, a leading global blockchain company whose mission it's to accelerate the digital economy through innovation. Huobi Group's services extend beyond a cryptocurrency exchange. The company operates digital wallets, provides industry research, and runs enterprise private and public blockchains, reaching millions of users worldwide.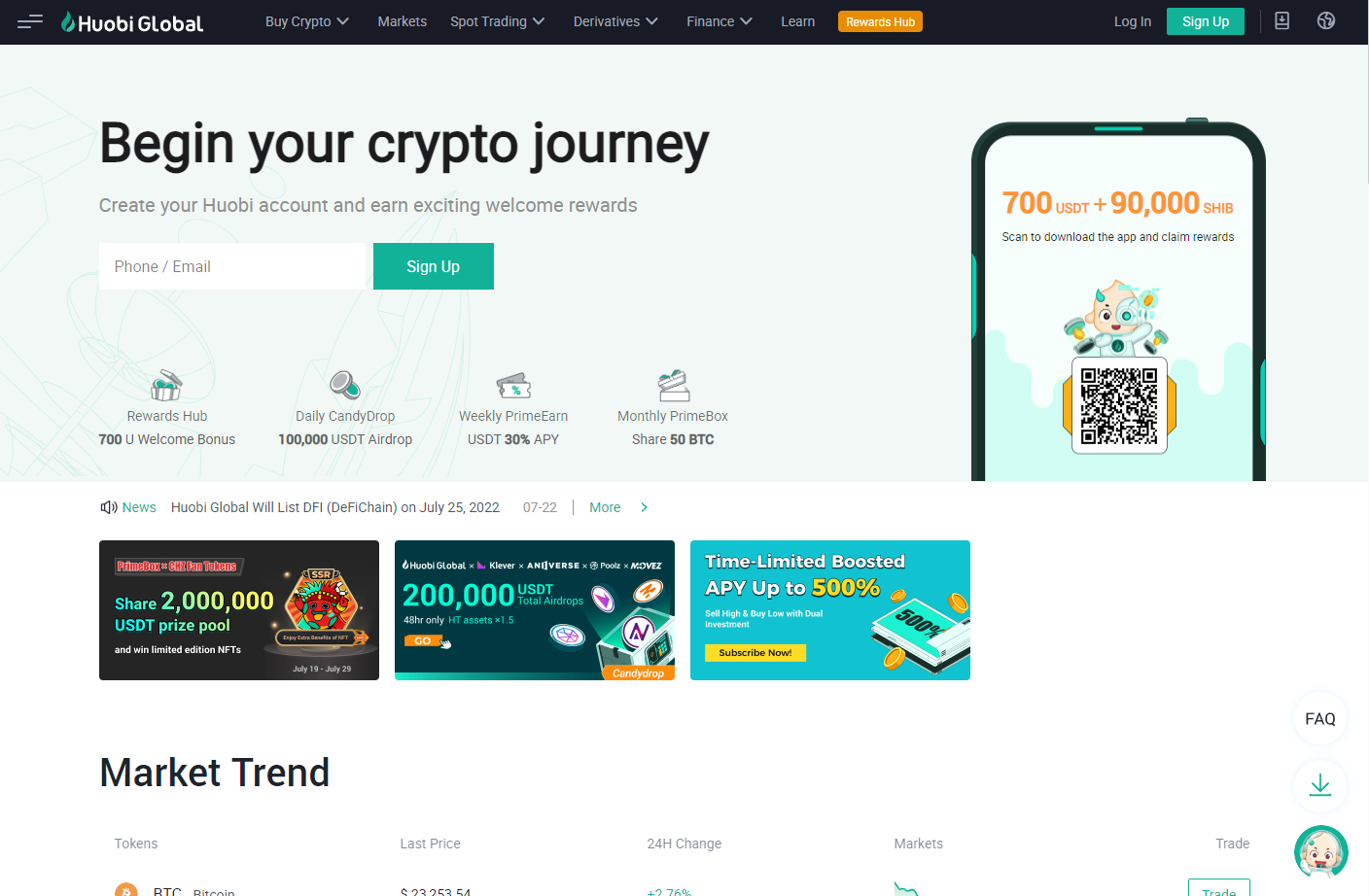 While Huobi Global supports users from most countries, due to regulatory requirements, the exchange doesn't offer service in select regions, including the United States. As such, if you're a US resident, you won't be able to sign up to Huobi Global or make trades on the platform.
Huobi Global features over 1,000 employees, making it a highly robust platform that's a key player in the crypto economy.
At the time of writing, Huobig's 24-hour trading volume is over $1.5 billion. It offers over 500 coins spanning over 1k markets. It features almost 1 million weekly visits, speaking to the sheer scale of the platform.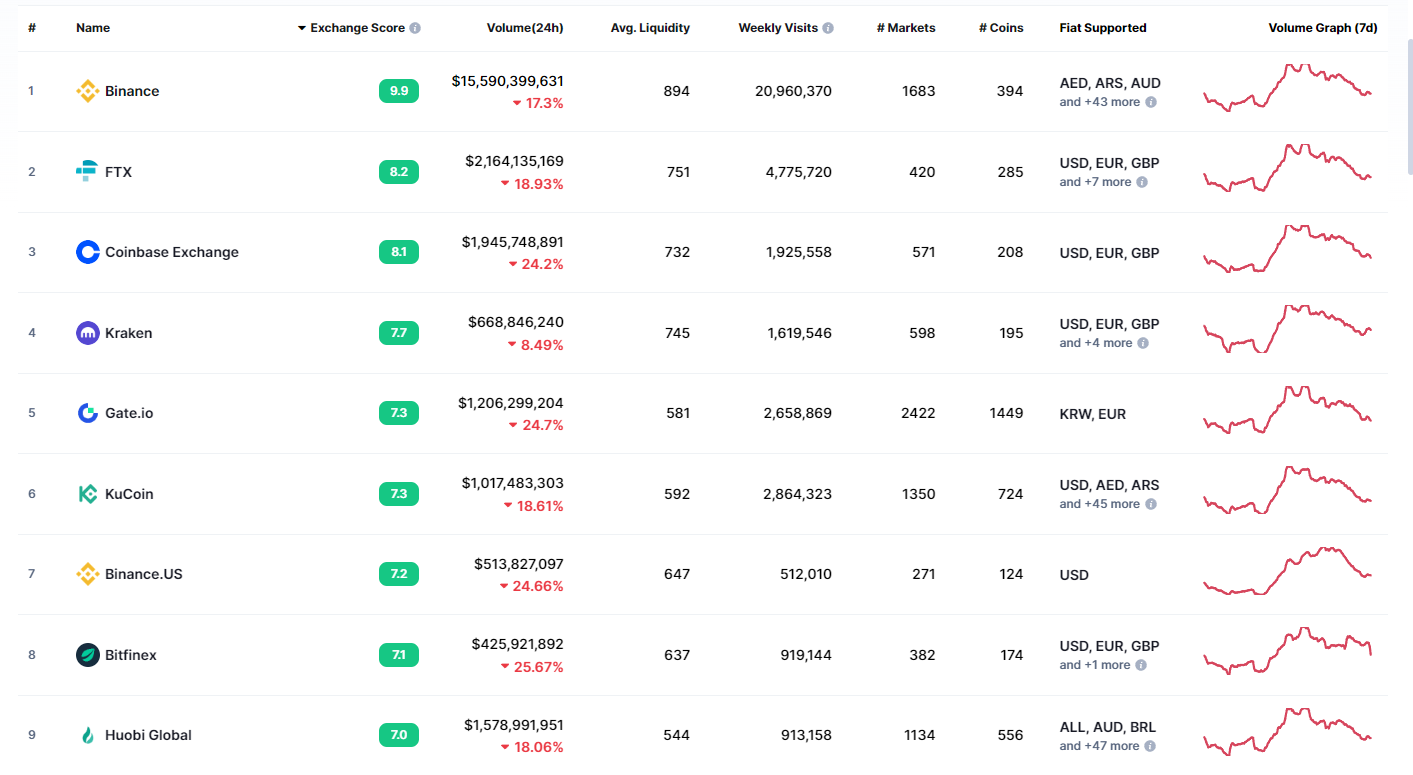 Moreover, according to CoinMarketCap, Huobi Global is the ninth-top exchange based on their Exchange Score, which ranks exchanges based on web traffic, average liquidity, volume, and confidence that the volume reported by the exchange is legitimate.
Key Features of Huobi Global
Huobi Global offers a clean website UI, similar to other platforms we've reviewed like OKX, LBank, and Gate.io. If you've used any of the platforms mentioned above, you will recognize the similarity in the UI layout, offering options like buying cryptocurrency, various data dashboards, and more.
Buy Crypto
Huobi Global offers two options to purchase cryptocurrency via the platform. There are P2P options that enable users to set their prices and trade cryptocurrency in a peer-to-peer fashion directly via other traders.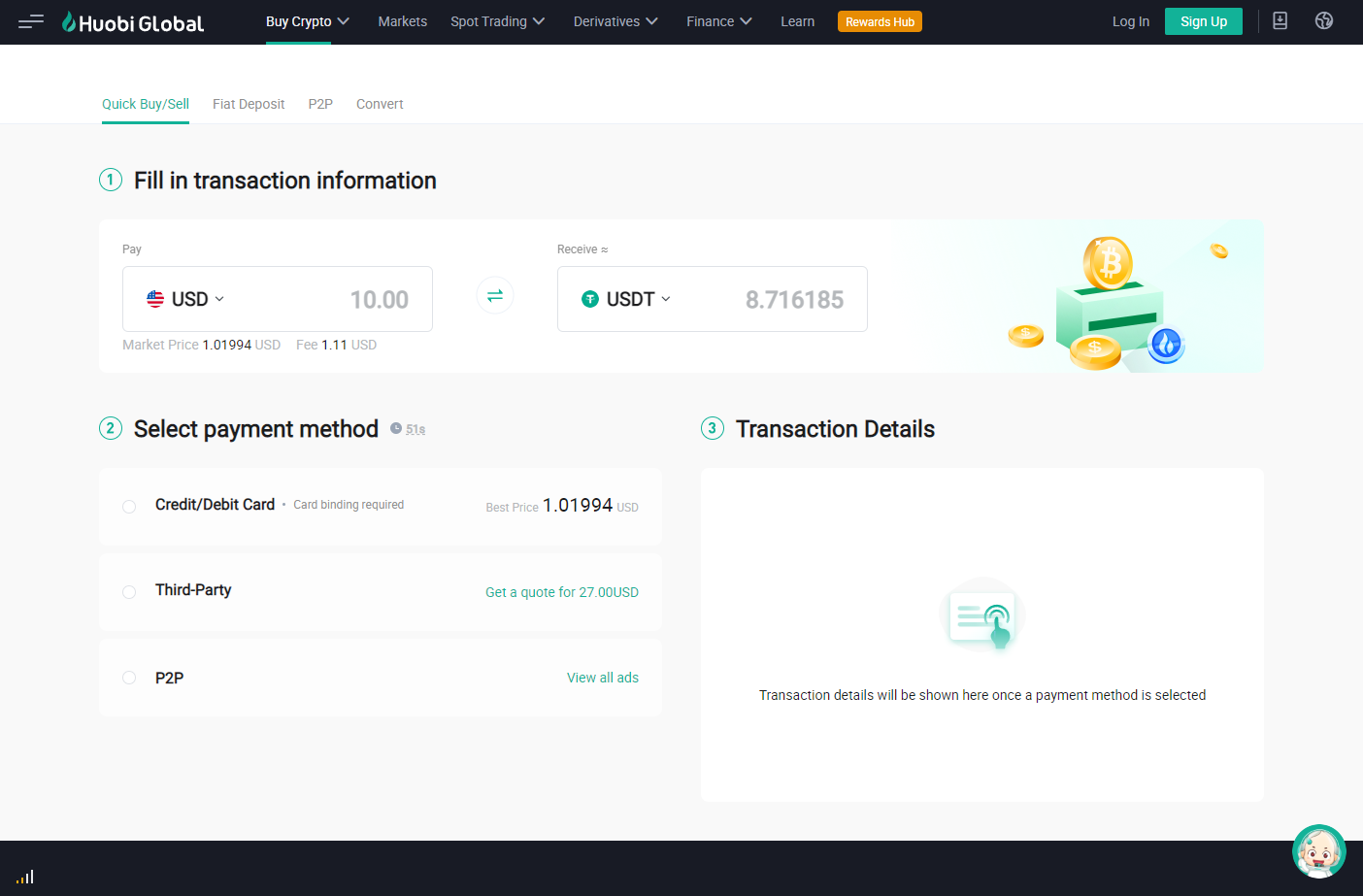 There's also the most basic option of Quick Buy/Sells, which enable users to purchase and sell digital assets via Credit/Debit Card and other third parties.
Markets
The markets section provides data for Spot and Futures markets, ranking cryptocurrencies based on the volume in each market. Users can choose between various trading pairs and check the last price, 24-hour change, high, low, 24h volume, and more.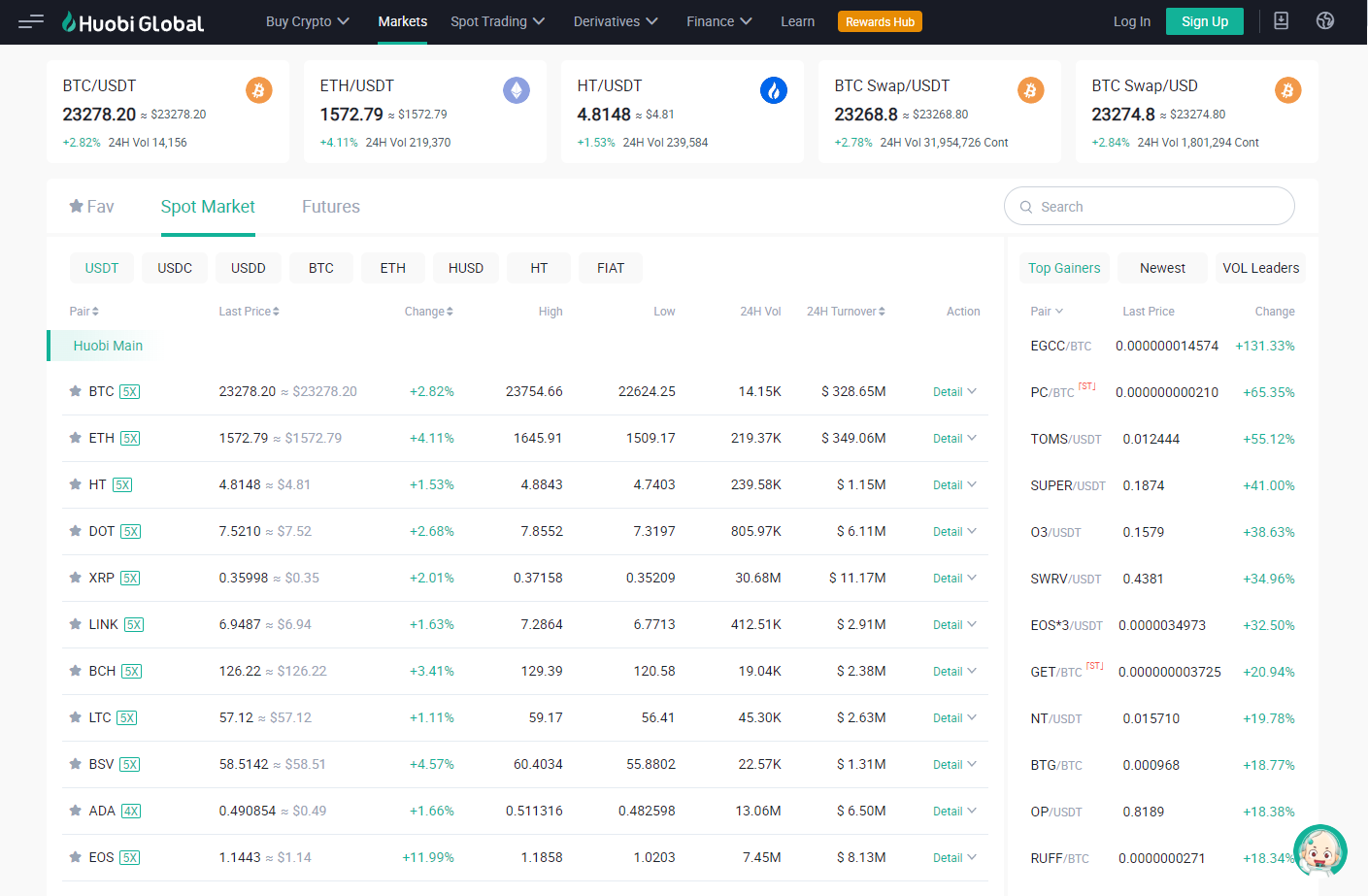 There are also Futures markets that enable users to explore various derivatives and perpetual contracts for those looking for a riskier approach to trading.
Spot Trading
The spot trading section is the meat of the exchange, enabling users to spot trade tokens with zero fees and no slippage. In addition, there's the margin trading option for those looking to multiply their profits. Huobi Global also offers a trading bot option for traders seeking a more automatic approach to their trades.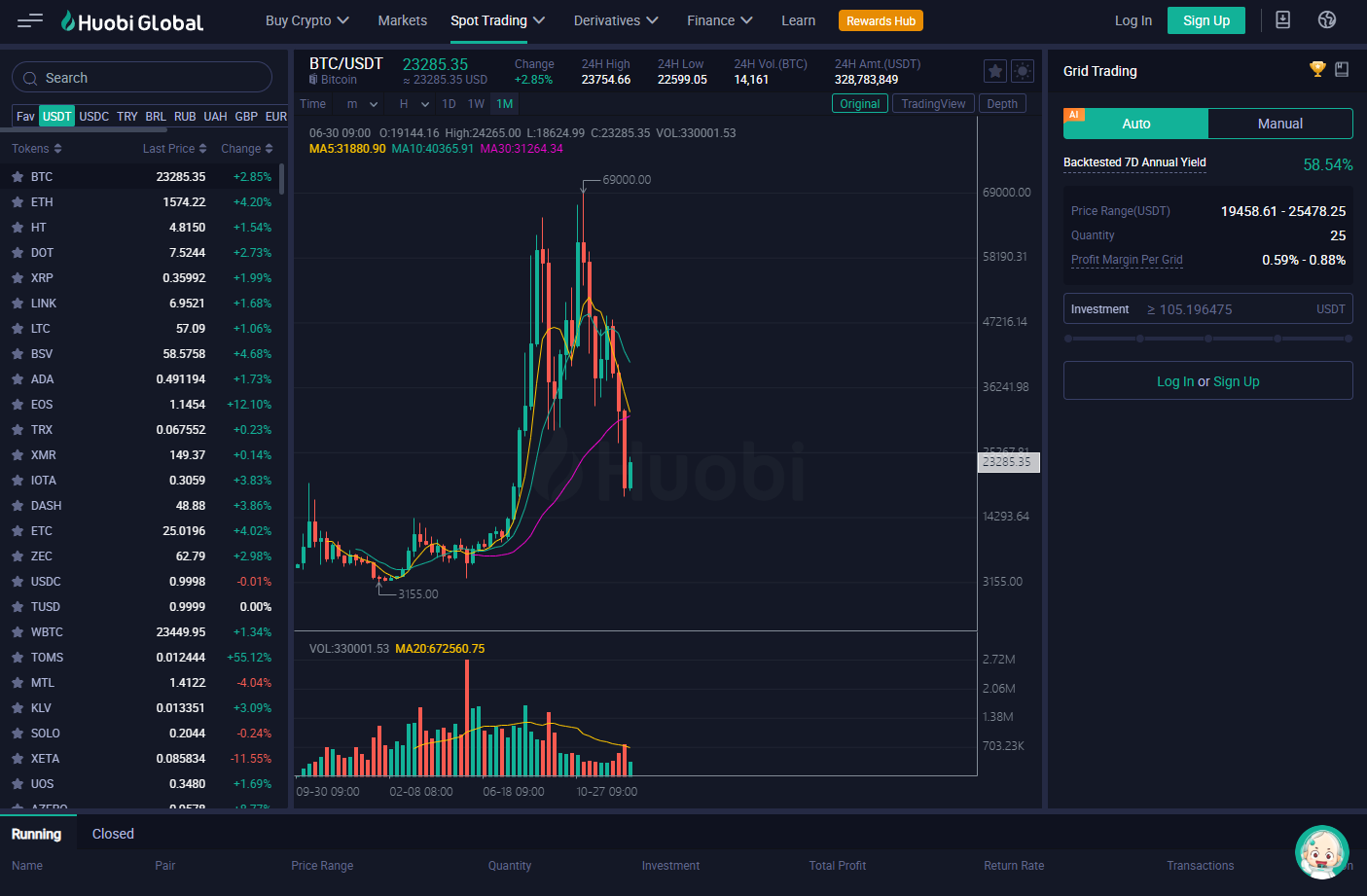 Last but not least, the exchange offers a brokerage over-the-counter trading option for more significant buys/sells. This is perfect for those looking for trading and lending services for larger amounts without having to go through the order book and swinging markets significantly.
Derivatives
The derivatives section offers several options for traders looking to trade futures and options. The derivatives overview provides all crypto derivatives on the exchange at a glance. The coin futures section provides data regarding intraday settlement, supported by Huobi's risk control framework.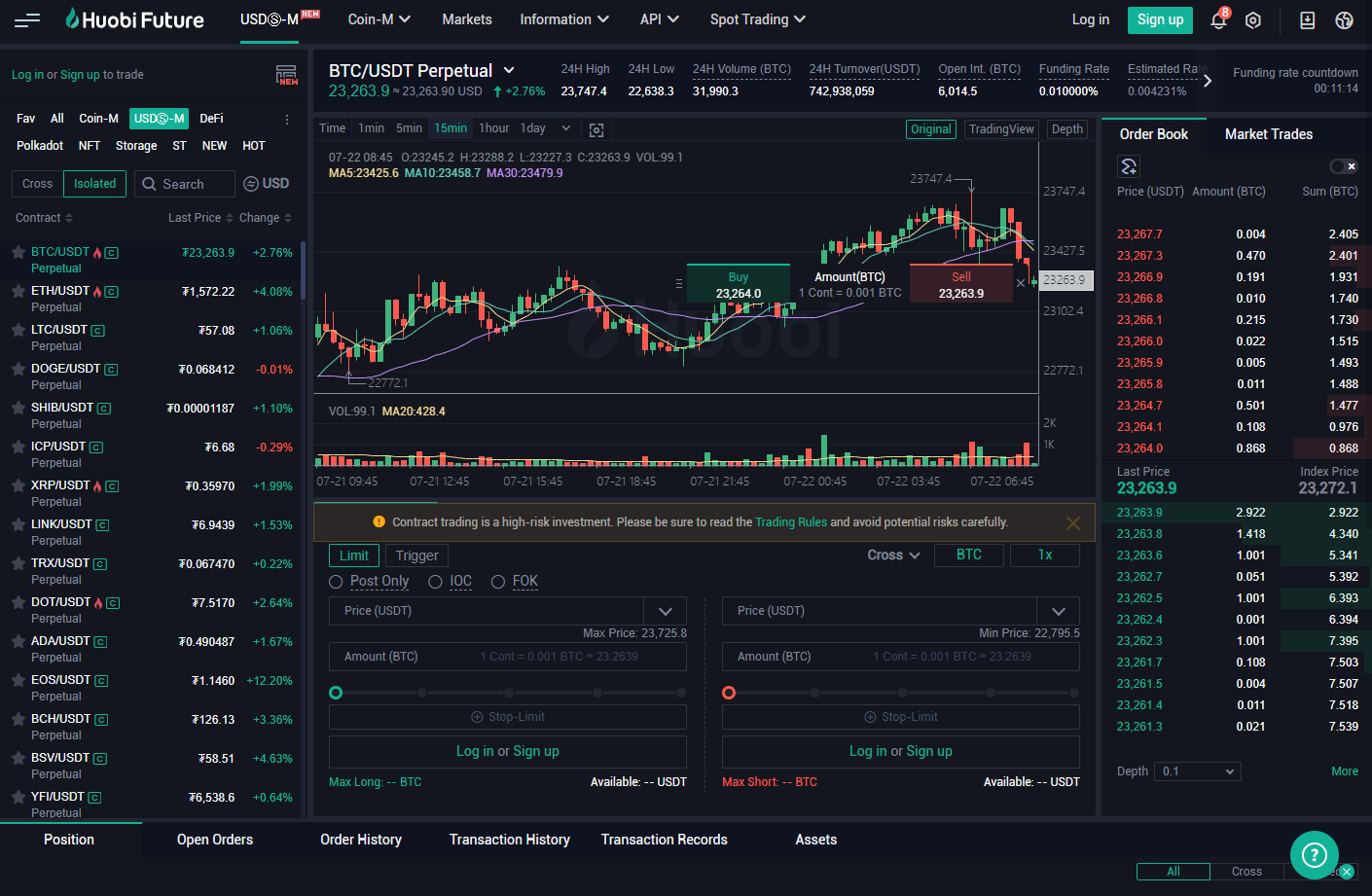 The perpetual coin section offers stable asset valuation with fewer risks. In addition, a new section includes the USDT contracts, which provide up to 60% commission for eligible affiliates.
Last, the new options section enables users to go long or short of various digital assets according to their strategy, as they see fit.
Finance
The Finance section offers additional options for users looking to earn rewards or grow their existing portfolios. Users can enjoy a staking pool for high rewards, a Primepool to lock their tokens and enjoy free airdrops, and the Polkadot Slot Auction offering a parachain launchpad for various projects.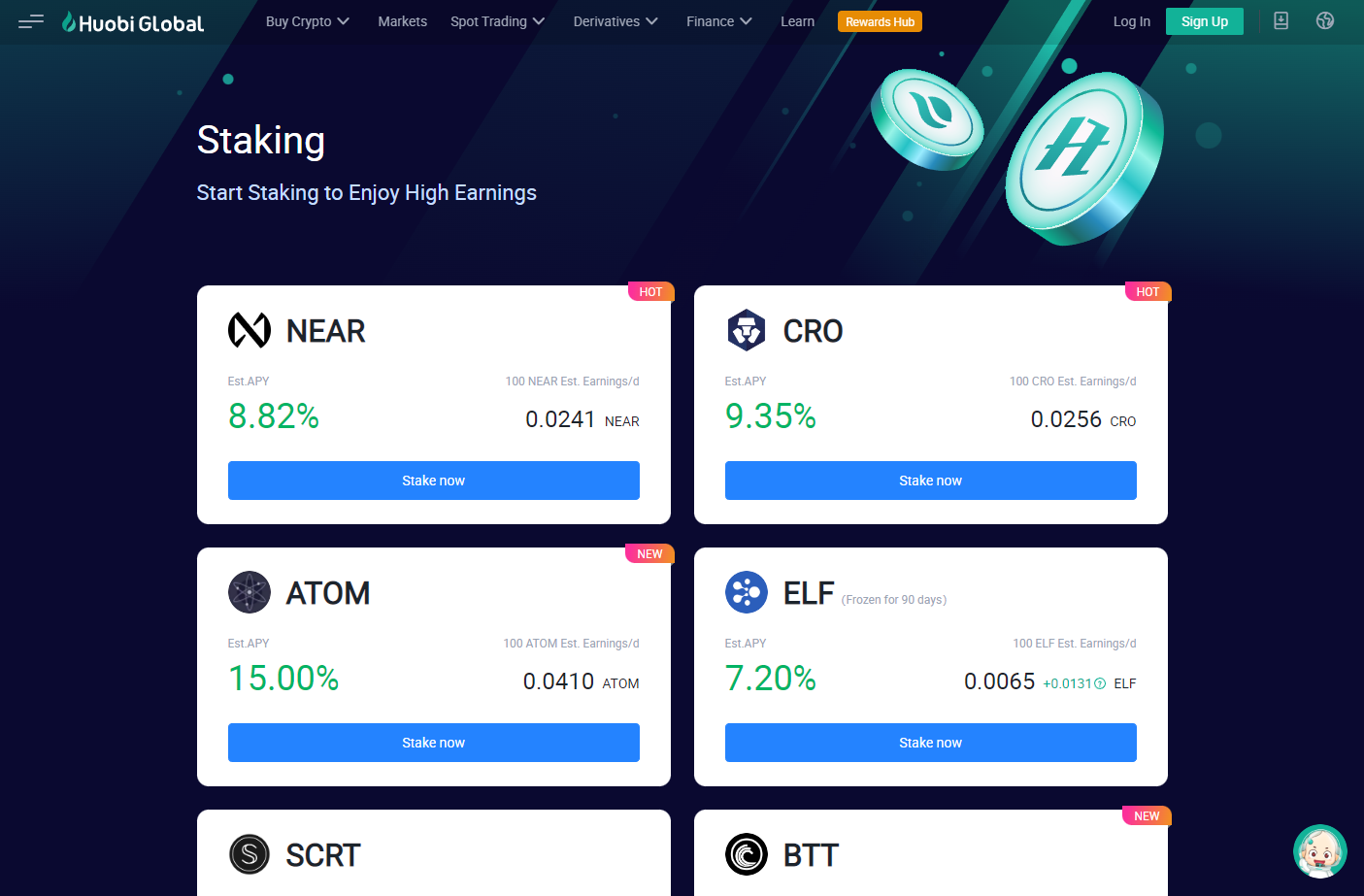 In addition, the Finance section includes Huobi Earn, where users can earn interest on their deposits daily. The ETH2.0 section enables users to convert their tokens with a single click. Crypto Loans allow users to take out loans via collateral. Dual Investment is a new option enabling users to earn high-yield rewards involving USDT and another cryptocurrency.
Last but not least, the iToken section is Huobi's gateway to Web3, an all-in-one app for your digital assets. iToken features instant cross-chain swaps, yield earning, a browser for dapps, a feature to collect NFTs, real-time market data, and much more. If you're looking for an innovative app to expand your horizons regarding Web3 and blockchain, we recommend checking out Huobi's iToken.
Learn
Huobi's Learn section provides beginner, intermediate, and advanced articles and tutorials for those users looking to learn more about trading, cryptocurrency, and blockchain.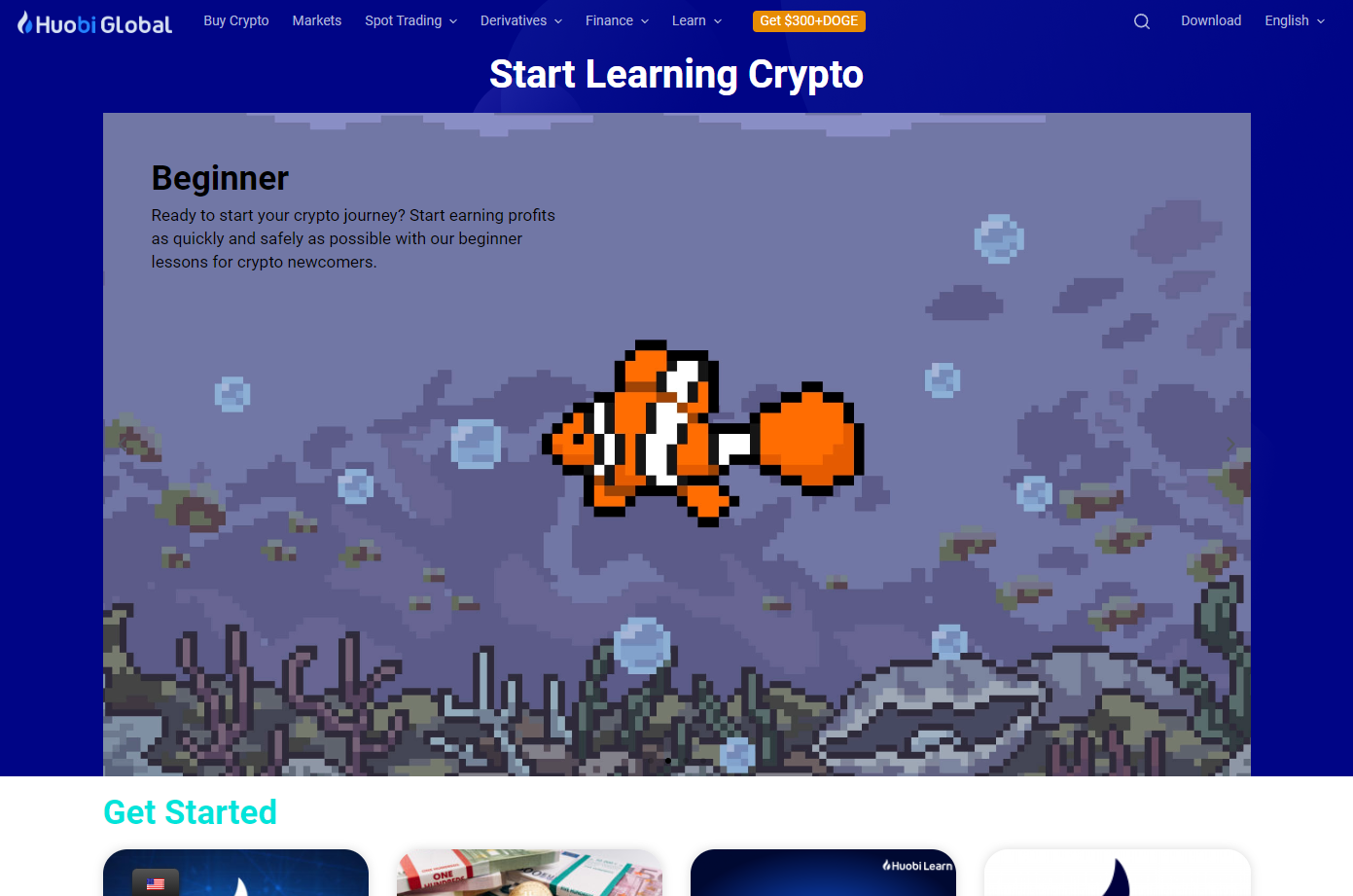 Rewards Hub
Last but not least, the Rewards Hub section features various rewards users can earn on the platform as tokens or additional APY booster coupons. A unique way to reward users for their activities on the platform.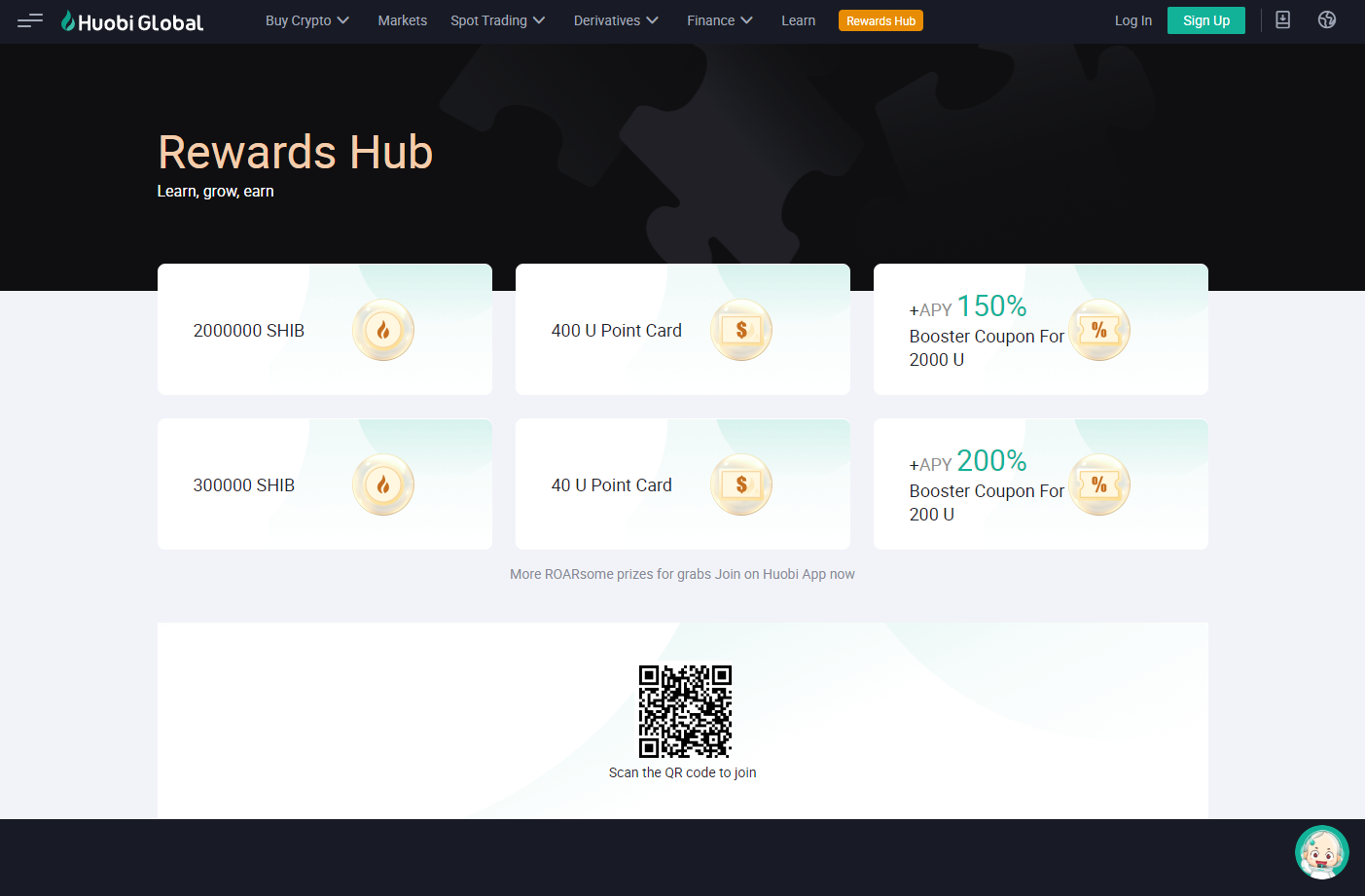 Huobi Token
In addition to the exchange and its features, Huobi offers its token, called Huobi Token (HT), an ERC-20 asset living on the Ethereum blockchain.
One can think of HT as the stock for Huobi Global, as it directly correlates with the exchange's success. If you're looking to bet on the future of Huobi, one way would be to purchase HT.
HT features a market capitalization of $745 million at writing, with a 24-hour trading volume of $23 million. Its circulating supply is 154 million HT tokens with a max supply of 500 million tokens.
You can purchase HT on Huobi Global, Gate.io, FTX, Uniswap, Poloniex, AscendEX (BitMax), LBank, MEXC, etc.
Disclosure: This is not trading or investment advice. Always do your research before buying any cryptocurrency or using any exchange.
Follow us on Twitter @nulltxnews to stay updated with the latest Crypto, NFT, AI, Cybersecurity, Distributed Computing, and Metaverse news!
Image Source: valedol/123RF