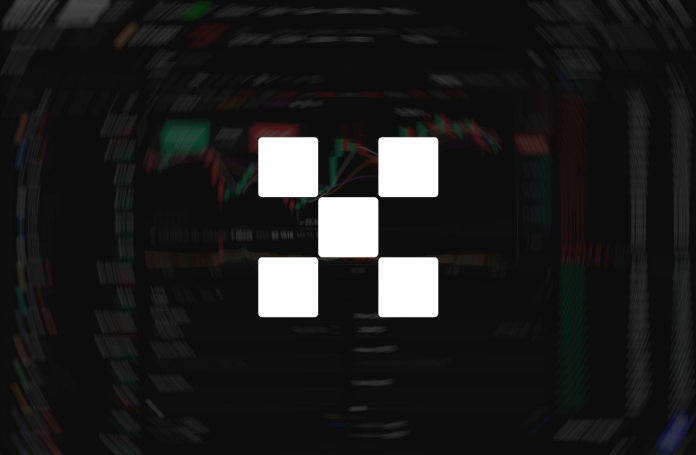 REVIEW OVERVIEW

Ease of use
Reliability
Reputation
Features

SUMMARY

OKX is an excellent exchange that's exceptionally reliable and provides a wide range of features and services. Since the platform was founded in 2017, it has had minimal downtime and no major hacking incidents, giving it an excellent reputation in the crypto community. The only downside to OKX is that it doesn't accept US customers. Otherwise, it's a perfect platform to trade a wide range of digital assets.
There are dozens of centralized and decentralized exchanges on the market, each offering unique advantages and disadvantages regarding its platforms. Today we will look at OKX, a highly popular centralized crypto exchange offering a high selection of digital assets and relatively low trading fees on its global platform. We will provide an unbiased, non-affiliated review of the exchange from the POV of an average individual investor looking for an easy-to-use, trusted platform to trade digital assets on.
What Is OKX?
Initially launched in 2017 under the name OKEx, the cryptocurrency exchange rebranded to OKX in January 2022. Earlier this year, the rebrand reflected the company's dedication to evolving with the trends in crypto, such as NFTs and DeFi, and to providing updated services for users looking to capitalize on the fast-moving crypto market.
While the Ex in the old name represented the open marketplace, X in the new name represents the unknown frontier the exchange is looking to tackle.
The rebrand came with a brand new website and UI, one of the more inviting and modern user experiences we've come across.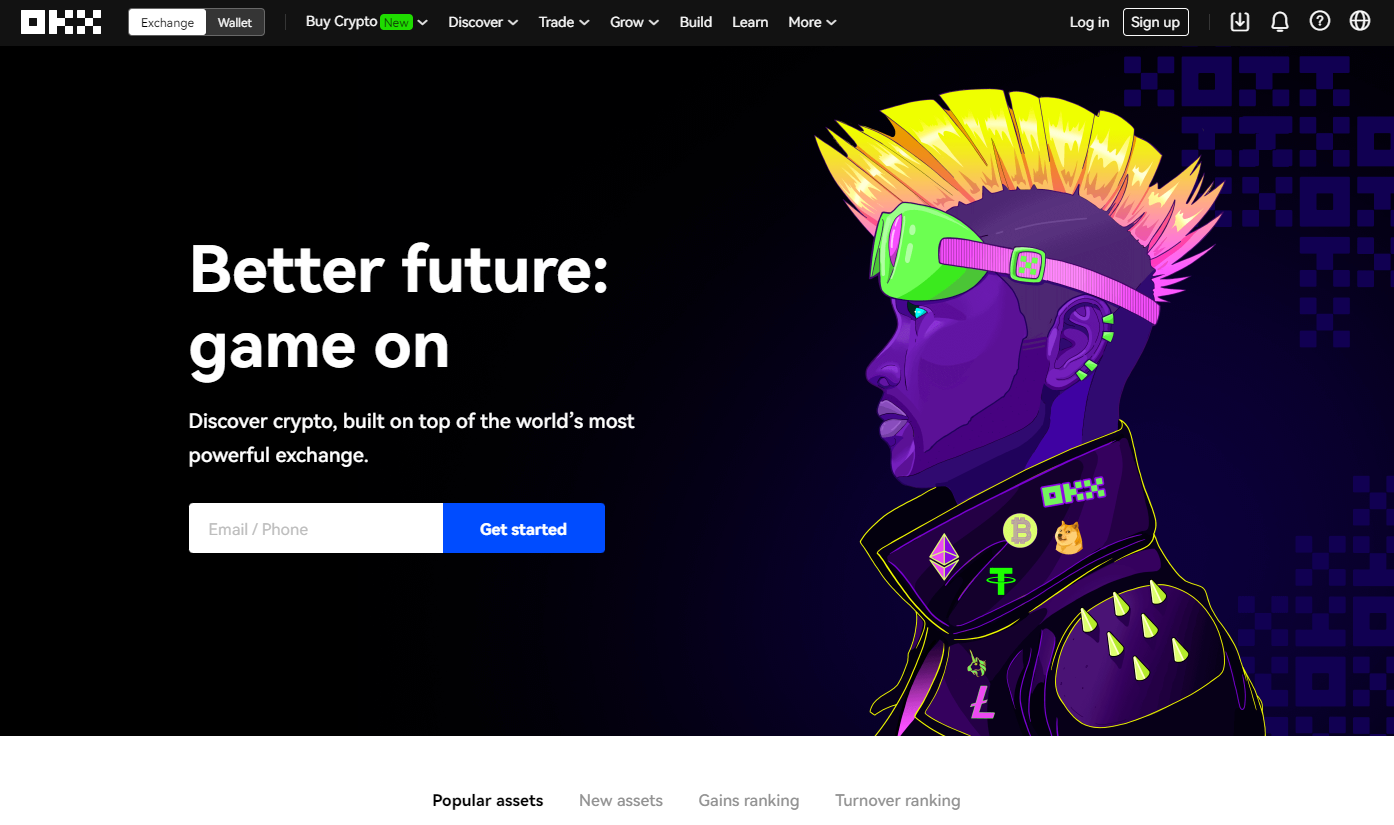 OKX's website features a sleek design with an emphasis on minimalism. At the same time, the exchange offers a wide range of services, platforms, data, educational resources, and much more.
OKX is one of the top exchanges by volume, ranking as the 13th-largest exchange by 24-hour trading volume. At the time of writing this article, OKX's 24-hour volume was over $2.4 billion, speaking to the sheer scale of the platform. Moreover, OKX features over 360 digital assets spanning over 800 trading pairs.
It's worth noting that OKX doesn't support US users. On sign-up, US residents are prompted to visit okcoin, a subsidiary of OKX that's part of OK Group.
Key Features of OKX
OKX offers a wide range of features on its platform. Once eligible users sign up to the platform, they can access all the below-mentioned services:
Buy Crypto
Users can purchase cryptocurrency on OKX via Visa or Mastercard. In addition, users can engage in peer-to-peer trading and sell cryptocurrency using their own rate.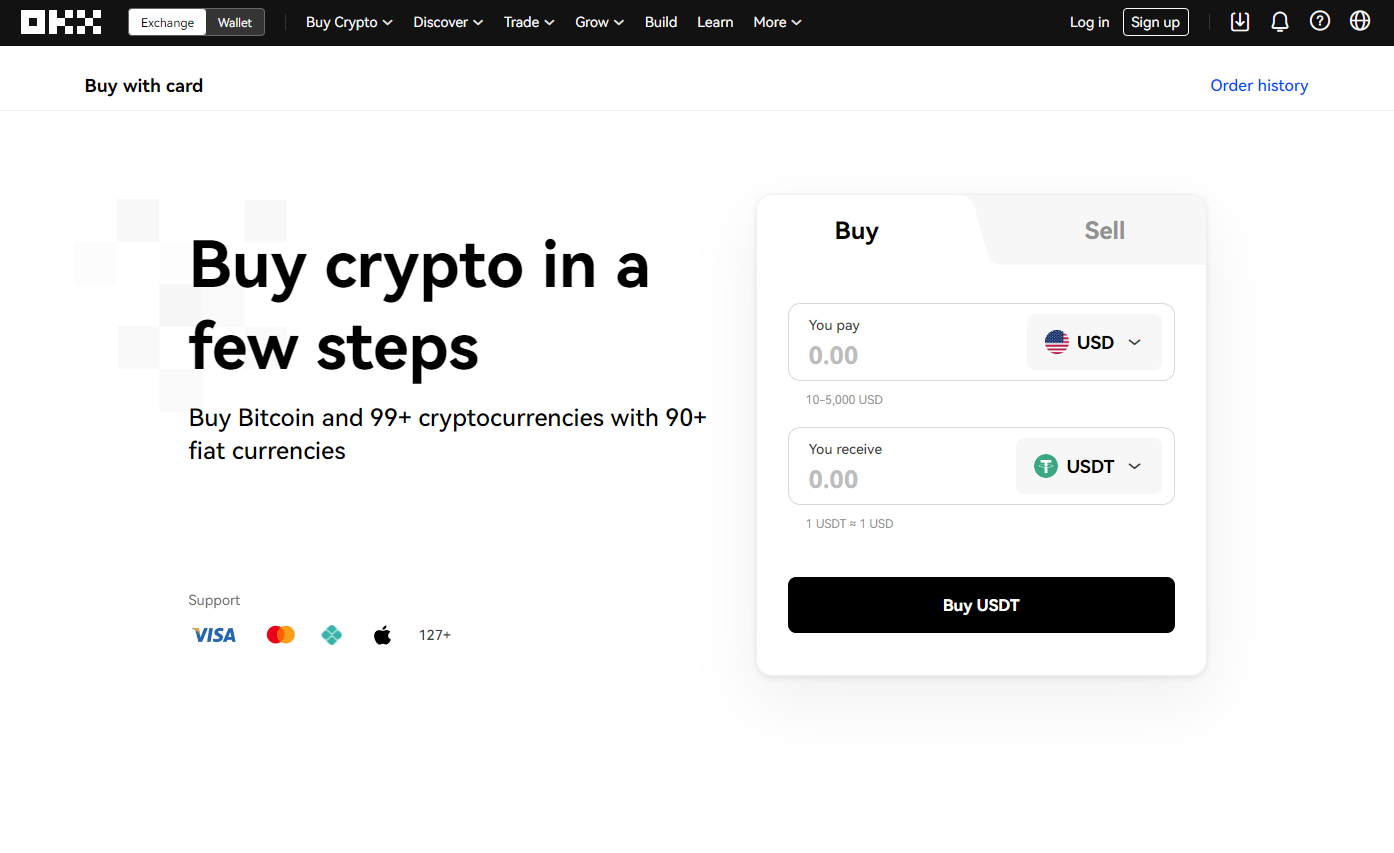 Last but not least, OKX offers additional payment options via Simplex and Bankxa for those looking to pay with a bank or other institution.
Discover
Under the discover section, users can explore OKX's markets, which list the price of various cryptocurrencies and offers a select category of tokens like Meme, GameFi, Layer2, NFT, etc.
Moreover, the discover section features an Opportunities tab, which categorizes crypto assets based on their Heat Index, a unique metric that shows the popularity of a particular digital asset.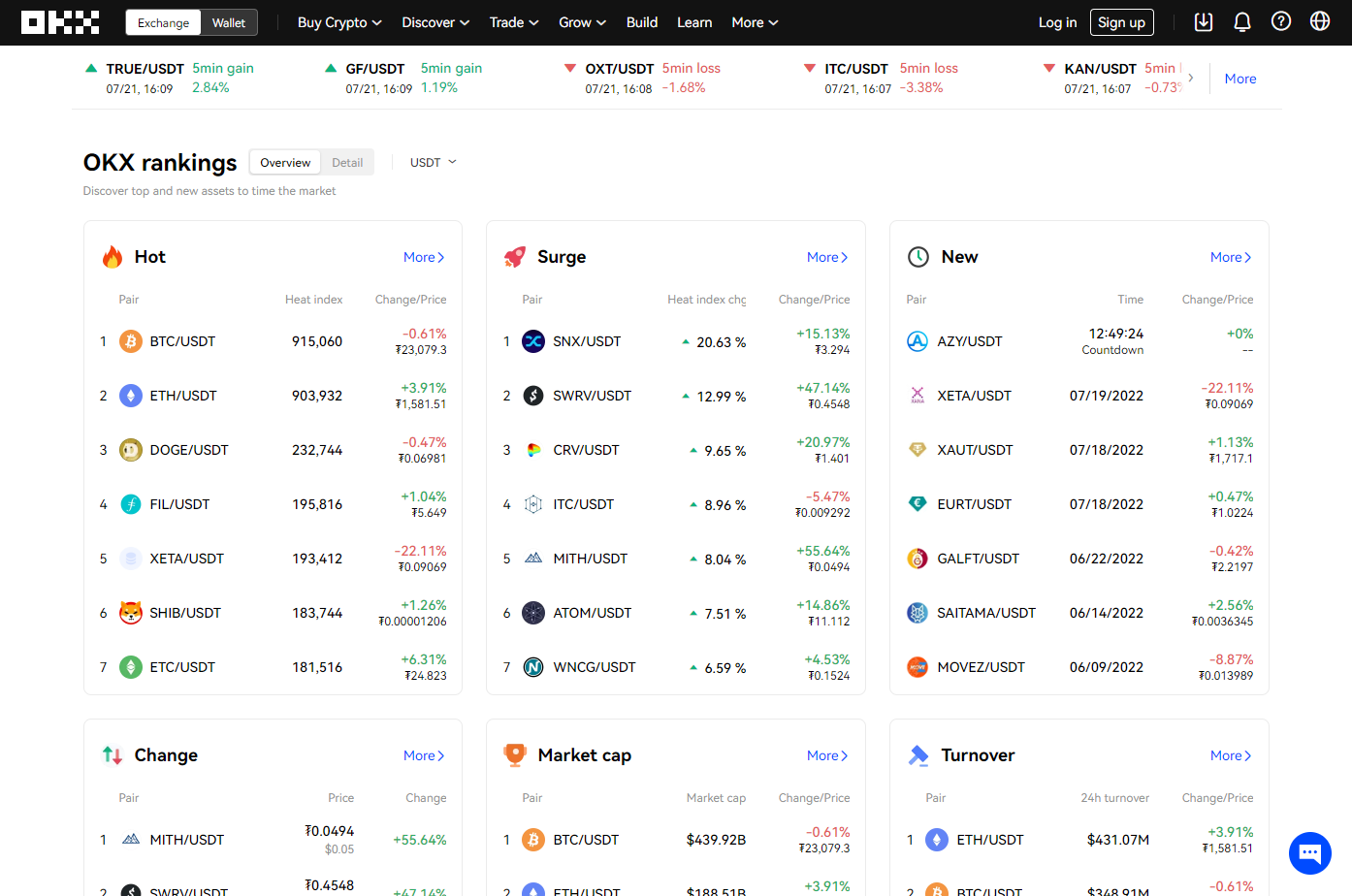 Lastly, the Leaderboards section under the Discover tab provides a collection of Master traders, their PnL percentage, and a risk tolerance rating. Aspiring traders can follow the recommended traders and expose their portfolios to similar trades.
Trade
The Trade section of the menu offers several options for users to trade their digital assets. A basic Convert option enables users to convert crypto assets with no fees and spreads quickly. There are basic spot trading options similar to what other centralized exchanges offer.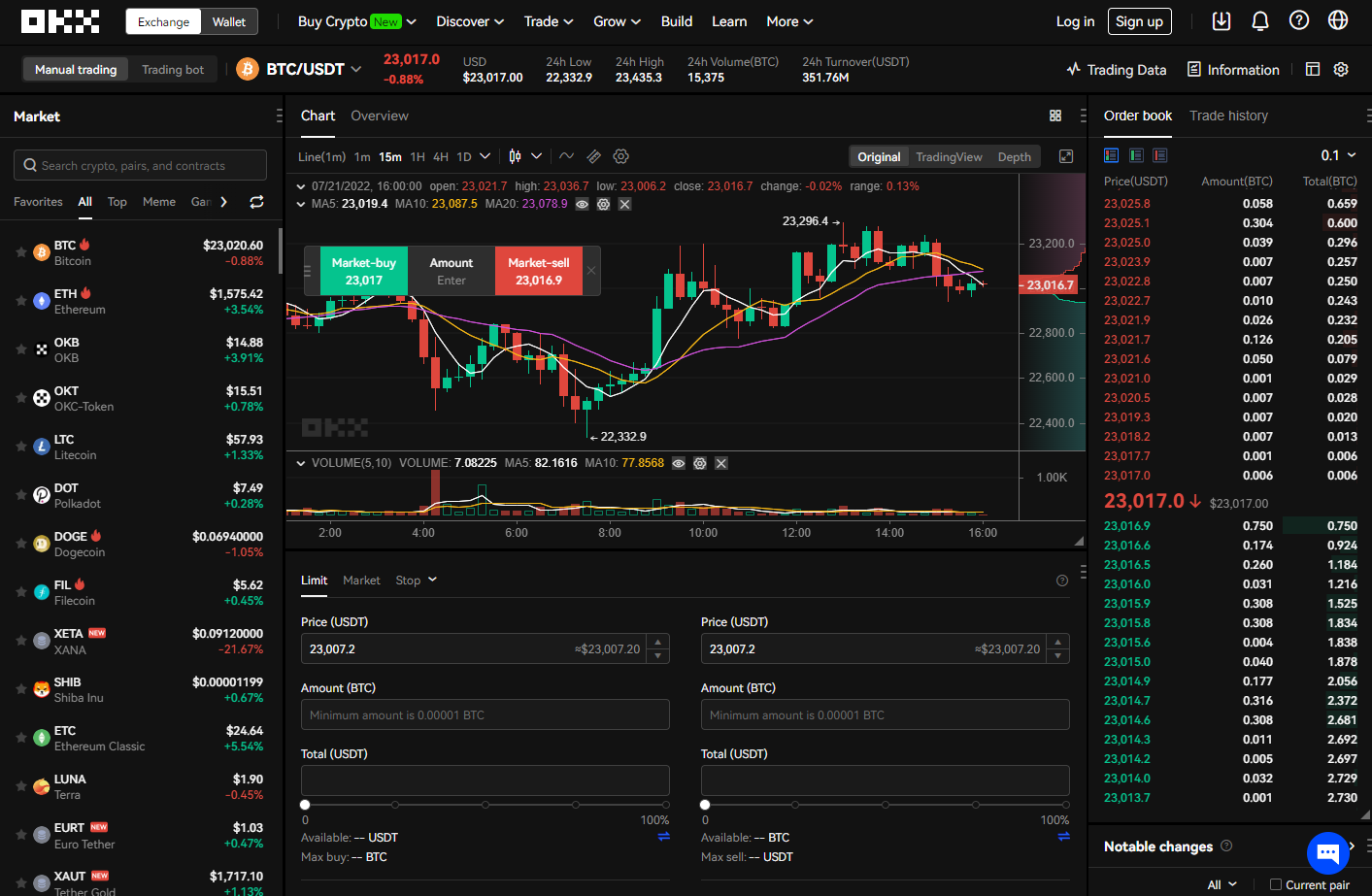 In addition, there's the margin trading option which enables users to perform perpetual swaps, trade on a margin, and trade options and futures.
There's also a trading bot that includes several trading strategies for those looking for a more passive trading style. The trading bot offers plans for both bull and bear markets, making it an attractive option for those who prefer automatic trades.
There's also a unique Block trading option for large-sized spot and derivatives trades. Block trading is best for purchases or sales of significant assets settled over the counter (OTC). This prevents substantial shifts in the order book of assets and protects other investors from extensive volatility.
Grow
The Grow section of OKX provides users with several options to earn rewards on their existing portfolios. The slogan for the section is "Don't HODL. Just Earn."
Some options for those looking to grow their portfolio without the risk of trading include Savings, Staking, Stablecoins, Fixed Income, Dual Investment, Flash Deals, DeFi, and ETH2.0.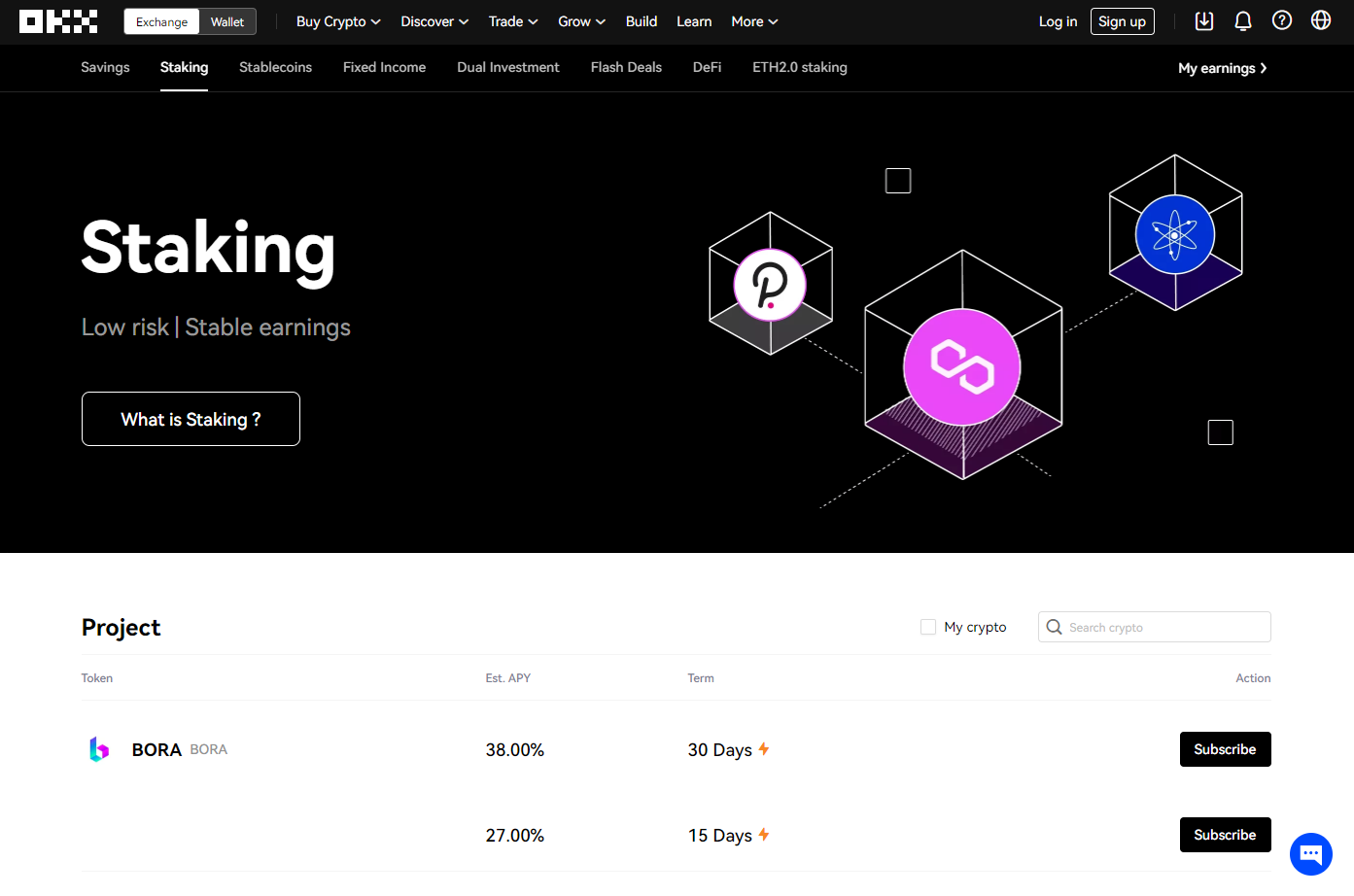 The Loans section also enables users to earn percent on borrowing or lending crypto assets to others.
Last but not least, the Jumpstart section provides exposure for new, high-quality projects for those looking to invest in underrated and undervalued cryptocurrencies that haven't yet caught the market's attention.
Learn
The Learn section provides educational content about the latest crypto trends and tech. It offers beginners tutorials for those just getting into crypto, along with trading ideas, industry analysis, and a blockchain glossary for those hungry for knowledge.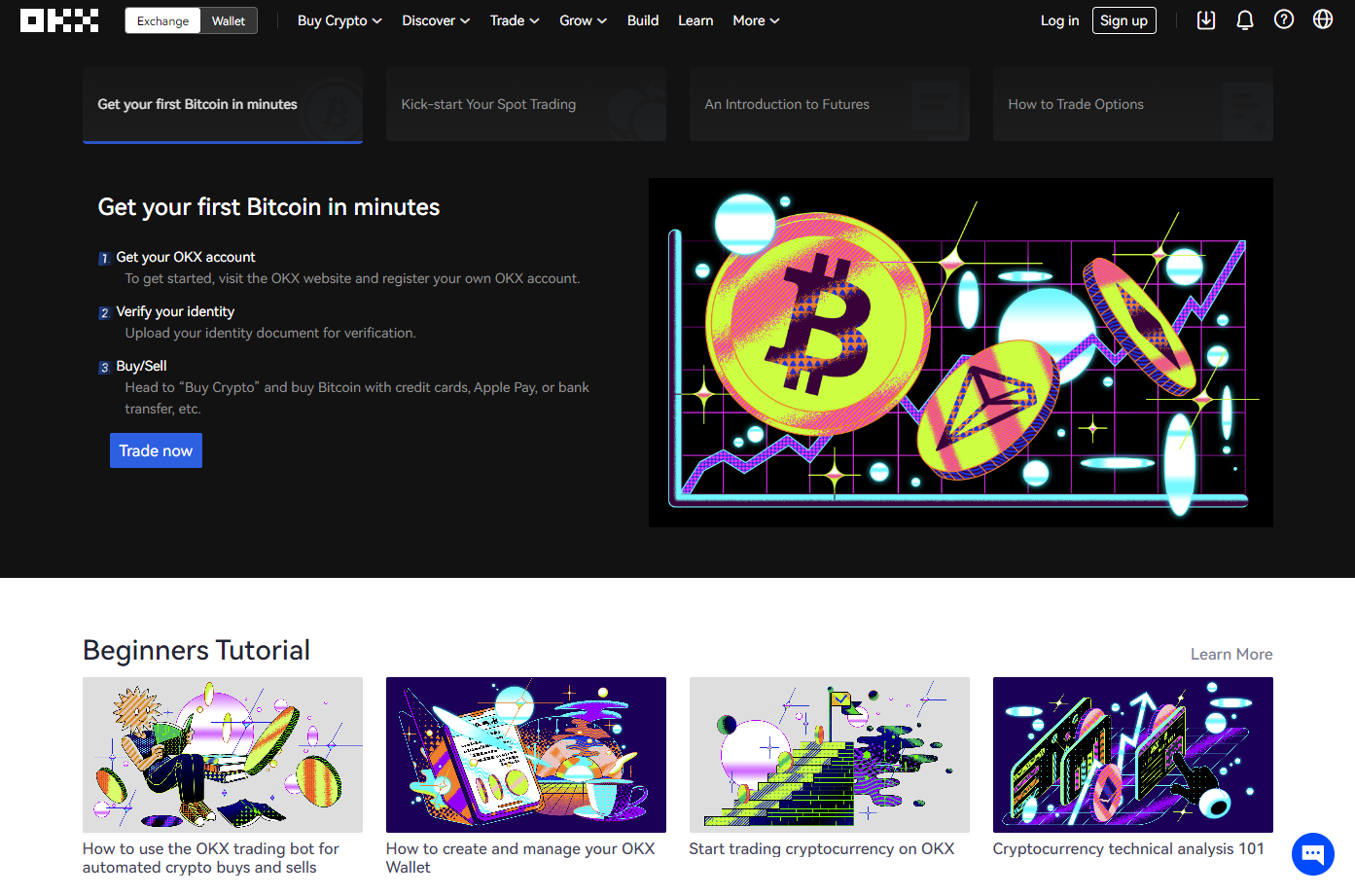 There are also educational articles regarding Futures and Options trading, which are common questions that new traders unfamiliar with the more advanced exchange features could find extremely helpful.
Some excellent tutorials we recommend checking out, even if you aren't an OKX user, are "How to use the OKX trading bot for automated crypto buys and sells" and "Cryptocurrency technical analysis 101."
More
OKX also offers a miscellaneous section with additional options like a mining pool, affiliate program, a rewards platform, and much more.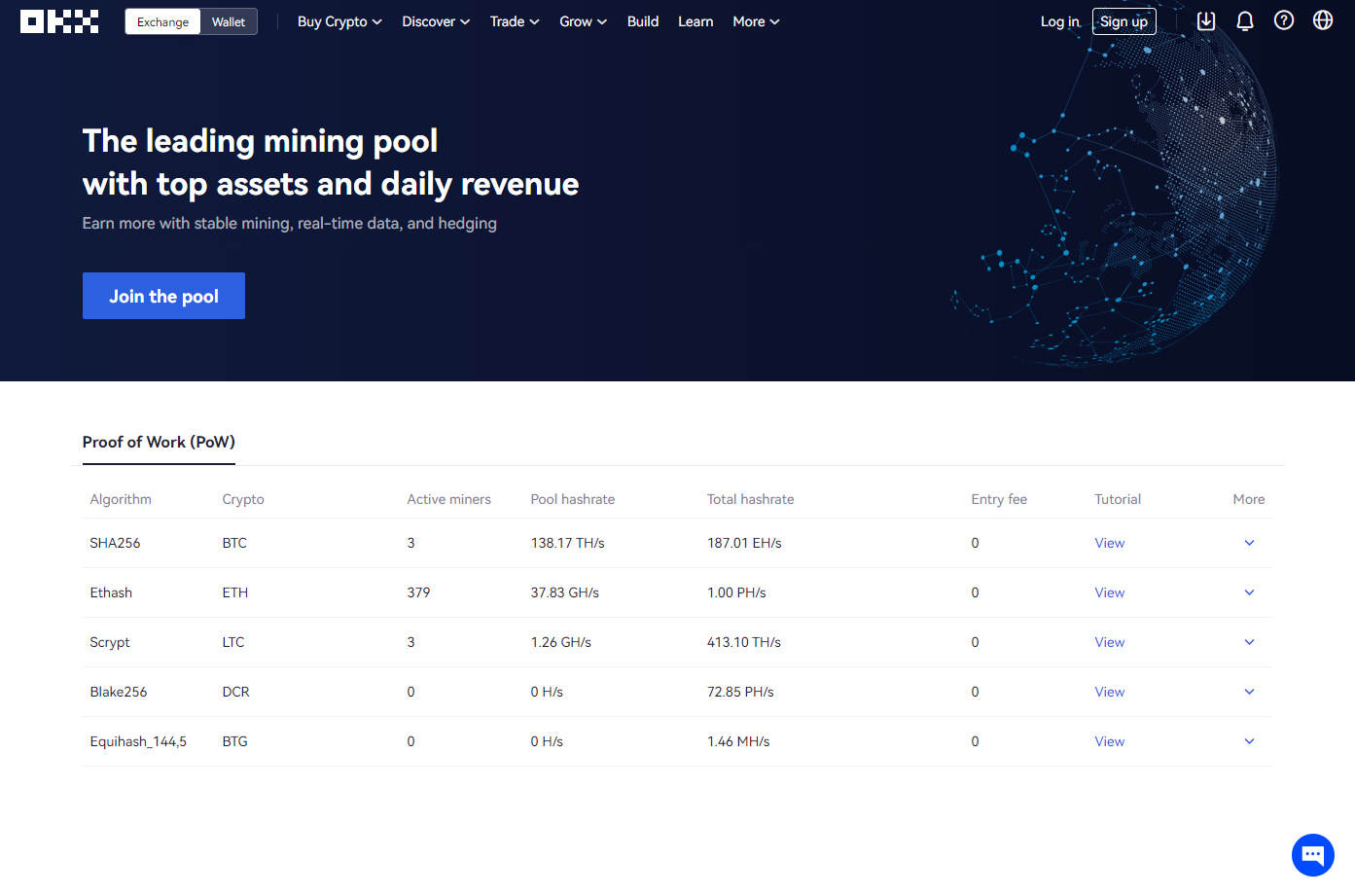 We recommend exploring this section for those looking to get the most out of the exchange and its services.
Final Thoughts
OKX is a reputable exchange that's been on the market for several years with no significant hacking incidents. It boasts an excellent reputation among traders, and the recent rebrand speaks to the long-term vision of the exchange.
OKX is also one of the top exchanges by volume and has one of the lowest trading fees on the market. If you aren't a US citizen, we recommend checking out OKX and its platform.

If you are a US citizen looking for an underrated cryptocurrency exchange, check out our LBank cryptocurrency exchange review for 2022.
Disclosure: This is not trading or investment advice. The author of this article isn't affiliated with OKX. Always do your research before buying any cryptocurrency or using any exchange.
Follow us on Twitter @nulltxnews to stay updated with the latest Crypto, NFT, AI, Cybersecurity, Distributed Computing, and Metaverse news!