Immutable X (IMX), currently ranked 46th by market capitalization, is making waves in the crypto world as it experiences an unprecedented surge in whale activity. In a surprising turn of events, a notable whale has suddenly amassed over $18 million worth of IMX tokens. This event coincided with substantial transfers of IMX tokens from the renowned cryptocurrency exchange Kraken to the equally prominent platform Coinbase. As of today, this marks the highest day of whale activity, with transactions involving IMX tokens valued at over $100,000.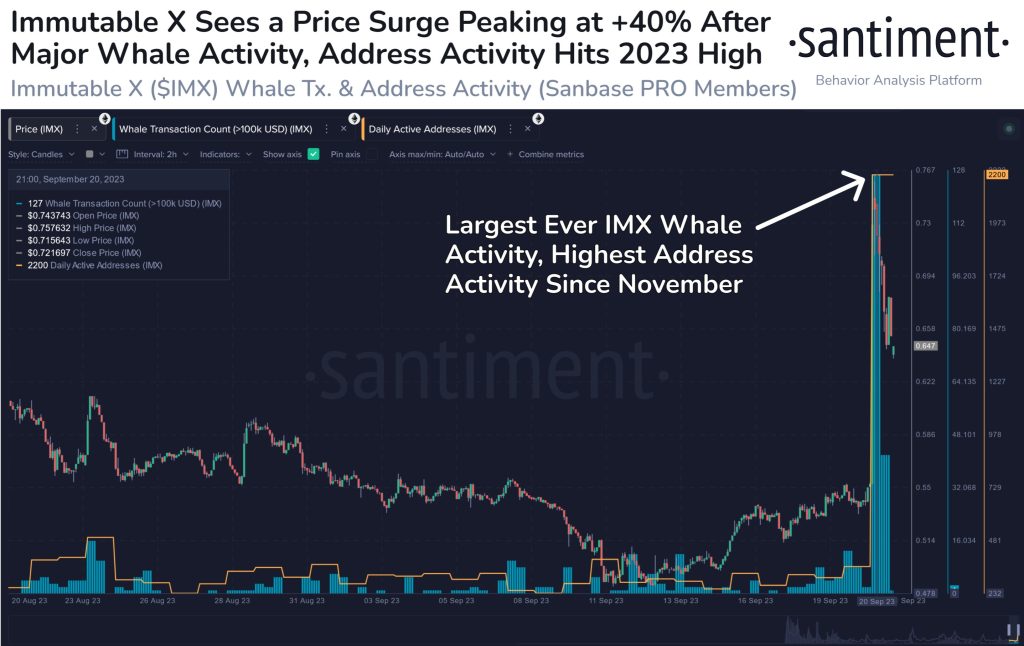 This sudden influx of interest and investment in IMX has raised eyebrows across the crypto community. Immutable X, known for its focus on non-fungible tokens (NFTs) and Ethereum Layer 2 scaling solutions, has been gaining recognition for its innovative approach to blockchain technology. The recent whale activity signifies growing confidence in the project's potential.
Institutional Investors Are Attracted
The movement of significant quantities of IMX from Kraken to Coinbase suggests that institutional and high-net-worth investors are recognizing the value proposition of IMX. This migration to Coinbase, known for its robust security measures and user-friendly interface, further reinforces IMX's legitimacy in the crypto space.
The $18 million+ IMX holding by a single whale underscores the immense wealth that can be accrued in the world of cryptocurrency. It also highlights the growing influence of whales in shaping the dynamics of smaller-cap tokens like IMX.
Final Thoughts
As Immutable X continues to attract attention and investment, it remains to be seen whether this surge in whale activity will translate into broader adoption and price appreciation. The crypto community will undoubtedly keep a close eye on IMX as it seeks to cement its position in the evolving landscape of blockchain and NFT technologies.
Disclosure: This is not trading or investment advice. Always do your research before buying any cryptocurrency or investing in any services.
Follow us on Twitter @nulltxnews to stay updated with the latest Crypto, NFT, AI, Cybersecurity, Distributed Computing, and Metaverse news!