Recently, a smart whale made waves in the crypto community by withdrawing a staggering 24,548 Ethereum (ETH) tokens from the popular exchange, Binance. These withdrawals, totaling $40 million in value at the time of the transactions, have left many wondering about the implications of such substantial movements in the market.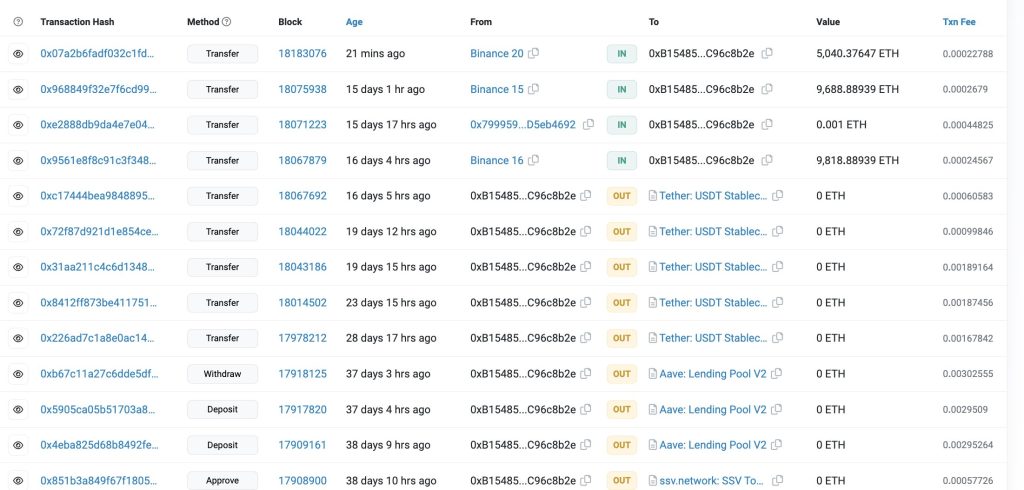 Whale Withdraws 5,050 ETH
The smart whale's most recent withdrawal of 5,040 ETH, valued at $8.17 million, signifies a pattern of substantial movements within a short time frame. Notably, these transactions occurred over a span of just over two weeks, starting on September 5. The average withdrawal price of $1,631 suggests that the whale took advantage of favorable market conditions during this period.
Expect Market Sentiment And Triggers
Such massive withdrawals can influence market sentiment and trigger speculations about the whale's intentions. While it's impossible to know the exact reasons behind these transactions, several plausible explanations exist. 
Self Custody Or Diversification
Firstly, the whale may have decided to move their assets to secure wallets or other exchanges for diversification or security reasons. Cryptocurrency is often subject to cyberattacks and hacks, making security a paramount concern for large holders.
Profit Taking Indication
Alternatively, these withdrawals might be indicative of profit-taking. The whale could have capitalized on the recent bullish trend in Ethereum's price, choosing to cash in their substantial gains.
Conclusion
Finally, the smart whale's sizable Ethereum withdrawals from Binance have stirred intrigue and speculation within the crypto community. Whether motivated by security concerns, profit-taking, or other factors, these transactions serve as a reminder of the influence that large holders can have on cryptocurrency markets. As with any crypto-related activity, it's essential for investors to stay informed and make informed decisions amid the ever-evolving landscape of digital assets.
Disclosure: This is not trading or investment advice. Always do your research before buying any cryptocurrency or investing in any services.
Follow us on Twitter @nulltxnews to stay updated with the latest Crypto, NFT, AI, Cybersecurity, Distributed Computing, and Metaverse news!