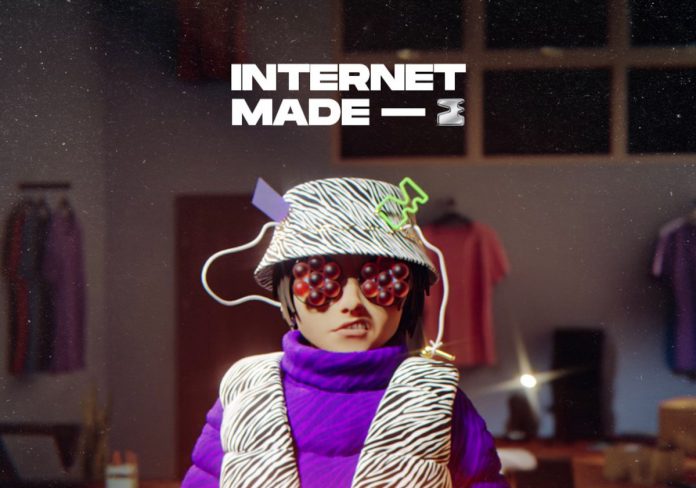 Internet Made NFT, a metaverse fashion brand and creative hub for innovative minds are set to launch very soon. The platform will enable users of metaverse worlds to create, purchase, and trade with Internet Made fashion NFTs.
In its vision, the brand sees its role as laying the foundation of new fashion culture, encouraging a new market and community growth for new talents and established players alike. Internet Made believes that its calling is not based on collection or branding. "It is a movement with all stakeholders playing an equal part," says Internet Made co-founder Rok Bozic.
"Not Just a Brand"
According to Bozic, Internet Made is a place for fashion-inspired people to hang out, discuss, collaborate, and in the future get funding to realize their designs and start a platform. Moreover, it seems to be slowly capturing the attention of social media enthusiasts, seeing that the Internet Made NFT gained more than 6,300 followers in one month.
"We plan to empower users to create virtual characters with unique digital artwork as momentum grows. These virtual characters would serve as catalysts in the seamless transition of fashion from the offline world to the digital world," Bozic adds.
An example of Internet Made fashion
At the brand's core is a young, creative, and sincerely enthusiastic team that allows Internet Made NFT adapt to the ever-changing trends as an innovative organization. The company team comprises Internet-savvy individuals who have pursued many different fields of expertise, including marketing, design, and fashion. 
Why Focus on NFTs?
Non-fungible tokens were among the most-searched-for phrases on Google in 2021, surpassing even blockchain. As NFTs grow, new digital narratives are being created across many industries. According to the latest available data, the sale of NFTs reached a record US$25 billion in 2021. The arts and fashion segments have capitalized on the advent of NFTs the most, as a single NFT artwork fetches as much as US$69.3 million or a global fashion brand like Gucci sells NFTs. 
Despite the ease with which big players can adapt to an emerging trend, innovation often lacks inclusivity for more minor resource-heavy players. For stakeholders to enter a new service, product, or solution zone, they would have to overcome several barriers. In addition, as technology advances, so do new platforms, which help lower entry barriers and make systems more accessible. 
Crypto analysts have stated that despite volatility due to the current market conditions, NFTs may lead to a decoupling of prices within crypto markets.
Digital Fashion Has Numerous Advantages
Digital fashion is a fashion renaissance movement that goes beyond the dynamism and rigidity of the traditional fashion system. Through players like the Internet Made, the merger of Web3 and fashion production will ensure that the manufacturing process, which is responsible for 10% of humanity's carbon emissions, becomes sustainable. 
Because of the intrinsic qualities of NFT technology, the designs will remain authentic, and artists will continue to get royalties for as long as the product sells in the market. By removing extra intermediaries from the equation, it will save money. According to estimates, margins in the fashion business might reach as high as 90% using NFTs. 
After the Internet Made NFT launch in the coming weeks, we shall see staking and DAO implemented in the second and third quarters.
Disclosure: This is not trading or investment advice. Always do your research before buying any cryptocurrency.