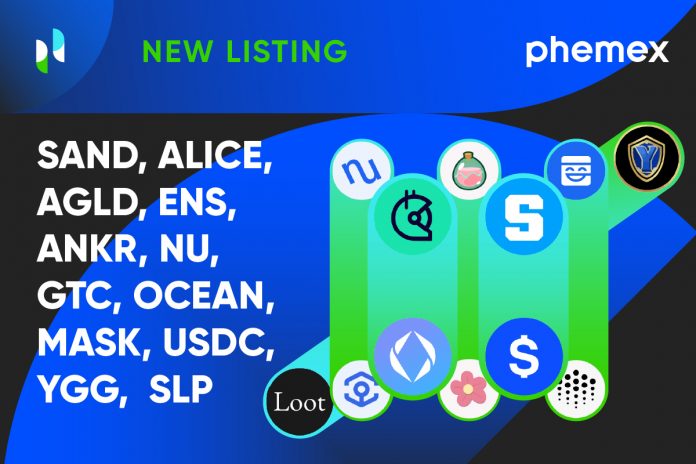 It can take a long time for a project to get its token listed on an exchange, especially if the platform is picky about which projects to accept. Phemex has always been selective about token listings on its platform, which helps ensure that consumers have a consistent experience. In January, the exchange is adding dozens of new tokens to its already remarkable range of trading pairs.
Phemex has been outspoken about its support for the metaverse. With blockchain-based NFT projects at the forefront of the metaverse movement today, it's only natural that they would bring on some of the most well-known NFT and Metaverse-related projects. Among them are SAND, ALICE, ANKR, GTC, YGG, AGLD, and SLP.
The Singapore-based exchange also intends to offer ENS, an Ethereum-based public decentralized identification protocol, and NU, a decentralized encryption and access control system. OCEAN, a decentralized data monetization initiative, is also listed on the platform, as is MASK, a network that allows users to exchange encrypted messages through Facebook and Twitter.
Furthermore, Phemex listed the ERC-20 version of USDC token, enabling another channel for the USD-pegged stablecoin. Phemex will list these 12 new tokens between mid-and late January, bringing the total number of tokens available on its spot and derivatives marketplaces to 52.
To celebrate its growth and dedication to its users, Phemex is hosting a special Metaverse edition of their popular Grab a Coin Campaign where users can join to win a variety of tokens such as SAND, ALICE, YGG, SLP and AGLD.
Phemex's Expansion Since Inception
Phemex's efforts to emerge as one of the most reliable crypto-derivatives platforms have been quite fruitful over the last two years. Last month, the exchange celebrated its second anniversary with its "Dream With Phemex " campaign, offering to literally make the wishes of a few lucky winners come true.
Apart from conducting numerous trading competitions since 2019, Phemex has devoted close attention to the needs of its community by hosting a variety of promotional events, public awareness campaigns, and giveaways.
The Singapore-based exchange has grown from just having three contract trading pairs at launch to one of the world's most popular digital asset trading platforms with over 40 trading pairs and over 2 million members — a 300% increase from 2020. This year, Phemex intends to expand its listing capabilities to provide additional options to its community. 
Change That Inspires
Before starting Phemex, Jack Tao worked on Wall Street for almost a decade. He co-founded the exchange with a team of seasoned Morgan Stanley executives after noting how skewed the traditional financial system was in favor of more affluent investors.
Centralization may be ruining traditional finance, but blockchain technology can help counteract its long-term effects. Tao recognized the potential shift blockchain could bring to the financial services industry, because it distributes power across the network and gives every user some ownership.
This is the basis for how cryptocurrency transactions are secured today. Phemex has always held its traders to be their top priority. It's the reason for their frequent online giveaways to raise awareness of private key self-custody and large-scale events with prizes worth millions of dollars. Phemex's dedication to customer satisfaction is unrivaled, allowing it to maintain Wall Street professionalism while also providing a balanced service to retail investors.