Cryptocurrencies now hold a market cap of more than $200 billion. According to analysts, in coming years, the cryptocurrency market capitalization may reach 10 trillion dollars. Today, there are more than 2000 distinct cryptocurrencies in the market, a number that may  continue to grow daily.
In this environment, picking the right crypto coins to store is becoming increasingly difficult. Until now.
Introducing the Cryptoindex 100 – an AI (short for Artificial Intelligence)- driven analytical snapshot of the world's 100 best performing cryptographic currencies. The index represents a mathematically computed weight of coins, which is included in the structure. Integration with the 9 largest exchanges allows continuous tracking of tens of millions of trades and orders per day,  which are then instantly reflected in the value of the Cryptoindex 100.
"As the Crypto market transitions from its current state to a far more professional financial markets tool, Cryptoindex and its first product the Cryptoindex 100, along with its associated utility token the CIX100,  can play a key role in this process. The token and the index will provide a step in the process for the market to adopt indices and the tools to gain exposure to them as part of the growth and development of Cryptocurrencies. The Cryptoindex 100 has the opportunity to become an industry benchmark" said Cryptoindex CEO VJ Angelo.
Over 1,800 coins are put through our fixed set of filters, which provides around 500 coins as a rough output. Data is collected from a multitude of cryptocurrency exchanges, news, and social media, such as Twitter, GitHub, and other sources. The collated data is then used to extract over 200 factors that create a refined coin ranking in the index. These factors are fed into the neural network creating a final rating of coins; the top 100 currencies making up the Cryptoindex 100. The current index value and composition with detailed analytics for each coin included are already available at the MVP of the Cryptoindex Platform.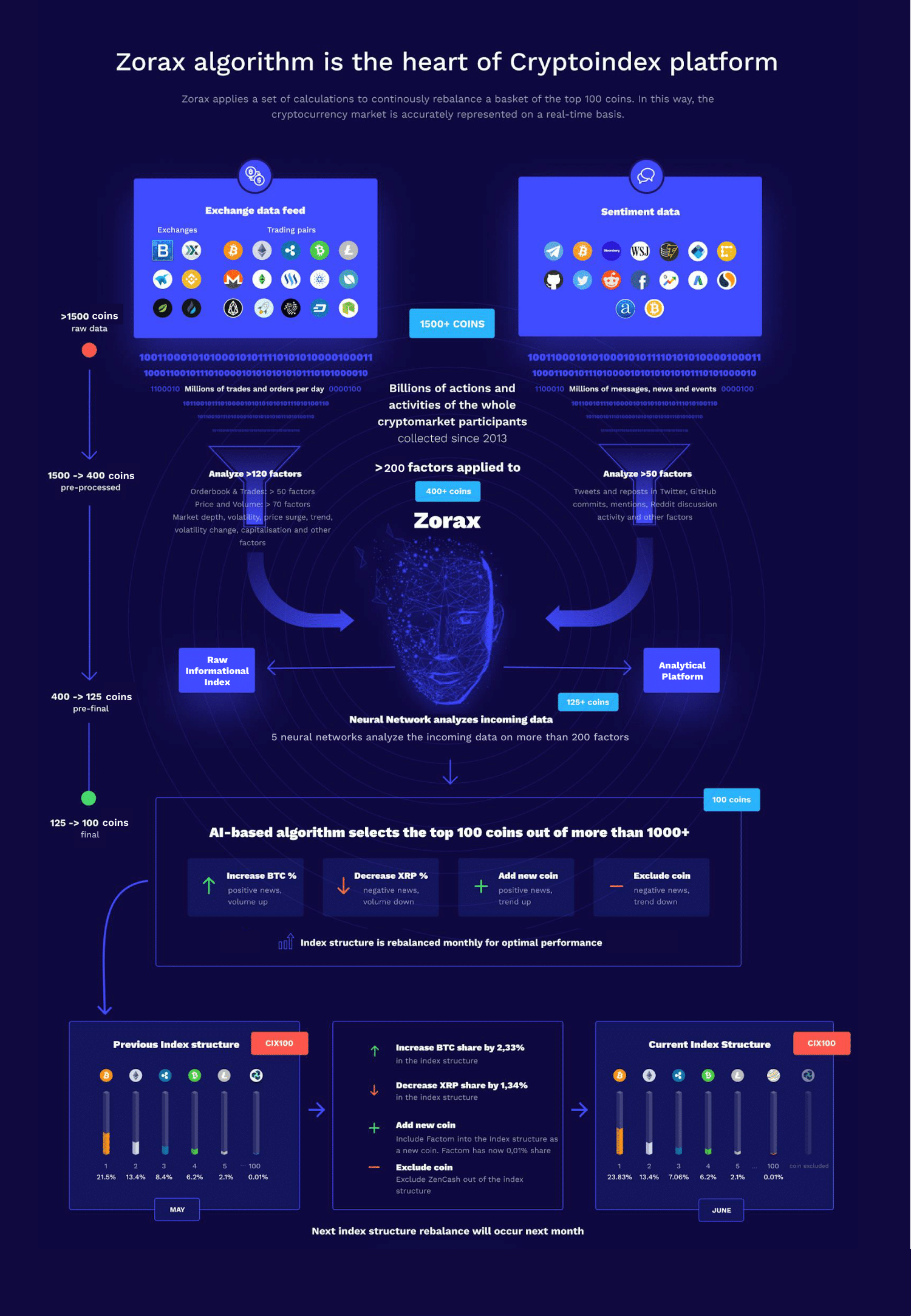 Zorax Algorithm
The index functions according to the proprietary algorithm, 'Zorax.' Zorax has been trained on the entire crypto trade history, including the early start of the cryptocurrency market. Its self-learning process is ongoing. Zorax learns from tens of millions of new trades and orders every day, analyzing messages, news announcements and events in the cryptocurrency market – making a unique, highly sophisticated analytical system in the cryptocurrency market.. The mathematics behind the Cryptoindex 100 index is described in detail in the Whitepaper.
The CIX100 token is an ERC20 standard token, which means it can be stored in any wallet or on any exchange that supports the standard.
The Token can be used on the Cryptoindex Platform as a means of payment for all services offered, including various analytics such as: current index value and structure; real-time data from multiple exchanges; access to online data streaming services via API; historical data and statistical datasets; market predictions and overview; and other valuable data.
Outside of our Platform, the CIX100 Token will be freely transferable to third parties on the open market upon its receipt, just like any other ERC20 standard token. To grow the user base and fulfill users' expectations, Tokens may be listed (subject to all required legal approvals)  on cryptocurrency exchanges.
The Token Sale of the CIX100 token will start on the 17th of October 2018, 10:00 (UTC+1).
Token Sale Purchasers will receive the  following benefits:
3 Months free PRO access to the Cryptoindex platform and to Cryptoindex 100, a highly sophisticated AI-based analytical tool.




• 50% discount

–

when paying with CIX100 Tokens, Token Holders will get a 50% discount on the price of all services offered on our Platform.

Bonus Tokens – extra Tokens may be allocated to you based on the amount and timing of your purchase of CIX100 in the Token Sale.




• Ability to offer your CIX100 Token – a stand-alone regulated fund. The Authorized Fund may in its absolute discretion buy CIX 100 Tokens from Token Sale Participants. All the information about the process is available at the Authorized Fund

website

.
Information regarding  the Token Sale process and requirements are available along with the Whitepaper on the company's Website.
---
LEGAL INFORMATION

THIS PUBLICATION IS FOR INFORMATIONAL PURPOSES ONLY.

THIS IS NOT AN OFFER OF ANY SECURITIES OR INVESTMENTS, OR AN INVITATION FOR SUBSCRIPTION OR PURCHASE OF ANY SECURITIES OR INVESTMENTS, DIRECTLY OR INDIRECTLY, ANYWHERE IN THE WORLD.

THE ISSUE AND THE DISTRIBUTION OF CIX100 TOKENS will not be available to residents (and to other persons under the jurisdiction) of the following countries:

Afghanistan, Bosnia and Herzegovina, People's Republic of China, Guyana, Iran, Iraq, Japan, Lao PDR,Myanmar, North Korea, Syria, Uganda, United States of America, Vanuatu, and Yemen.

THE ISSUE AND THE DISTRIBUTION AND TRANSFER OF CIX100 TOKENS MAY BE RESTRICTED BY LAW IN CERTAIN OTHER JURISDICTIONS, AND THEREFORE ANY PERSON CONSIDERING ACQUISITION OF CIX100 TOKENS INTO WHOSE POSSESSION THIS DOCUMENT COMES SHOULD INFORM THEMSELVES ABOUT AND OBSERVE ANY SUCH RESTRICTIONS. ANY FAILURE TO COMPLY WITH THESE RESTRICTIONS COULD RESULT IN A VIOLATION OF THE LAWS OF SUCH JURISDICTION.

CIX100 IS NOT A SECURITY.

CIX100 Token is a 'utility token'. The main purpose of the CIX100 Token is to serve as a means of payment for the acquisition of products and/or services from the Company. This product is not a security, commodity, or any other kind of electronic money or financial instrument and has not been registered under the United States Securities Act, the securities laws of any state of the United States of America, or the securities laws of any other country, including the securities laws of any jurisdiction in which a potential Token holder is a resident or to which it may be subject. A CIX100 Token is not intended for sale or use in any such jurisdiction, or generally in any jurisdiction where sale or use of digital tokens may be restricted or prohibited.

Certain statements, estimates and financial information contained in this document constitute 'forward-looking statements' or information that refer to anticipated future results, including estimated synergies, or other non-historical facts are forward-looking statements that reflect the Company or its managements' current perspective of existing trends and information as of the date of this publication. Forward-looking statements generally will be accompanied by words such as "anticipate," "believe," "plan," "could," "should," "estimate," "expect," "forecast," "outlook," "guidance," "intend," "may," "might," "will," "would", "possible," "potential," "predict," "project," or other similar words, phrases or expressions. It is important to note that these goals and expectations are not predictions of actual performance. Such forward-looking statements or information involve known and unknown risks and uncertainties, which may cause actual events or results to differ materially from the estimates or the results implied or expressed in such forward-looking statements. Actual results may differ materially from current expectations depending upon a number of factors affecting our business and associated with it.
---
This is a sponsored article and does not necessarily reflect the opinions or views held by any employees of NullTX. This is not investment, trading, or gambling advice. Always conduct your own independent research.
Image(s): Shutterstock.com