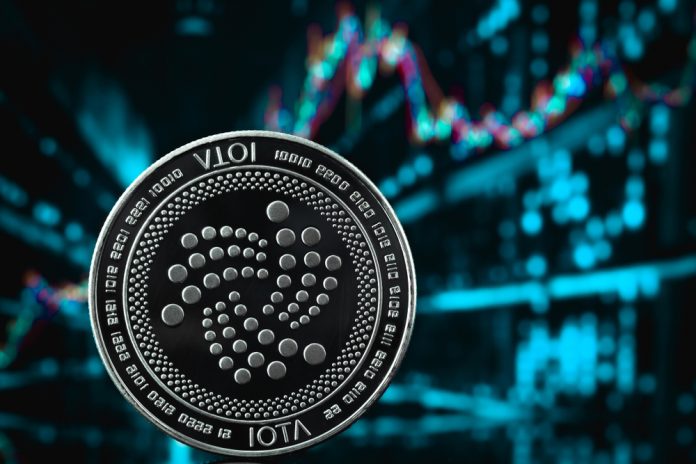 It has been a rather interesting start to the week for all cryptocurrencies and digital assets. Very strong gains were noted when Sunday afternoon transitioned into Monday morning. That positive momentum is still in place nearly 48 hours later. The IOTA price, for example, has seen a very notable uptrend ever since. A market reversal seems imminent, although there is still a lot of bearish pressure.
IOTA Price Uptrend Continues
Whenever any financial asset starts to gain value for several days in a row, there is some room for concern. More specifically, no market can go up in value indefinitely and a correction will always kick in sooner or later. This week may not necessarily be any different, primarily because there have been several hourly charts which looked extremely weak. IOTA is, until proven otherwise, no exception whatsoever.
Although the 24-hour chart still looks good, the current gains may go through a small correction of their own. There is still a 13.5% increase in USD value and 7.3% improvement in the MIOTA/BTC ratio. The current IOTA price of $0.29 is relatively high, especially when considering how the altcoin was on the verge of dropping below $0.2 not that long ago. A near 50% increase in value will not go by unpunished, although it mainly depends on what happens to Bitcoin over the coming days.
Behind the scenes of IOTA, a few interesting things have begun taking shape all of a sudden. First of all, there is a new partnership between IOTA and [email protected] to standardize the industrial Internet of Things. This is another pretty big partnership for the cryptocurrency and blockchain project, a sit fortifies its position in the IoT industry as more time progresses.
@eClassStandard: Partnership to help #IOTA become standard data protocol for the Industrial Internet of Things (#IIoT).https://t.co/4S5TDduHZJ pic.twitter.com/78ujQ4yckf

— CriptoCanarias (@CriptoCanarias) December 19, 2018
The second major development comes in the form of IOTA Hub. It is a new solution which primarily focuses on simplifying token management for IOTA-based services. It seems this can be a viable tool for exchanges looking to add IOTA to their platform at some point in the future. Tools like these can have a major impact on the cryptocurrency ecosystem as a whole.
#IOTA Hub makes integrating IOTA simple for any kind of service provider. Using Hub, an exchange can be ready to support IOTA in weeks rather than months, just by connecting Hub to their existing trading platform. pic.twitter.com/qJnN2ciYad

— IOTA News (@iotatokennews) December 19, 2018
Based on the current market conditions, it would almost seem as if IOTA is getting a lot of love right now. This most recent price trend is quite spectacular to behold, primarily because the year 2018 has been overwhelmingly negative in many different ways. Although this has all of the signs of a massive market recovery, it would appear that is not necessarily the case. There is a very likely chance this is all a temporary rebound, albeit one can only hope for the best.
Seen the low at #IOTA!? 🤔🙂 #IOTAstrong #IOTALove pic.twitter.com/s3zm2jlPGw

— Philip Leinsle (@PLeinsle) December 19, 2018
As promising as things may look for this particular altcoin right now, a drop to $0.25 is not entirely out of the question by any means. The overall trading volume is very low for this particular market, as just $17.4m is anything but impressive. Even so, things can still turn around when people least expect it, as these markets remain unpredictable first and foremost.
---
Disclaimer: This is not trading or investment advice. The above article is for entertainment and education purposes only. Please do your own research before purchasing or investing into any cryptocurrency.
Image(s): Shutterstock.com