XRP has been on quite a rally for the past two days. After hitting a low of $0.28, the price jumped over 15% in a single day all the way to $0.33. Today the asset bounced off the support line and only a few hours ago XRP jumped another 5% all the way to the current price of $0.35.
XRP Price Looking For New Support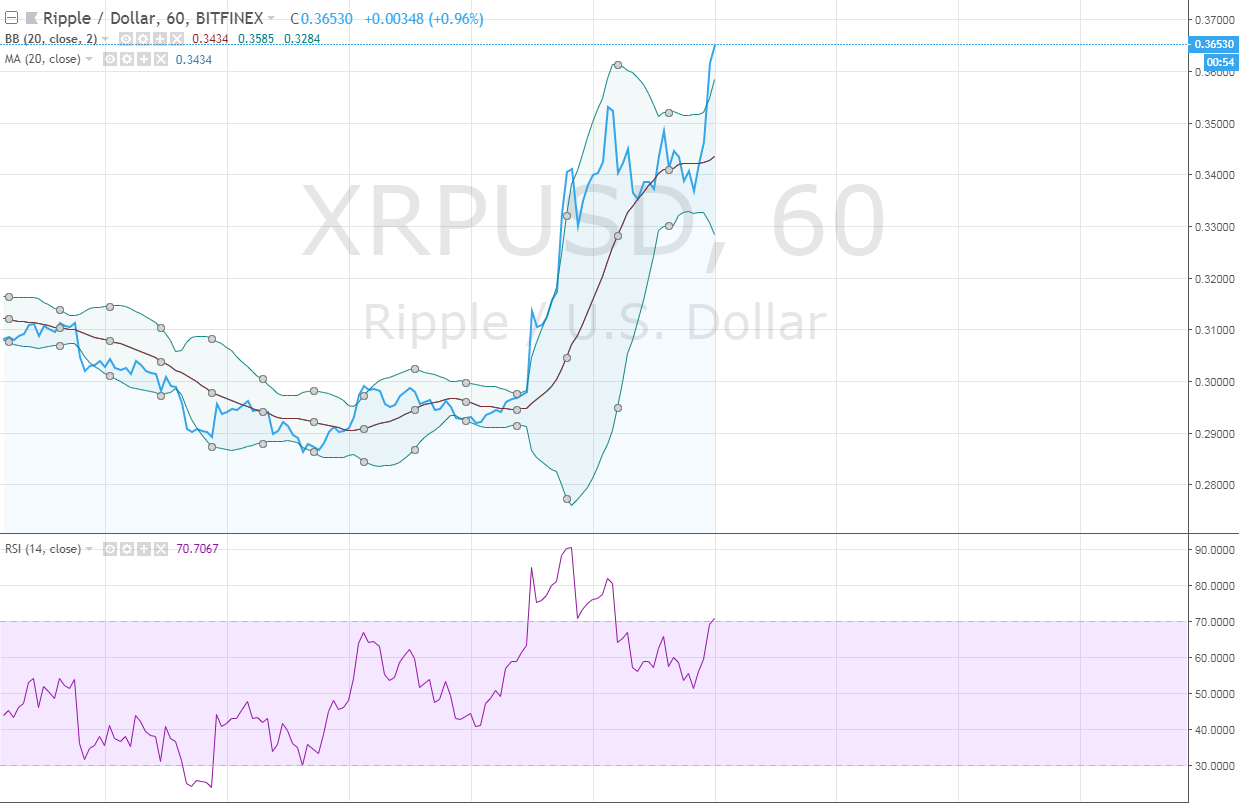 Looking at hourly Bitfinex XRPUSD chart we can take note of a few technical indicators:
Relative Strength Index: Looking at the RSI, it is currently at 70, meaning that according to the indicator the market is currently overbought. That means that the current price is unstable and a correction is in play.
Bollinger Bands: After a minor consolidation earlier in the day, the recent price action expanded the range once again. Currently according to the indicator support is around $0.32 and resistance is at $0.36.
Both indicators are signalling that a minor correction is expected. However, the price most likely isn't going to dip below $0.32 in the next few hours. If XRP can hold the $0.35-$0.36 support line, further momentum upwards is expected.
It is also important to keep an eye on Bitcoin's behavior, as any movement up or down will also reflect on the markets of other cryptocurrencies, including XRP.
XRP Is Working on Key Partnerships
Being one of the only cryptocurrencies catering to traditional institutions, XRP is making waves in the industry. According to Smartereum, the VP of American Express Colin O-Flaherty confirmed at the last day of The Money 20/20 that the company is officially using xCurrent – one of Ripple's solutions.
Furthermore, earlier this month Western Union reported in a blog post that they partnered with Ripple Labs to test using blockchain technology for their transfers to see if that would result in cheaper and faster transactions.
"WU partnered with Ripple Labs to test whether sending payments by blockchain was faster and less expensive. The tests are ongoing."
It is clear that Ripple is making progress when it comes to groundbreaking partnerships and increasing adoption of cryptocurrency and blockchain tech. Thus, it comes to no surprise that the currency is second by marketcap and the market is doing quite well as of late.
---
Disclaimer: This is not trading or investment advice. The above article is for entertainment and education purposes only. Please do your own research before purchasing or investing into any cryptocurrency.
Image(s): Shutterstock.com