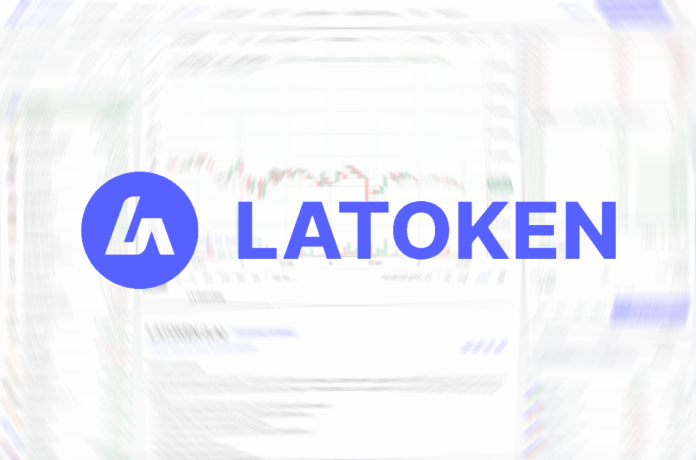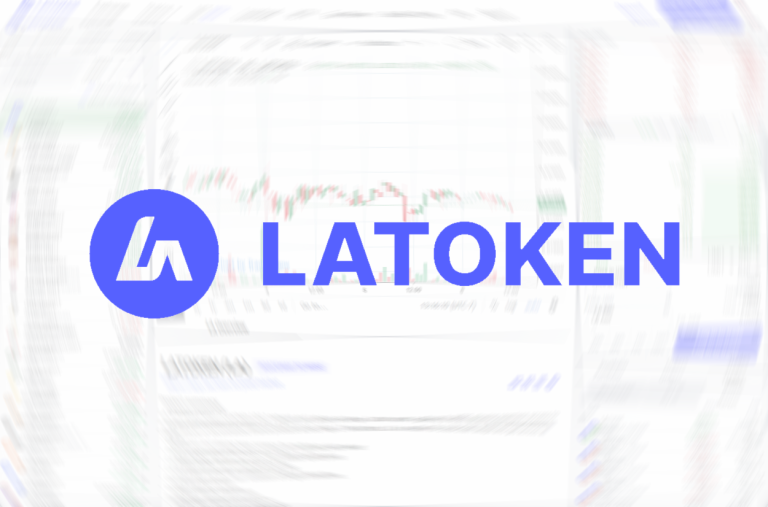 REVIEW OVERVIEW

Ease of use
Reliability
Reputation
Features

SUMMARY

LATOKEN received 4/5 stars for Ease of use because while the platform and UI were easy to use, we did encounter some glitches and delays when switching tabs in the menu. When it comes to Reliability, we gave the exchange 4/5 stars. While LATOKEN has never been hacked, a disgruntled employee took over its Twitter account briefly in January 2022. LATOKEN received a 3/5 for its reputation as there have been some questionable IEOs launched on its platform. LATOKEN received a 4/5 for its Features as it did have a unique NFT platform and several additional features like a staking platform, a referral program, and more.
Suppose you've been exploring cryptocurrencies on popular platforms like CoinMarketCap or CoinGecko, and have been looking at various exchanges for niche digital assets like coins for Metaverse crypto games, Web3 tokens, NFTs, and DeFi projects. In that case, one exchange you've likely come across is LATOKEN. As one of the most popular exchanges on the market, LATOKEN makes for an excellent platform for those looking to trade cryptocurrency. Today we will be providing an unbiased review of the cryptocurrency exchange from the point of view of an average crypto trader and investor.
What Is LATOKEN?
Founded in 2017 by Valentin Preobrazhenskiy, LATOKEN's headquarters are based in Msida, a town in Malta, an island in the Meditteranean Sea. However, it's important to note that LATOKEN features headquarters worldwide, including offices in London, England, and the United Kingdom.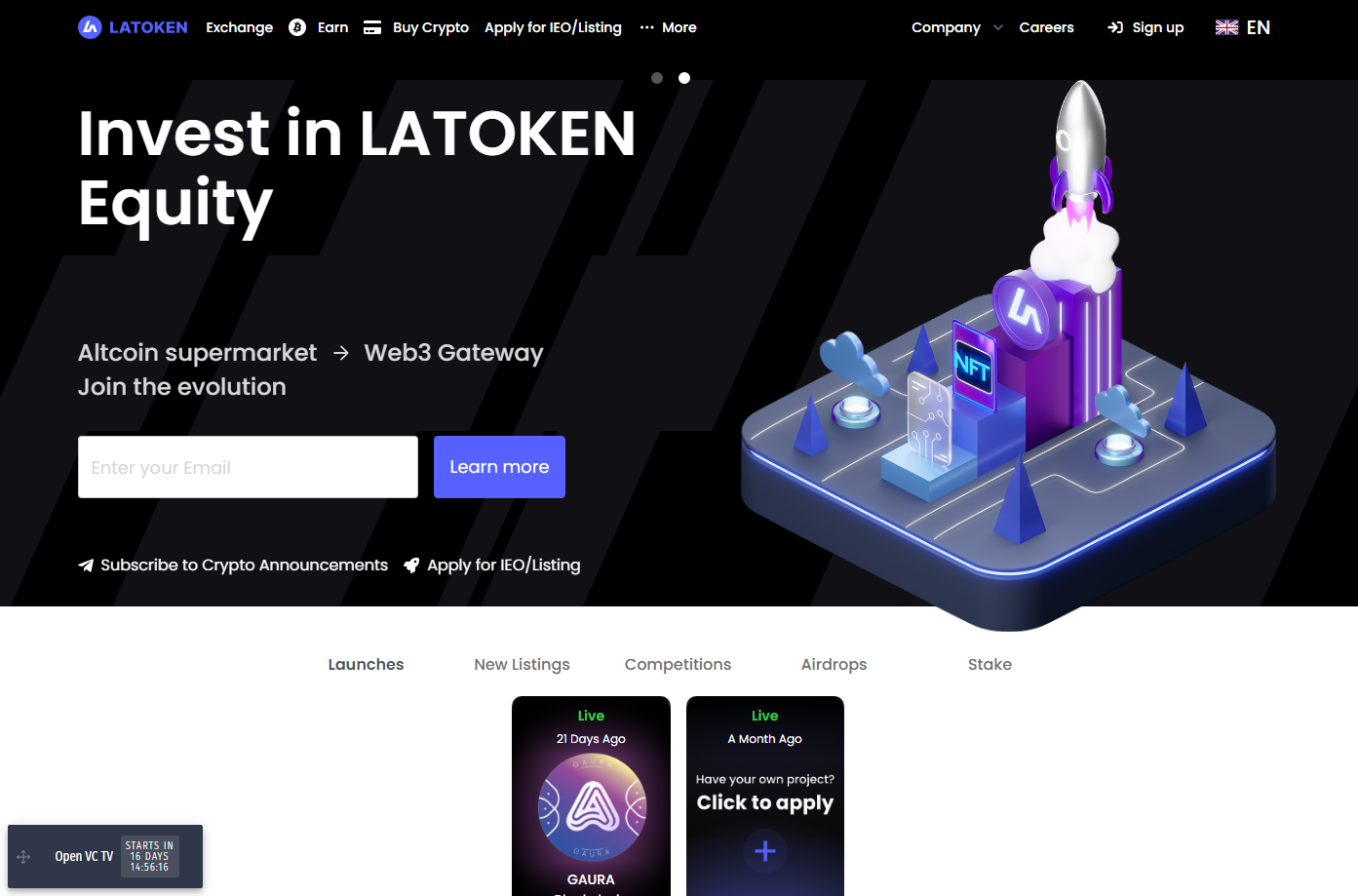 LATOKEN describes itself as the leading platform for multi-asset tokenization and cryptocurrency exchange. It features over 380 employees on LinkedIn with over 21k followers on its page.
At the time of writing, LATOKEN features a 24-hour trading volume of $265 million, with the top three highest traded assets on the platform including Bitcoin ($82M), Ethereum ($67M), and Solana ($8.7M).
LATOKEN Key Features
LATOKEN features two primary sections of its platform. The first is its exchange, which features a variety of niche digital assets, many of which aren't available on other cryptocurrency exchanges. Its exchange platform focuses on providing valuable liquidity for new tokens.
The second section of its website features an IEO (Initial Exchange Offering) launchpad for new tokens. There are crowdfunding campaigns that users can participate in, ranging from DeFi, NFT, Metaverse, and Web3 tokens.
LATOKEN also offers a staking dashboard, an NFT platform, and a VCTV (Venture Capital Television) directory. In addition, the platform features an Earn Money section, a P2P trading option, and much more.
Let's go over each option in more depth:
Exchange
The exchange section features a list of cryptocurrencies available to trade on the exchange. Users can see the trading pair, the price in USD and USDT of each asset, the 24-hour volume, and the 24-hour change in price for various digital assets.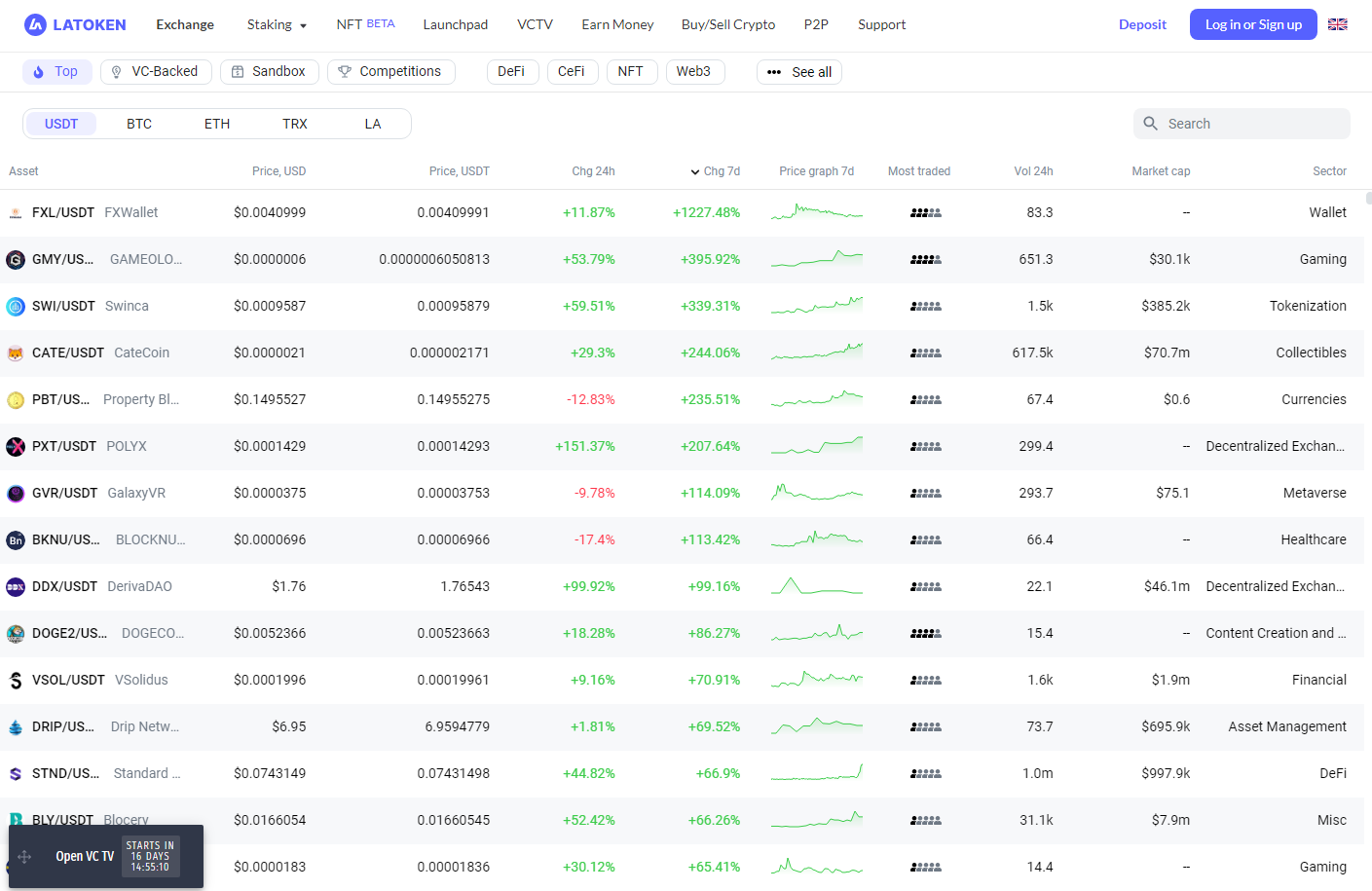 Several categories are available for users to check, including Top, VC-Backed, Sandbox, Competitions, DeFi, CeFi, NFT, Web3, and much more. LATOKEN's unique filters for cryptocurrencies make for a unique way to browse the various digital assets available on the platform, and we recommend checking it out.
Staking
The exchange features two staking options for users: a Fixed and LendingPool option.
The Fixed Staking option enables users to start earning rewards via many crypto assets for various durations. Several staking options are available for users with an incredibly high annual rate, with some staking options offering up to 300%!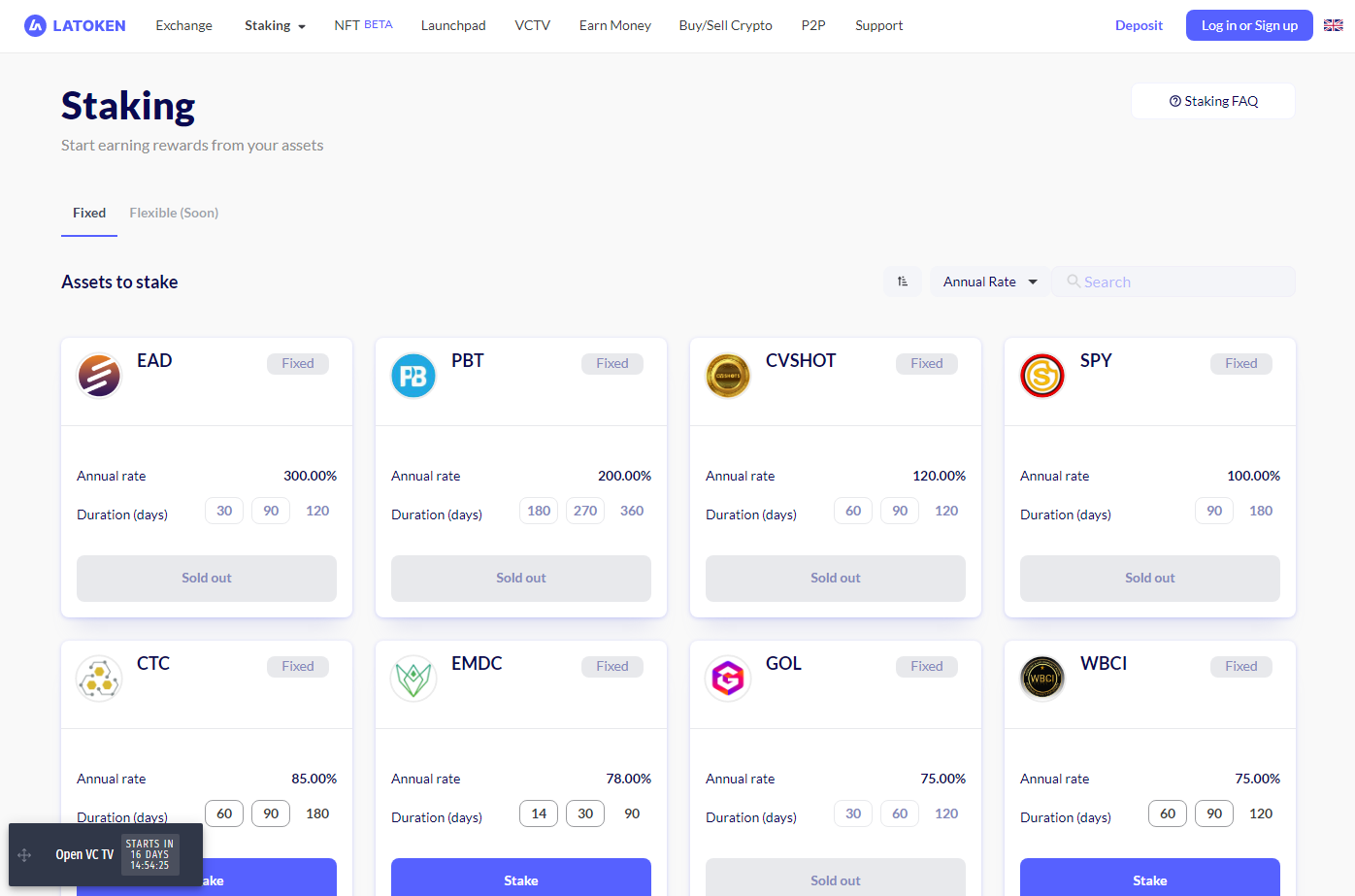 The lending pool provides a more conservative APY for more known assets like USDT, LINK, MKR, RNJ, USDC, MANA, and more. The APY ranges between 0.5%-1.6%.
NFT (BETA)
The NFT platform for LATOKEN is still in beta, offering users dozens of unique collections. NFT collectors can follow various artists and claim NFTs. To claim NFTs, users must trade a certain amount of LA tokens on the exchange.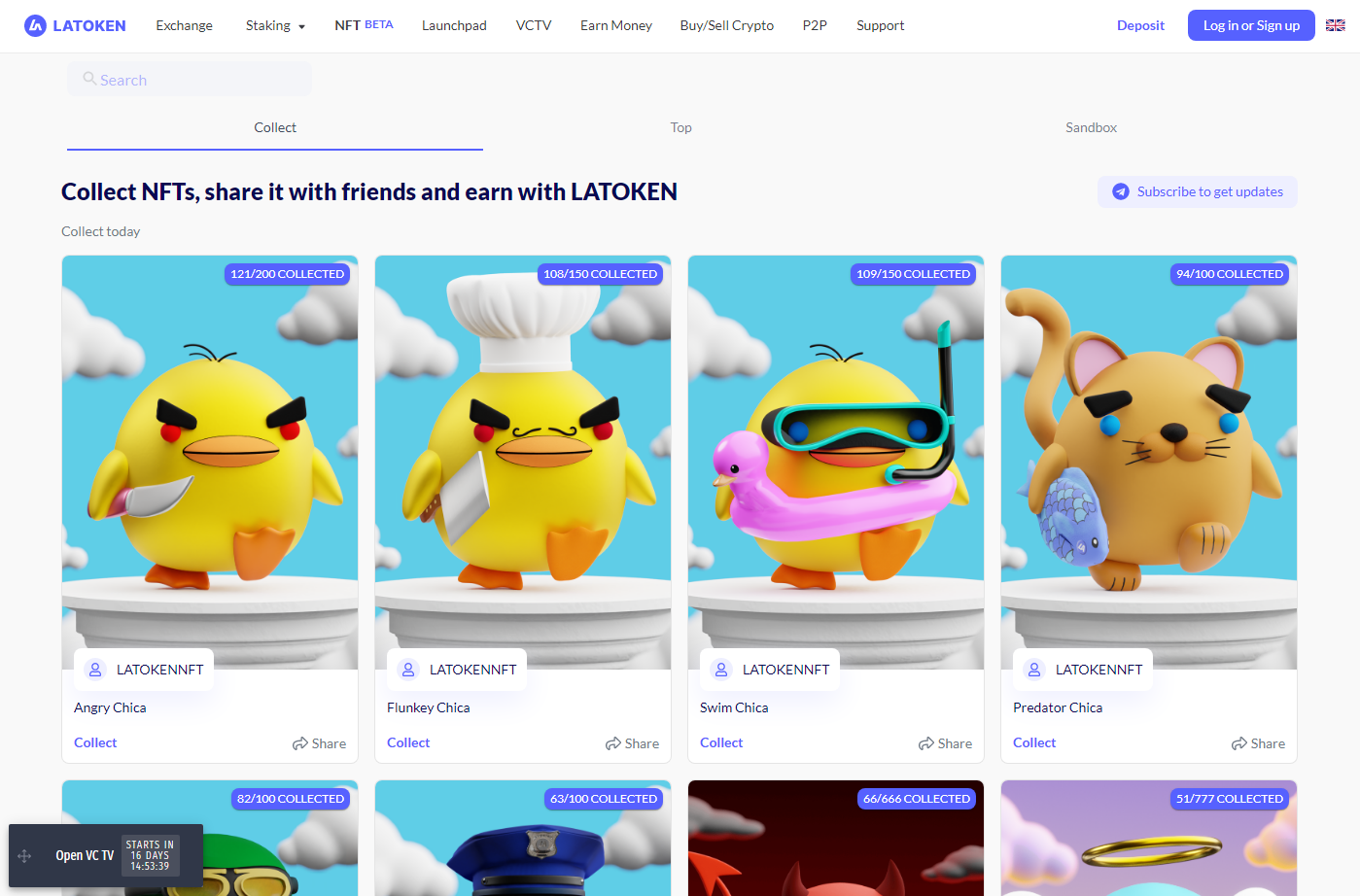 Users must trade a certain amount of LA tokens depending on the collection. Some NFT collections can be claimed by trading a nominal amount like 10 LA tokens, while others require a higher trading volume of 750 LA to be eligible to claim the NFTs.

The unique approach of incentivizing users to trade LA tokens to be eligible to claim the various NFTs is refreshing to see for a platform. If you're looking to expand your digital collection, we recommend checking out the platform.
VCTV
The VCTV (Venture Capital Television) section of LATOKEN offers content for users looking to learn from Founders, CEOs, and Executives.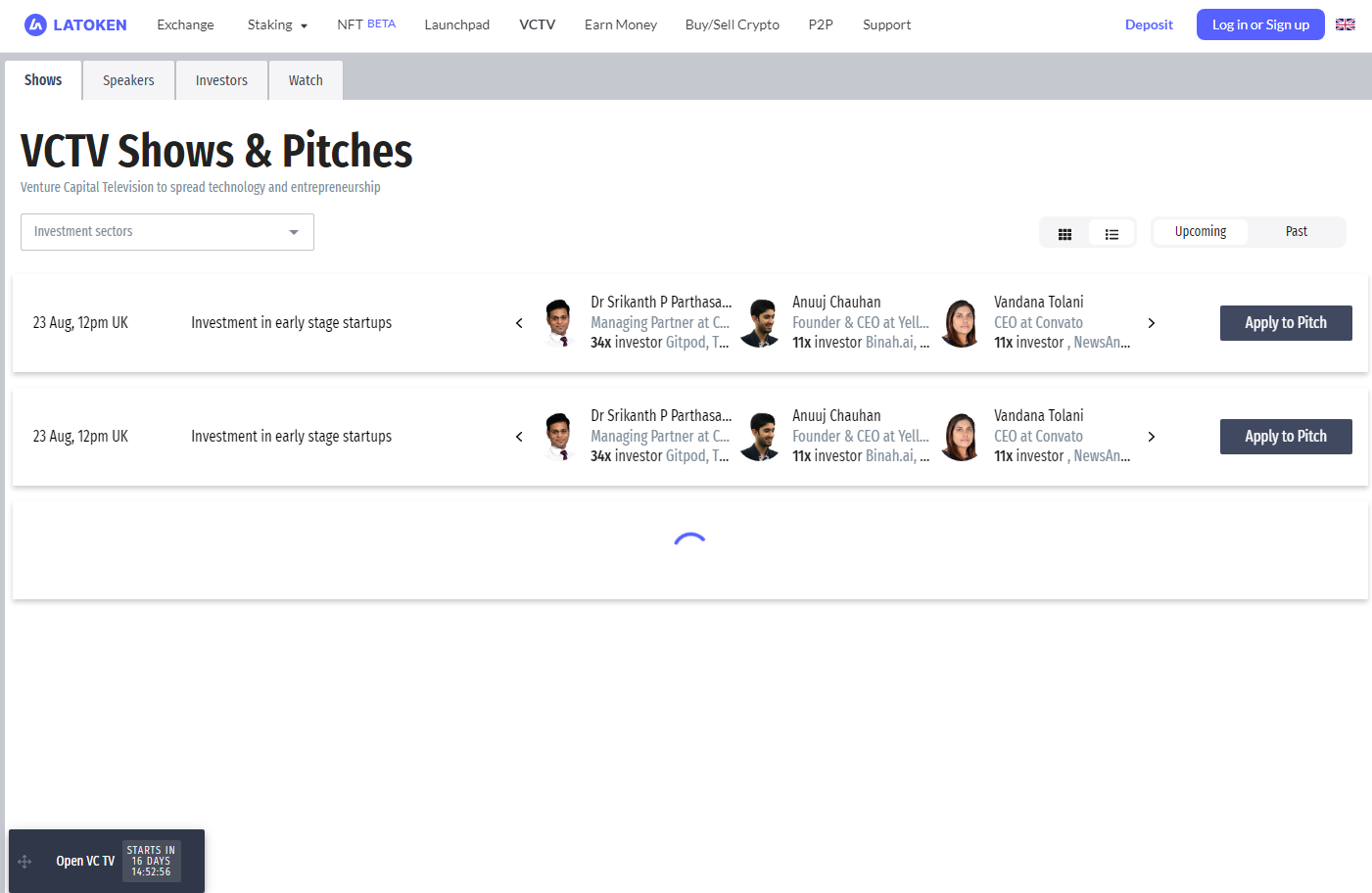 In addition, users can pitch their projects to various VCs and apply for a pitch by filling out a simple form. The VCTV platform offers a list of active investors ready to listen to your pitch and provide funding to your project or early-stage startup.
Earn Money
The Earn Money section of LATOKEN offers an affiliate program where users can earn up to 25% of their referral trading fees. Users invited via an affiliate program get $50 credit in reduced trading fees and additional incentives like cash back and rewards every time your referrals make a trade.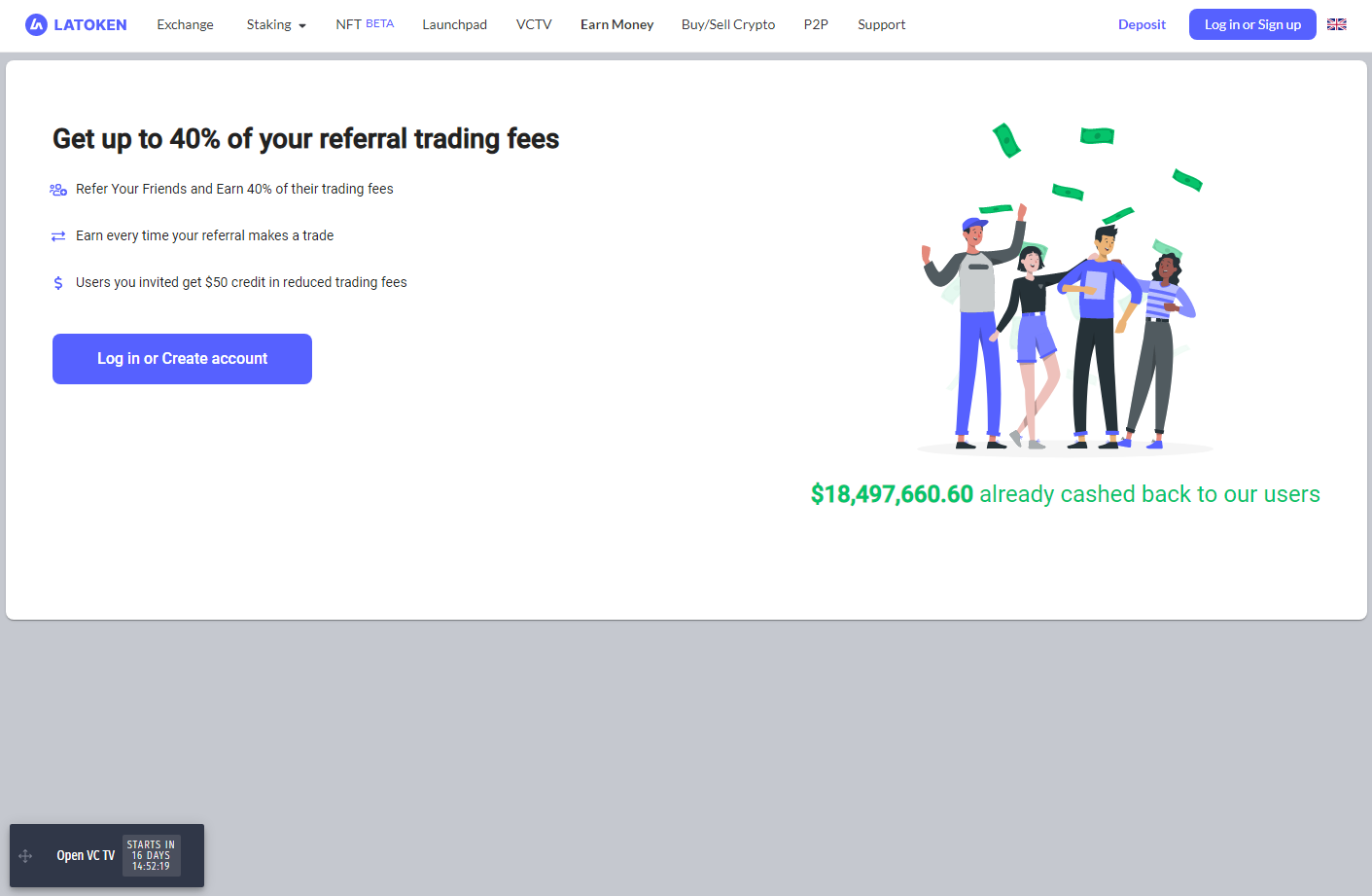 If you're an affiliate marketer, we recommend checking out LATOKEN's Earn Money section for the referral rules and rewards.
P2P
LATOKEN offers a Peer-to-Peer order system for users looking to trade directly with others. Remember to ensure you're dealing with reputable users to avoid scamming. P2P trading is available for USDT, BTC, and ETH and supports various payment methods like Bank transfer, UPI, Advcash, and Payeer.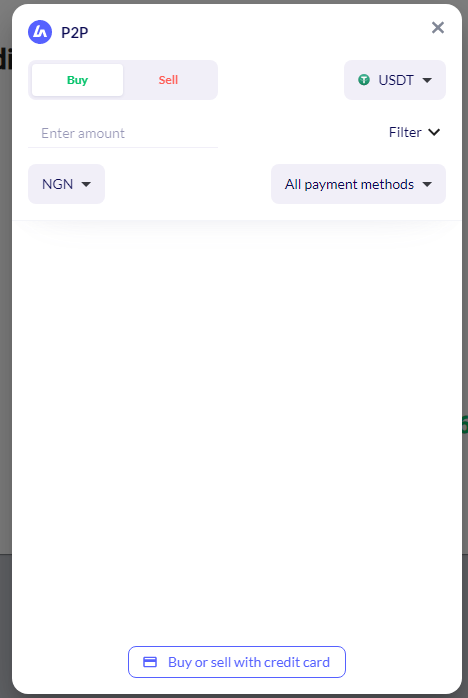 Launchpad
Last but not least, LATOKEN offers a Launchpad section where users can participate in selected IEOs (Initial Exchange Offerings). The launchpad provides a list of crowdfunding campaigns for those looking to hop on projects early before their tokens get listed on the exchange.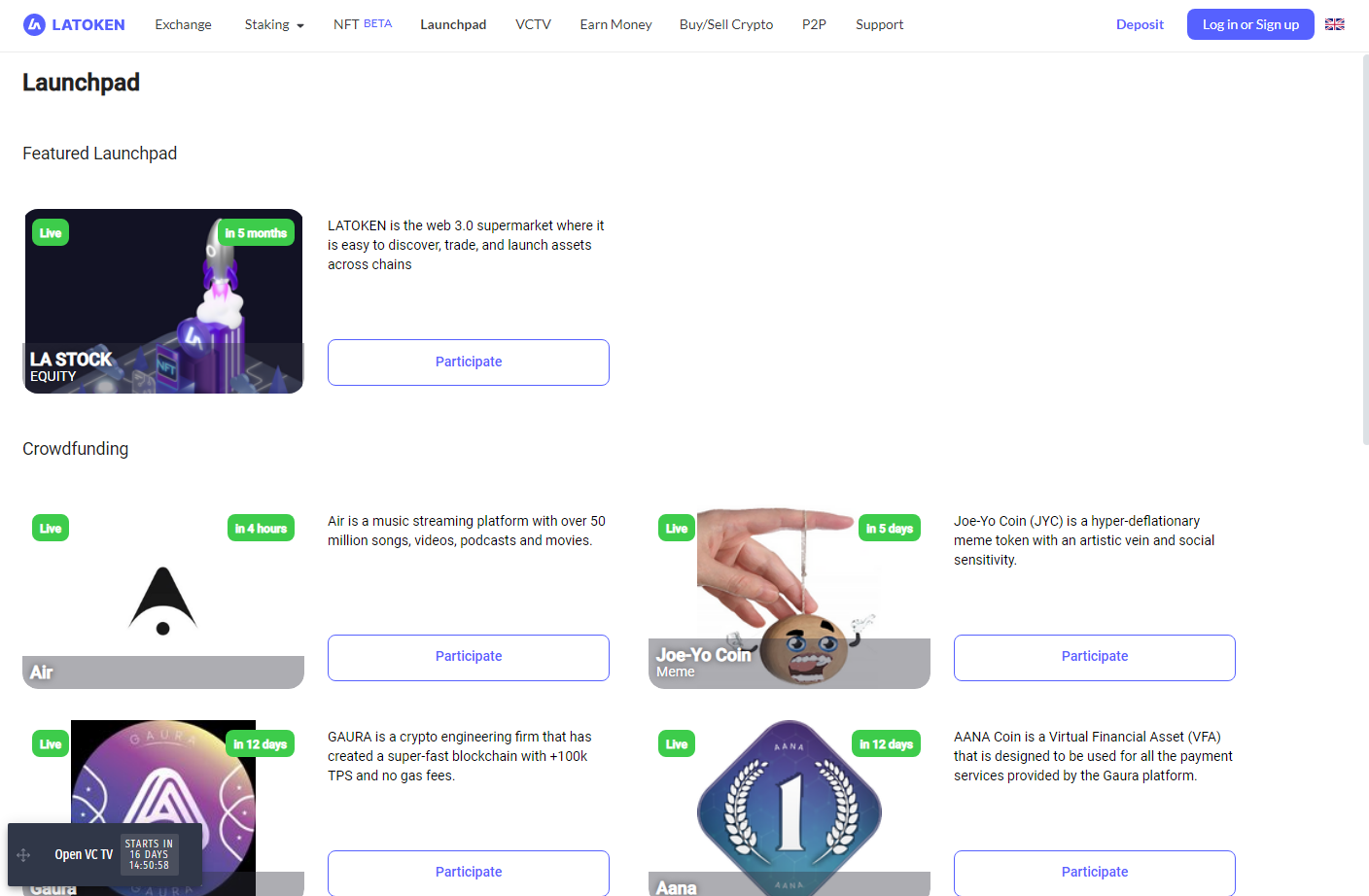 The IEO Launchpad allows users to purchase tokens at lower prices. Remember that investing in IEOs also comes with an inherent risk, as projects can also flop once they get listed on an exchange if the developers decide to dump the tokens early.
LATOKEN's LA TOKEN
No pun intended; LATOKEN also features its LA cryptocurrency. One way to think of LA is the stock of the exchange while also providing utility in terms of enabling users to claim NFTs and trade it on the exchange.
At the time of writing this article, LA is trading at $0.06782, with a market capitalization of $25.7 million. Its fully diluted market cap is $67 million, with a circulating supply of 380.1 million tokens.
According to LATOKEN's official exchange listing:
LA is a native token of the Lachain L0/L1 network and Latoken exchange. Lachain opens a gateway to WEB3, allowing seamless access to many decentralized finance products across major L1 blockchains. LA is a medium for cross-chain swaps and gas across all chains:
LA is a gas and staking base currency for the multichain yield market
Interchange medium for cross-chain AMMs liquidity pools
LA token is used to pay for all multichain gas fees
LA is a gas token for on-chain validation of bridge transactions
LA is a gas token for Lachain
Validator staking reward token
Trading fees discount on Latoken CEX
Final Thoughts
If you're looking to trade relatively unknown crypto assets for a higher risk-reward experience, LATOKEN is an excellent option. It offers one of the most unique collections of digital assets with essential liquidity that you won't find elsewhere.
It's important to remember that trading less known cryptocurrencies comes with an inherent risk, but the upside potential is also present for those that make the right trades.
LATOKEN doesn't seem to support users from the United States. As a US resident, you will be able to create an account but won't be able to deposit any assets to the exchange. However, LATOKEN supports most other regions with no issues.
Overall, LATOKEN is a reputable exchange with a unique platform, and we recommend it for users looking to trade underrated and undervalued digital assets.
Disclosure: This is not trading or investment advice. Always do your research before buying any cryptocurrency or using any exchange.
Follow us on Twitter @nulltxnews to stay updated with the latest Crypto, NFT, AI, Cybersecurity, Distributed Computing, and Metaverse news!