In a noteworthy development, the price of Loom Network ($LOOM) has recently reached its highest level since December 2021, surpassing the $0.126 mark before a minor correction. This surge in value has caught the attention of crypto enthusiasts and investors alike, prompting a closer examination of the potential factors behind this impressive rally.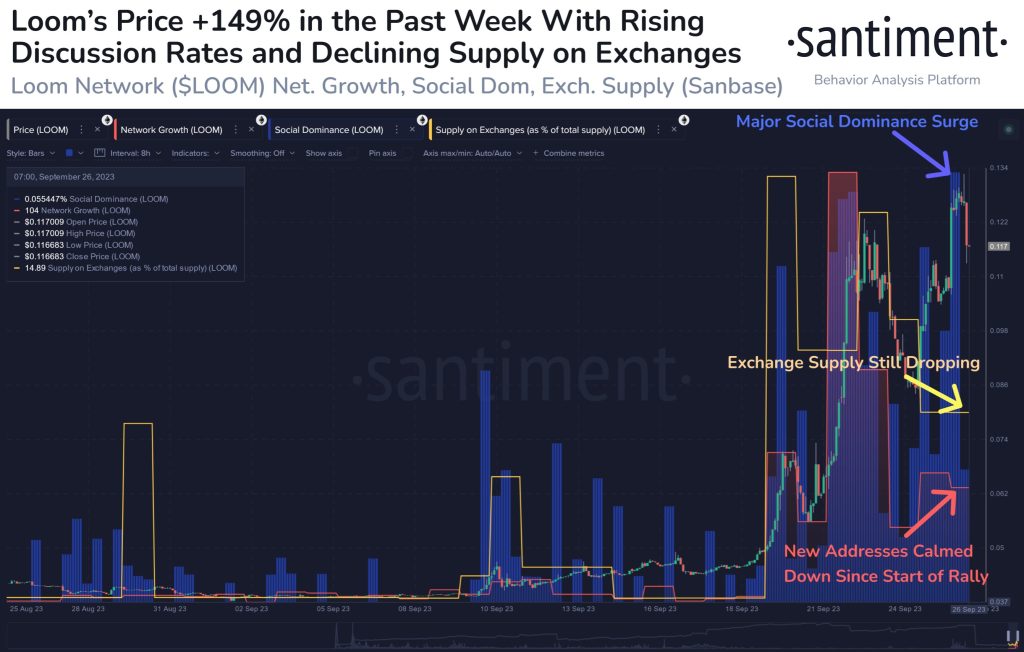 $LOOM Exchange Supply Declines Significantly
One intriguing aspect to consider is the significant decrease in the ratio of $LOOM held on exchanges over the past five days, plummeting by 20.8% to a mere 14.9%. This decline in the availability of $LOOM on exchanges suggests that more holders are opting to secure their tokens in wallets, a behavior often associated with long-term investors who believe in the project's potential.
Scarcity Effect And Potential Price Increase
Such a reduction in exchange liquidity can create a scarcity effect, potentially driving up the price further as demand outweighs supply. When combined with a renewed interest in the project, this trend indicates that the current rally might have room for further growth.
Loom Network Growing Ecosystem
Loom Network, known for its scalability solutions and focus on decentralized applications (dApps), has been steadily building its ecosystem. With a history of partnerships and collaborations, the project has continued to evolve, attracting both developers and users to its platform.
Many Factors To Consider Before Making Investments
However, as with any cryptocurrency investment, caution is advisable. Price volatility in the crypto market is a common occurrence, and investors should conduct thorough research and risk assessment before making any investment decisions.
Conclusion
Final Thoughts, Loom Network's recent price surge to levels not seen since December 2021 is an exciting development in the cryptocurrency space. The decrease in exchange liquidity suggests that there may be more room for this rally to extend, but investors should approach with caution and conduct due diligence. The crypto market can be unpredictable, and while the potential for gains is enticing, it's essential to be aware of the associated risks and market dynamics.
Disclosure: This is not trading or investment advice. Always do your research before buying any cryptocurrency or investing in any services.
Follow us on Twitter @nulltxnews to stay updated with the latest Crypto, NFT, AI, Cybersecurity, Distributed Computing, and Metaverse news!