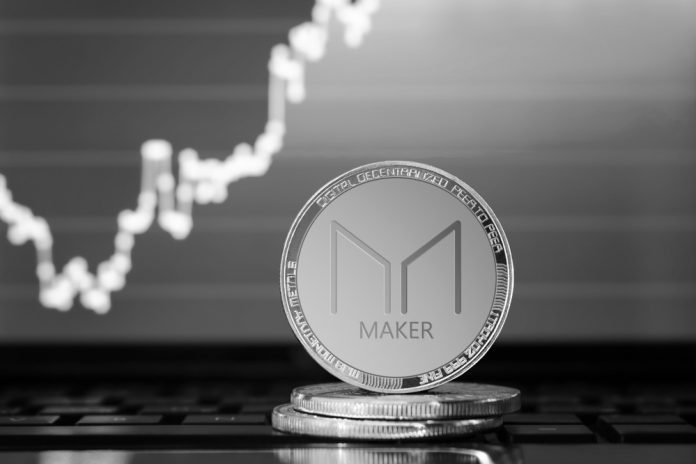 With all of the crypto markets remaining very bullish this weekend, it quickly becomes apparent good things are bound to happen. While Bitcoin is on most people's mind right now, it appears the Maker price is also worth paying attention to. With its solid gains in recent days, the value per MKR has surpassed $750 once again.
Maker Price Sets the Pace
It is evident a lot of people are looking for any cryptocurrency which can make them a lot of good money in quick succession. While it is certainly true this can apply to any market as of right now, most of the top currencies and assets have medium-sized gains first and foremost. Maker is one of the few notable exceptions, as this project is well on its way to enter the market cap top 15.
Over the past 24 hours, the Maker price has risen by another 11.3% to bring the USD value back to $759. In terms of MKR/BTC, the ratio improved by 6.76% and now sits at 0.18287 BTC. Maker also gained 1.68% on Ethereum, bringing its ratio to 4.66 ETH. Very impressive trends all around, although it is evident this momentum may prove very difficult to maintain first and foremost.
Most of the top 15 cryptocurrencies note gains because of their inflated trading volume. For a weekend, a  total volume of over $34.28bn is absolutely insane, especially compared to a few weeks ago. In the case of Maker, it appears the volume remains relatively low. With a token valued so highly, one would expect this volume to be much higher compared to the current $2.7m. Even so, it may prove sufficient to keep the bull run going for a while longer.
One thing potentially keeping the Maker value run grounded somewhat is how this token is not traded on most major exchanges right now. Instead, Ethfinex and the Kyber Network are the biggest MKR trading platforms right now.  HitBTC is also in the top three, although that one is well behind the other two at this time. It will be interesting to see if this token finds its way to other exchanges in the near future.
What is rather interesting is how specific Twitter accounts keep tabs on how things are evolving where the major exchanges are concerned. Although someone successfully sent 500 MKR to Bitfinex, it seems those funds have either not been sold or failed to crash the uptrend altogether.  Rest assured more people will be moving their MKR to exchanges in the coming days, especially if this uptrend remains in place.
Deposit MKR
Exchange: Bitfinex
Token amount: 500.00 MKR
Value: $382,891.88
Link: https://t.co/ynOaDsdcVj $MKR #Bitfinex

— ExchangeDog (@ExchangeDog) February 24, 2019
All things considered, it seems to be a matter of time until the MKR price run comes to an abrupt halt. Not because there is anything wrong with the project, but the low trading volume, combined with nearly zero activity on the bigger exchanges, usually do not bode that well for this particular market. Even so, the crypto industry is full of surprise first and foremost. Anything can happen, especially where markets like Maker are concerned.
---
Disclaimer: This is not trading or investment advice. The above article is for entertainment and education purposes only. Please do your own research before purchasing or investing into any cryptocurrency.
Image(s): Shutterstock.com