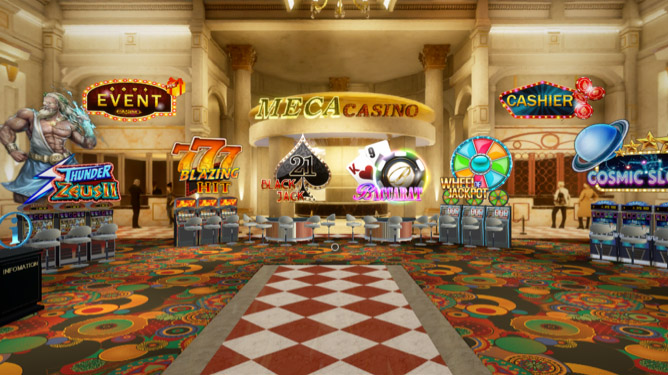 MECA Casino, a blockchain-based 3D casino game project, aims to change the paradigm of online casino games by tackling three factors – trust, ownership, and entertainment.
Disclosure: This is a Sponsored Article
One of the pain points of online casino games is credibility. There is no easy way to assure players that online gaming is fair and transparent. MECA Casino solves this issue by generating random numbers from a triple-layer system and using blockchain-based transactions. All the game results are verifiable and the possibility of any type of intervention is eliminated. Also, users can be assured that winnings will be distributed accurately.
What distinguishes MECA Casino from other online casino games is decentralization of rake ownership. MECA Casino allows players to own and operate their own casinos. This decentralized ownership not only elevates the level of transparency of the game, but also gives the players opportunity to make extra earnings and influence the game the way they see best.
Moreover, unlike existing online casino games that overlook entertainment factors, MECA Casino is essentially fun to play. Thanks to its unparalleled level of game graphics and social features, MECA Casino successfully reproduces the atmosphere of offline casinos and offers the highest gaming experience.

A Casino Game Run By Players
Further, on MECA Casino, players can purchase casino assets and thus gain 'Master' status. Masters can customize their casinos by choosing interior games and décor to attract more players. Profit of the casino is shared with the master in ratio of 6:4 (Master:MECA Casino). Also, masters can trade casinos through smart contracts via a secure trading system.
This Virtual Casino Ownership System (VCOS) makes MECA Coin a truly decentralized platform for curators of virtual gaming establishments. In a written interview, the company added: "We will never operate any casinos ourselves as decentralization is among our main principles. The number of Casinos and Masters is limited, but will grow over time. More will be offered for purchase as the number of players on the platform increases. This will ensure an appropriate earnings balance for casino masters."
Entertainment beyond the simple draw of gambling
MECA Casino combines social elements and visually stimulating graphics to achieve the highest level of entertainment.
Designed as an open and explorable environment, MECA Casino enables users to move freely between casino halls and cities and enjoy casino games with other players or friends
Moreover, with MECA Casino, players enjoy an immersive and intuitive 3D casino experience made possible by a level of game graphics quality not yet seen in this market.
MECA Casino currently offers seven 3-D based complete games, including table games like blackjack and baccarat, and five traditional slot machine-based games. The games are built with HTML5 and are compatible with a variety of web and mobile devices. In 2019, the team will release a social sports betting feature and other new offerings.
ME2ON is a leading game developer and publisher based in Seoul that specializes in online social casino games. ME2ON is the key development partner of MECA Casino, and currently operates a diverse array of social casino games with over 90 million users worldwide with MAU of more than 10 million. MECA Casino is expected to have technical and business advantages by implementing ME2ON's talent, development engine, and its substantial global user base.  ME2ON is a publicly-listed company in South Korea.
CRYPTOMECA, a company based in the Isle of Man and developer of MECA Casino, will open services in the growing list of countries that allow online gambling. MECA Casino is highly differentiated by its high-quality contents and its unique blockchain system with true decentralization, making it truly distinctive from other blockchain casino/gamble projects.
For further information, please visit mecacoin.io.

Also, find us on social media.
Linkedin: https://www.linkedin.com/company/cryptomeca/
Twitter: https://twitter.com/mecacoin
https://www.youtube.com/watch?v=RFSGjqZvC1A
Image(s): Shutterstock.com