Everdome has taken a snapshot of the addresses of DOME tokens HODLers. 9,999 of them will qualify to receive a free Genesis NFT.
📷 The Genesis NFT snapshot has been taken.

With this snapshot, 9,999 DOME holders have been given the opportunity to claim founding keys to Everdome.🚀

Details on when/how to claim your Genesis #NFT coming very soon. #TheJourneyHasBegun pic.twitter.com/hRxr92w3gK

— Everdome (@Everdome_io) April 27, 2022
On the official project webpage, we can find information about the usability of Genesis NFT:
Everdome's Genesis NFT collection will offer its holders a wide array of benefits both in the short and long term. Most notably holders of an Everdome Genesis NFT will hold a 'golden ticket', acting as a right of early access to Everdome's launch facility & Space Port.
There is also information regarding the division into three tiers. Depending on which tier a given NFT is placed in, its holder will be able to obtain various benefits.
This could include a more significant discount on land purchases, access to the beta version of the metaverse, exclusive access to various exhibitions, and more.
What Is the Everdome (DOME)?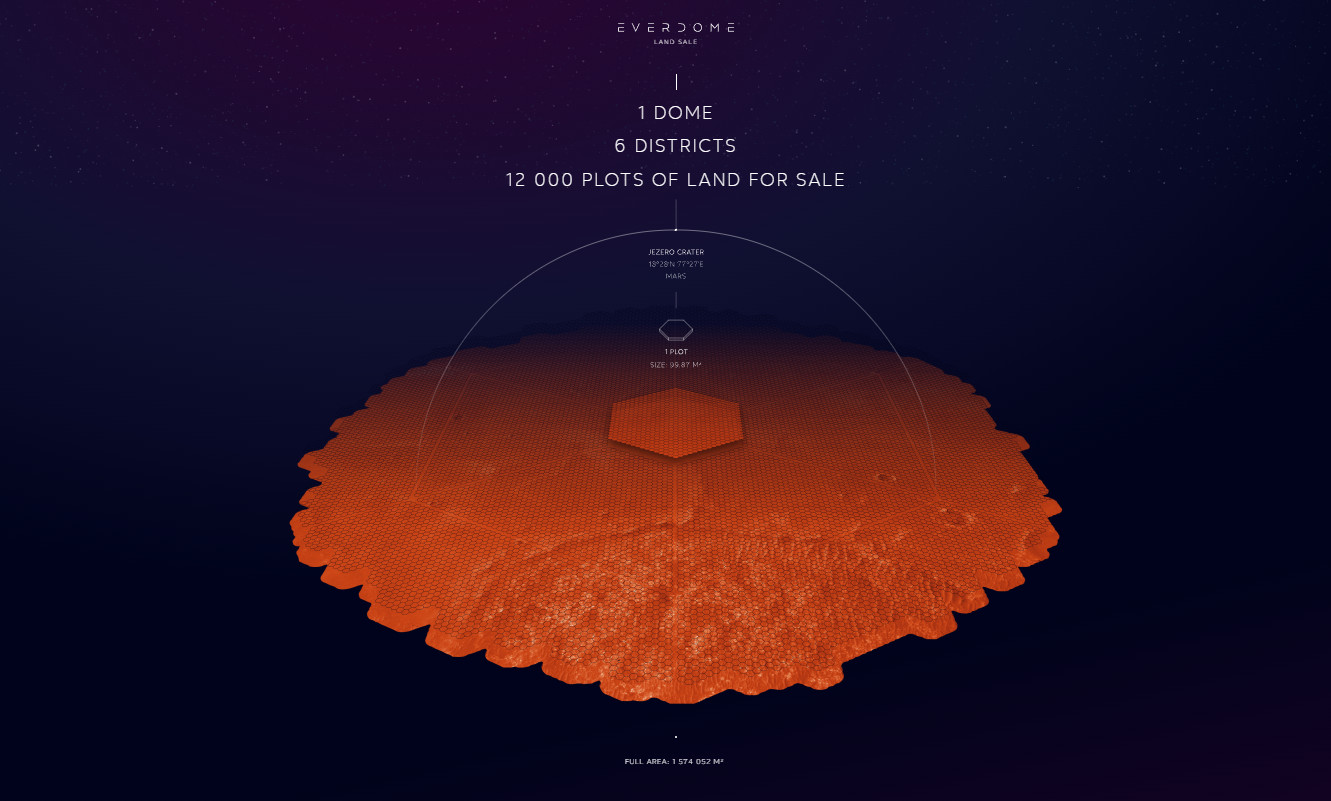 Everdome strives to create a hyper-realistic metaverse universe that gives the most realistic Web3 experience possible. This is done by creating NFT tokens, the sale of virtual land, and top-notch avatars. The project wants to attract individuals and brands looking to develop their presence in the virtual world.
Behind Everdome stands Polish entrepreneur Robert Gryn, who created the Metahero (HERO) project. Metahero provides modern technology for 3D scanning and creating high-quality avatars.
The Everdome Metaverse's native currency is DOME.  It is used for all in-world transactions and has a maximum supply of 100,000,000,000 coins. This token can be earned by selling or renting out your property and staking.
DOME Price
As of today, the DOME price is $0.02782793. Volume in the last 24 hours was $31,330,831. Over the previous day, the cryptocurrency has lost over 13% in value, but this is likely the result of a broader market correction.
If you want to buy DOME, you can do so in several places. When it comes to centralized platforms, the most popular ones are OKX, BKEX Bybit, Hotcoin Global, Gate.io, and polish Kanga Exchange. Nevertheless, DOME is also available on the decentralized exchange PancakeSwap.
Disclosure: This is not trading or investment advice. Before buying any Metaverse crypto coin or investing in any cryptocurrency, always do your research.
Follow us on Twitter @nulltxnews to stay updated with the latest Metaverse news!