In the fast-paced world of cryptocurrency trading, even a single wallet's actions can have a significant impact on the market. A recent event involving an early holder of Metal DAO (MTL) serves as a compelling example of how individual decisions can sway prices and create trading opportunities.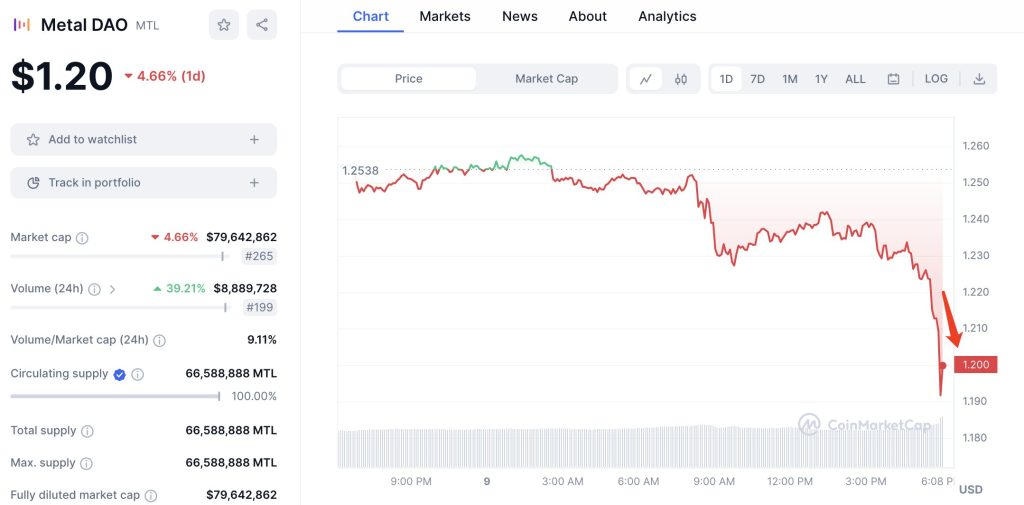 Selloff Pressure From Top Holder
Approximately one hour ago, an early MTL holder made a substantial move by depositing 1.5 million MTL tokens onto the Binance exchange. At the time of the deposit, this amount was valued at approximately $1.8 million. The intention behind this move was clear: the holder was looking to sell a substantial portion of their MTL holdings.
The consequence of this sizable deposit was a sudden 2.6% drop in the price of MTL. Such price movements are not uncommon when large quantities of a cryptocurrency are introduced to an exchange, as they can disrupt supply and demand dynamics, leading to short-term price volatility.
However, what makes this event particularly noteworthy is that the wallet in question still holds 1 million MTL tokens, equivalent to approximately $1.23 million at current market prices. This raises the question of whether the holder's next move will involve selling off this remaining portion of their MTL holdings.
Upcoming Dip or Pump for MTL?
For traders and investors in the cryptocurrency market, this situation presents both risks and opportunities. On one hand, the potential for another significant selloff by the holder could lead to further price declines for MTL. This scenario might present short-selling opportunities for those who anticipate a continued downward trend in MTL's price.
On the other hand, the holder's decision to retain a substantial portion of their MTL holdings could indicate confidence in the cryptocurrency's future prospects. If this confidence translates into positive developments or increased demand for MTL, it could potentially drive a price rebound.
Conclusion
Finally, the recent actions of an early MTL holder have drawn attention to the potential impact of individual decisions on cryptocurrency markets. As the holder's intentions unfold, traders and investors will closely monitor MTL's price movements, ready to capitalize on opportunities or manage risks in this dynamic and ever-evolving market.
Disclosure: This is not trading or investment advice. Always do your research before buying any cryptocurrency or investing in any services.
Follow us on Twitter @nulltxnews to stay updated with the latest Crypto, NFT, AI, Cybersecurity, Distributed Computing, and Metaverse news!
Image Source: mygrafics11/123RF // Image Effects by Colorcinch