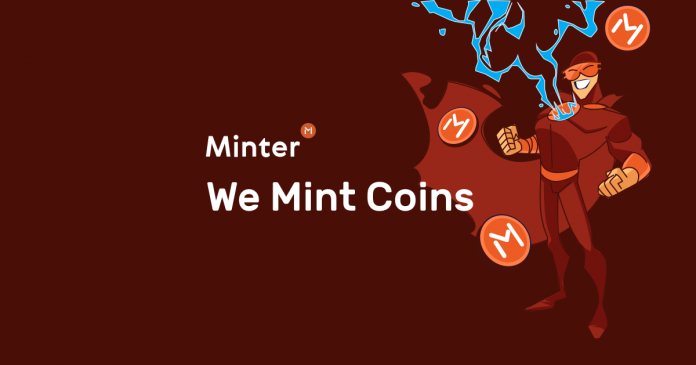 As more and more networks near fruition, the landscape of blockchains for ambitious projects to choose from continues to diversify. This variety alleviates the need to build on Ethereum and massively expands the capabilities of these networks and protocols. One such example is the next-generation Minter Network.
Minter is a generation 3.0 initiative looking to redefine the way we interact with blockchain tech. The custom blockchain network is focused on adoption and accessibility by offering speedy, highly scalable transactions, easy token creation, and a number of universal applications for project creators on the network.
With block creation every five seconds, and a throughput of 2,000 transactions per second, Minter represents one of the fastest blockchains in the space. A core focus of Minter is the easy token creation, which allows anyone to mint their own token on Minter and even set its price. These projects can choose to incorporate any of a large number of Minter applications for their token, encompassing everything from wallets to exchanges. All tokens can be exchanged for Bitcoin, Ether, and later—fiat, making it highly accessible for any potential users. With transaction fees at just fractions of a penny, cost is similarly a non-issue.
TON Integration
In early 2018, Telegram's TON blockchain caught the attention of everyone in the space, raising close to US$2 billion from private investors to build the network that will act as an evolution to the worldwide popular Telegram application: a massively scalable blockchain ecosystem that offers distributed file sharing, proxy and privacy capabilities, and more alongside the smart contracts and decentralized applications native to modern blockchains.
Minter is poised to become the first project to leverage the capacity of Telegram Open Network with their own blockchain. Tokens on the network will be transferable via atomic swap with the TON ecosystem. Additionally, smart contracts and dApps on TON will also be compatible with the Minter network. Native TON utilities, like data storage and username registration, are similarly accessible. As the first project to integrate the TON behemoth, Minter is in a position to massively gain as a sister network to the Open Network.
25% Top Up
The Minter Early Access campaign is currently underway. Through this campaign, users can exchange crypto for Minter's native BIP token. From now until October 19, 2018, 19:00 UTC, early supporters will see a 25% bonus on any deposit made towards BIP. Users can participate individually or through coordination in an investment pool. This bonus is placed as a thank you from the Minter team to the first key supporters of the upcoming network.
Largest Airdrop in Telegram History
In addition to contributing to the Early Access campaign, users can also sign up at the portal for the BIP airdrop. A maximum of nearly 1,000 BTC worth of BIP and other Minter-based tokens will be available to participants provided they complete registration before October 31, 2018.
For more information about Minter, check out the project's white paper, and connect with the community on Telegram, Twitter, and Facebook.
---
This is a sponsored article and does not necessarily reflect the opinions or views held by any employees of NullTX. This is not investment, trading, or gambling advice. Always conduct your own independent research.
Image(s): Shutterstock.com