Cryptocurrency has come a long way since its inception. As the industry developed, the volatility has dropped significantly. We saw evidence of that in the second half of 2018 when the market has traded sideways for over 3 months. Specifically, there was very little volatility in September through mid November. Many traders would assume that there is little profit to be made during such a market, however nothing could be further from the truth.
This is where exchanges and brokers that support leverage trading come in. By trading with 10x, 50x, or even 100x leverage you can make profit in any market regardless of volatility. Monfex is exactly that, a crypto broker that supports leverage trading. By trading on a leverage supported platform you are able to capitalize even on the smallest price movements.
What Is Leverage Trading?
Before we talk about Monfex, let's clear the air about leverage trading. After being in the cryptocurrency scene for over 5 years even I was still somewhat confused about how leverage trading works exactly. So here is an example:
Let's say you have $1000 you want to trade with. With regular exchanges like Binance you would purchase $1000 worth of a coin and if the price goes up 10% you would make $100 profit, simple right? Now, with leverage trading let's say you are trading with 10x leverage. That means that if you invest $1000 to trade and the coin's price goes up 10%, you would actually double your money and incur a profit of $1000, that is because with 10x leverage you are controlling $10,000 worth of the coin.
Sounds too good to be true? Not really, because with 10x leverage if the coin's price goes down 10% you would get liquidated and lose the full $1000. This type of trading is obviously high risk but it's also high reward, and that is why many traders prefer leverage trading.
How is Monfex different than BitMex?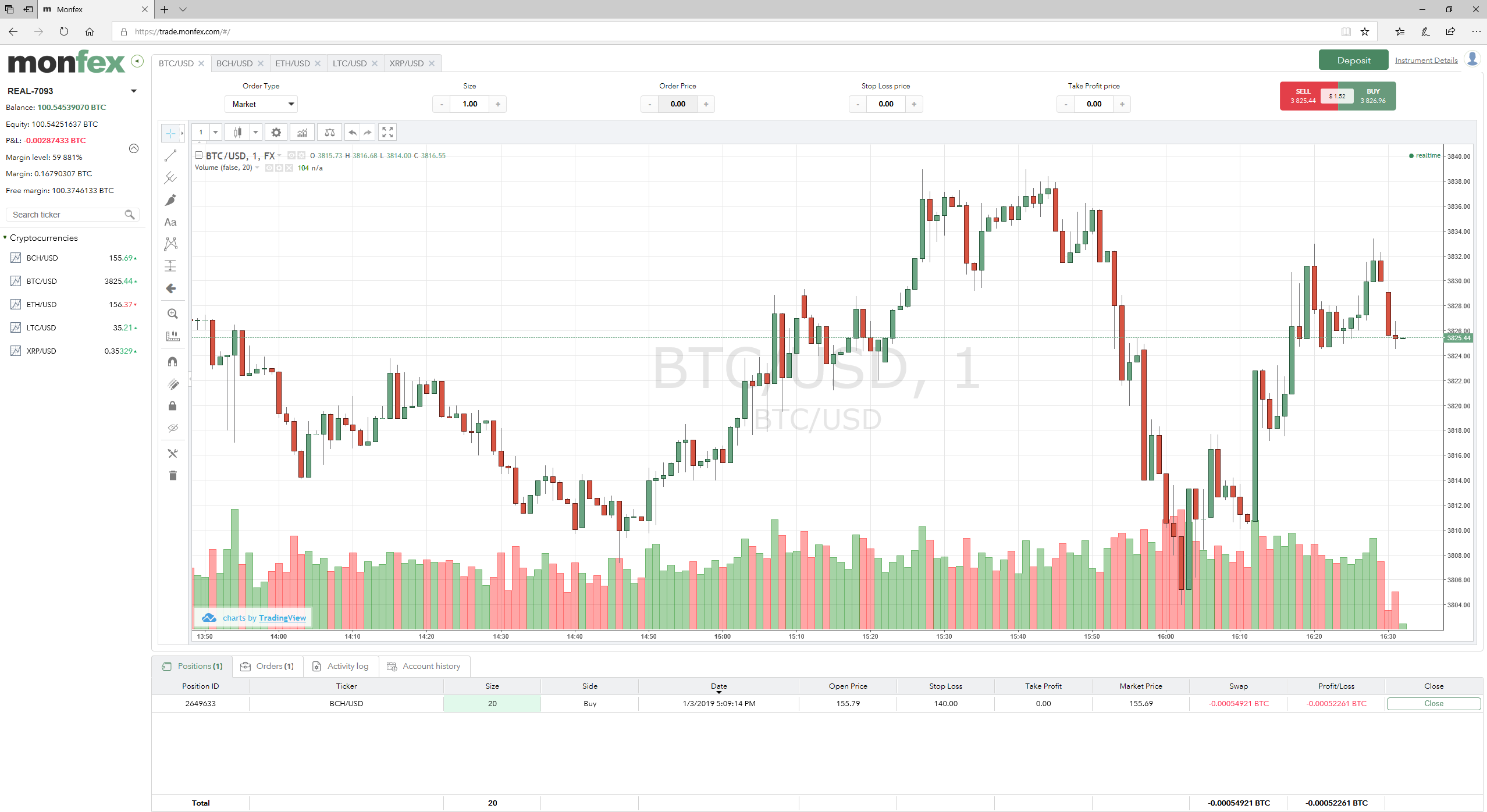 NullTX had the opportunity to speak with the managing director of Monfex – Alex Nekritin to tell us more about the platform.
"Most people are confused about how to trade cryptos." Says Alex Nekritin  "….And we want to make crypto trading simple and accessible for everyone. We will work very hard to simplify the process and create programs such a crypto social trading that will allow people to participate in this exciting space with minimal effort."
The most popular exchange right now for leverage trading is no doubt BitMex, so how is Monfex different? There are three main differences:
Monfex is newbie friendly and the interface is much simpler than BitMex.

Monfex has perpetual (non expiring) contracts on 5 coins instead of just 2.

Monfex has 2 unique features in the pipeline that will disrupt the crypto industry. These features are to be released in q2 of 2019.

Monfex will have something called managed accounts, that means you are able to trade crypto for other people.

Monfex will have something called social trading, which allows others to follow a "master trader" and mimic their trades in real time.
BitMex is meant more for sophisticated traders, the interface has many options that can confuse newcomers. Monfex has a simpler interface that is more newbie friendly. One can start leverage trading right away with no confusion as to the different options.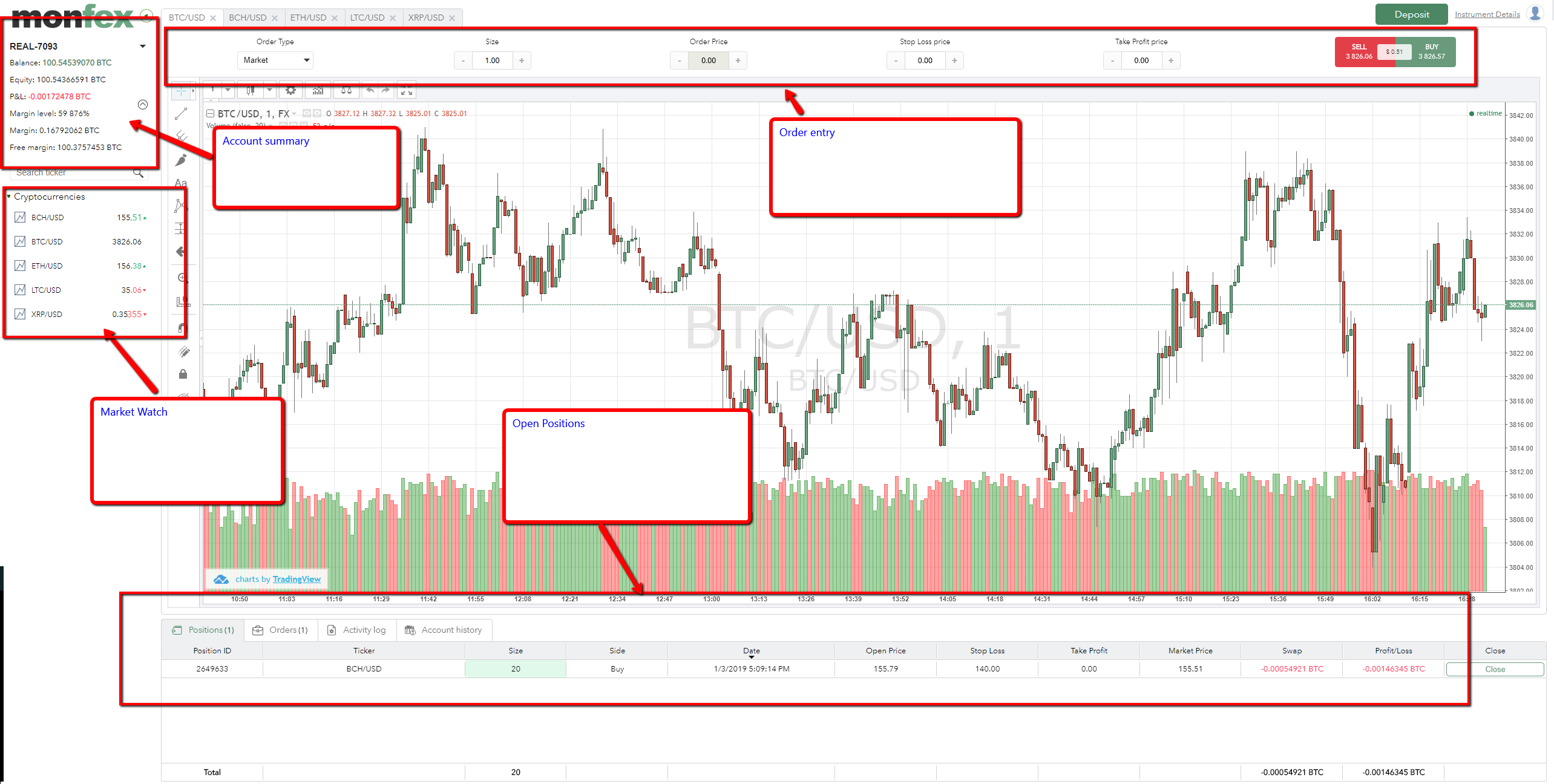 Managed accounts allows traders to recruit clients' accounts and trade for them. The profits are distributed between the managed accounts. This option is useful if someone wants to trade for their family members or friends who aren't as savvy when it comes to crypto trading.
Social trading is somewhat similar to managed accounts, the difference being it allows individual traders to set their risk threshold. For example, you can follow a trader and mimic his trades but only risk 10% of your portfolio for their traders. You can also follow multiple traders and distribute your portfolio accordingly.
Last but not least, Monfex will focus on teaching their traders by launching an education platform. This will allow even the most beginner users to learn about trading and have more chance at success.
Monfex is a brand new exchange that was launched at the end of December. Unfortunately, US traders are restricted from participating due to regulations. However, the good news is, if you are outside the US you can sign up for an account and start trading right away. The best part is getting your account opened and funded takes less than a minute.
Image(s): Shutterstock.com