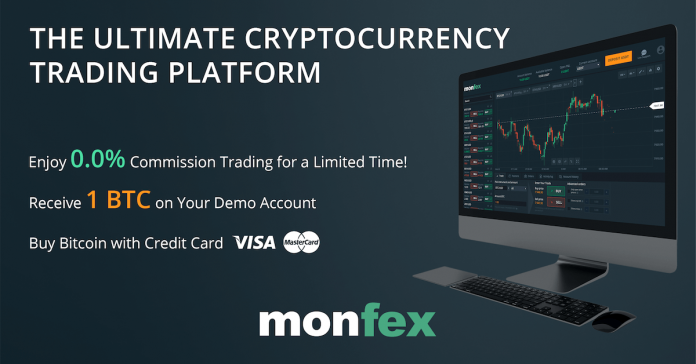 Finding the most advanced and powerful cryptocurrency trading platform is no easy feat. Monfex wants to become the ultimate trading platform in the industry of Bitcoin and altcoin trading. It provides convenient services, supports many different payment methods, and offers 0% commission trading for a limited time. Interested users can also try out the demo account to take note of all of the underlying features.
What Makes Monfex Special?
There is no shortage of different cryptocurrency trading platforms. All of them claim to put the user experience front and center, yet few can live up to these expectations. Monfex users can get their account up and running within 15 seconds or less, making it one of the more straightforward trading platforms to take note of. Being able to get up and running quickly is pertinent, as no one likes to wait hours or days before they can begin trading different cryptocurrencies.
Once a new user account is created, users can deposit funds all in the same first few moments. This makes it a very simple platform, but one that packs quite the punch under the hood. By actively maintaining the zero commission, this trading platform will be of great value to cryptocurrency enthusiasts globally. It is evident the company wants to ensure the user is in control at all times, which is something most other cryptocurrency exchanges can learn from.
Multi-currency Support is Crucial
Any self-respecting cryptocurrency trading platform needs to look well beyond Bitcoin. Monfex acknowledges the market is growing and customers demand exposure to as many different offerings as possible. Right now, users can make a deposit in Bitcoin, Ethereum, and Tether (USDT), which are all solid options. On top of that, the platform supports 12 different cryptocurrencies in total, which allows both novice and advanced users to diversify their portfolio without friction.
Speaking of portfolio diversification, Monfex users can purchase contracts on these twelve coins which are denominated in US Dollars. To make things more enticing, traders can opt for leveraged trading up to 50x. As these contracts are perpetual, they will never expire. Albeit leveraged trading is always risky, Monfex guarantees users can never lose more money than they initially deposited. This should put a lot of enthusiasts' minds at ease, as no one should ever spend more money than they can afford to lose.
This latter part is extremely important, as Monfex allows its users to go short on all supported currencies and trading pairs. For those who are interested in exploring that option, all that is required is placing a sell order on the associated trading pair. It is a very simple and straightforward process, which further streamlines the concept of dealing with the various cryptocurrencies supported by the platform. It is evident this company wants to make the platform as approachable as possible, for both novice and advanced users.
The Supported Instruments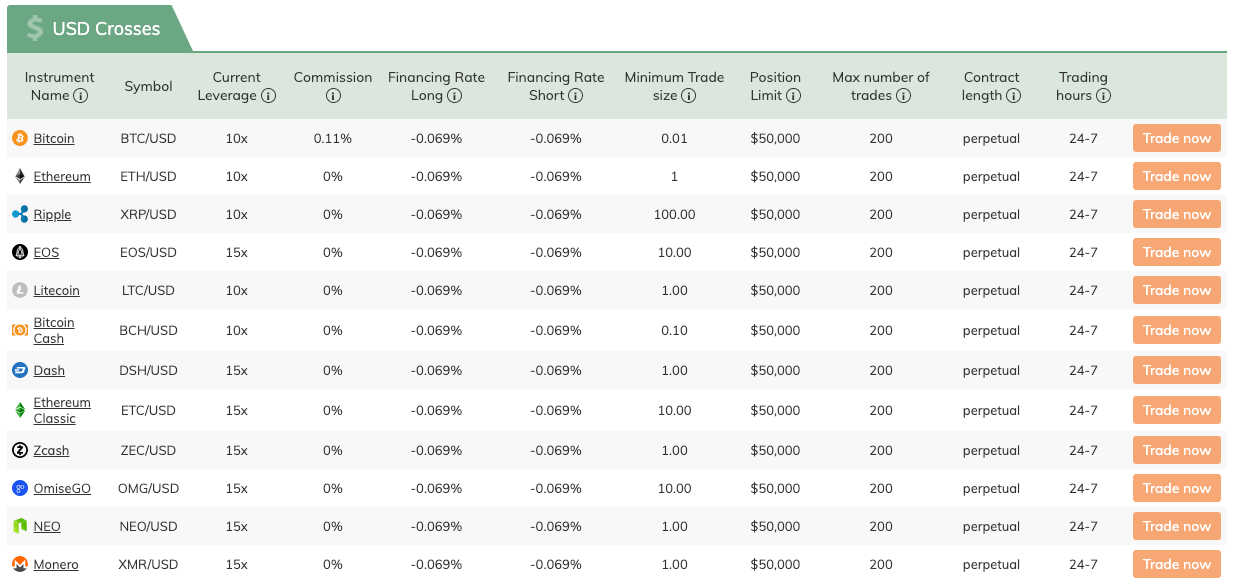 It is safe to say the Monfex team chose only the most reliable and prominent trading instruments at this time. Bitcoin, Ethereum, and XRP are included for obvious reasons. Additionally, there are the likes of EOS, Litecoin, Bitcoin Cash, NEO, OmiseGo, and Ethereum Classic. Perhaps the most intriguing aspect is the support for privacy-oriented coins such as Dash, ZCash, and Monero. There appears to be a growing demand for exposure to these particular coins. Online privacy is difficult to come by, especially in the financial sector.
A Strong Focus on Security
Given the slew of cryptocurrency trading platform hacks over the years, companies have to focus more on security than ever before. For Monfex, security is the top priority. The platform provides users with a cold storage solution for deposits, 2FA for an additional security layer, and real-time account reports. All of these tools are designed to make the platform as secure as possible without exposing users to external risks.
Accessible Through Mobile Devices
Over the past few years, most of the cryptocurrency exchanges have released a mobile app or provided a mobile responsive website. In the case of Monfex, it is a platform that is compatible with mobile devices of all kinds. There is no mobile application at this time, yet it seems users are more than happy to use the mobile diversion of the website. All of the built-in features are accessible on both the web and mobile versions of the trading platform.
Key (Blog) Updates to Take Note of
As is always the case when it comes to running a cryptocurrency trading platform, there are many different features and options to keep an eye on. The fact that users can buy cryptocurrency with their credit card is a major boon for this company as a whole. Up until this point, the cryptocurrency industry remains rather separated from traditional finance due to potential chargeback risks. For Monfex users, everything is in place to enjoy a secure and solid trading experience at all times.
On its blog, the company also puts a focus on the Telegram Open Network or TON. Any existing social messaging or social network solutions getting involved in cryptocurrencies is a boon for the industry as a whole. While it remains to be seen how the Telegram open network will affect things in that regard,  it is widely considered to be a sign of what the future may hold. It will also bring a lot of attention to how well cryptocurrencies hold up when they are actively used on a daily basis by thousands of users. If Telegram proves to be successful in its venture, the cryptocurrency industry may look very different in a few years from today.
Positive Reviews are Promising
Building up a reputation as a cryptocurrency trading platform is never an easy feat. In the case of Monfex, the company has gotten a lot of positive reviews already. The Trustpilot reviews all seem to confirm this platform is legitimate and here to stay. Users are mainly impressed with the tight spreads, fast execution, and customer service. Especially this latter aspect is crucial, as not all exchanges get the best of reviews when it comes to their customer support. So far, this platform seems to be checking the right boxes. Keeping the momentum going will be a priority, as the competition will not twiddle its thumbs either.
Telegram Channel: t.me/monfexofficial
Facebook Channel: www.facebook.com/monfexofficial
Twitter Channel: twitter.com/MonfexOfficial