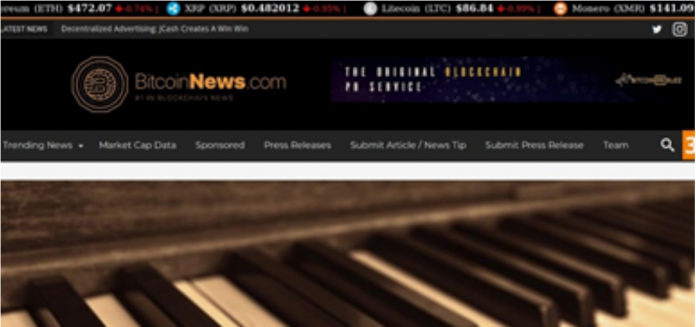 A new Bitcoin News Platform, BitcoinNews.com, is glad to announce their official live launch.
Disclosure: This is a Sponsored Article
Already Highly Viewed Website
The website already receives 1,000,000 views monthly and looks to meet the growing demand for objective news reporting among the various cryptocurrency communities, as well as developing situations around the world and within the industry as a whole.
With Bitcoin and altcoins developing at breakneck speed, it can be overwhelming to read through all the new announcements, whitepapers, and other changes.
On top of the continually changing political scene, with more countries revising regulatory framework or making new decisions within government, it can become too much for one person just looking to stay informed.
Democratic Crypto Journalism For All
BitcoinNews brings only the most relevant information towards the reader and reports it in a way that is easy to read, with the original source always linked to in case readers would like to verify information or dig a little deeper for specific articles.
Users are able to submit news tips and articles, to alert the team of potential stories that could be covered, making crypto journalism a little bit more democratic.
Sponsored posts are a great way for companies and other organizations to receive exposure from a targeted audience, and BitcoinNews is very transparent with how sponsored posts are handled on the platform, with their own section and very apparent markings distinguishing them as such.
Since information can be just as easily spread as rumors and misinterpretations, BitcoinNews makes it their utmost priority to report stories in a way that sticks to the facts, is fair, transparent, and sensible. All news sources are reviewed for authenticity before being included in an article.
And since the platform itself is backed by people from independent media and cryptocurrency experts free of any blockchain sponsorships or influences that may sway them, BitcoinNews is able to execute their belief that crypto journalism should be the truth and keep the best interests of readers at heart.
Market Updates At A Glance
The news platform also features a market capitalization page, allowing readers to also see how the cryptocurrency market is on that day. Positive and negative news affects the market accordingly, and readers will be able to see by how much without leaving the news website.
Traders also interested in keeping up with regulation are also able to track the performance of their portfolio so they don't miss a beat in a market that never sleeps.
The market cap page tracks the ups and downs of over 1400 cryptocurrency tokens, which include the major coins like Bitcoin, Litecoin, Ethereum, as well as some more of the well-known altcoins like DASH, XRP, UTRUST, and others.
Updates to the market are reflected as soon as possible, and new articles are released every day.
To check out the news platform, click the link. For social media updates, check out BitcoinNews Instagram and Twitter account. For updates through Telegram, check out their news channel here. For those that prefer managing their own content, you can subscribe to the RSS feed here.
Image(s): Shutterstock.com