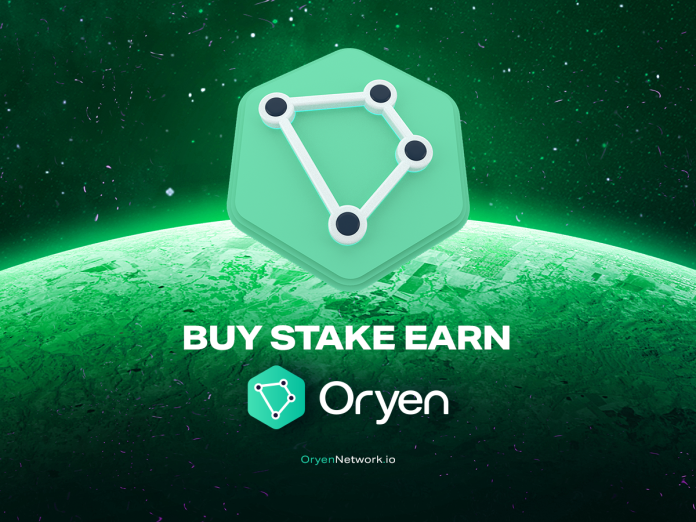 Not all DeFi projects are created equal, and the discrepancy in price action clearly shows the picture. Investors in Oryen Network have seen a 100% gain in recent weeks, something that Aave, Cardano, and Zcash holders can only wish for.
Oryen Network
This price movement has drawn attention to Oryen Network, and on-chain analysts have discovered vast amounts of liquidity moving around on the Binance Smart Chain (BSC) targeting this protocol. An investigation into its whitepaper shows why.
Oryen Network pays out market-leading stable returns, with a daily ROI of 0.177% from its positive rebases, translating into an Annual Percentage Yield (APY) of 90%. The Oryen Autostaking Technic (OAT) system is the economic engine for this protocol. It pays out hourly positive rebases, and its smart contracts auto compound yields twenty-four times a day for investors. Smart contracts also govern the staking process as a security feature, which means investors purchasing ORY earn daily returns simply by holding the token in their wallet. This sophisticated solution to passive income is a game changer.

Aave
Aave is a DeFi giant and facilitates permissionless loans through over-collateralization. The protocol has seen enormous success and holds more than $5 billion in its smart contracts. So why does AAVE, the governance token, perform so poorly? AAVE possesses no value accrual mechanisms, and investors no longer want governance tokens. The protocol makes an astounding amount of revenue but shares none of its with investors destroying demand for AAVE.
Cardano
Cardano has been more affected by the bear market than other similar-sized tokens. Large market caps typically prevent extraordinary growth but should make a token's price action more stable. ADA seems only to have the downsides of a bloated market cap. In addition, its slow pace of development has led other layer-one blockchains to outpace Cardano. Increased competition and failing investor sentiment mean hard times rest ahead for ADA investors.
Zcash
Zcash is a decentralized cryptocurrency built to provide anonymity and secure investors' privacy. Thanks to its cryptographic technology, participants can make transactions on the Zcash network anonymously. With growing privacy concerns, investors would expect positive price action for ZEC. But Monero, another privacy-focused cryptocurrency, has absorbed market share from Zcash, and with Monero offering fundamentally better technology, Zcash's future looks bleak. 
Closing Thoughts
The crypto landscape is constantly changing, and protocols must keep up. Investors are fickle and move to projects that benefit them; therefore, to maintain market share and grow, protocols must give back to investors. Oryen delivers a masterclass in revenue sharing, and its price action shows how investors feel.  
Find Out More Here:

Join Presale: https://presale.oryennetwork.io/register
Website: https://oryennetwork.io/
Disclosure: This is a sponsored press release. Please do your research before buying any cryptocurrency or investing in any projects. Read the full disclosure here.
Follow us on Twitter @nulltxnews to stay updated with the latest Crypto, NFT, AI, Cybersecurity, Distributed Computing, and Metaverse news!