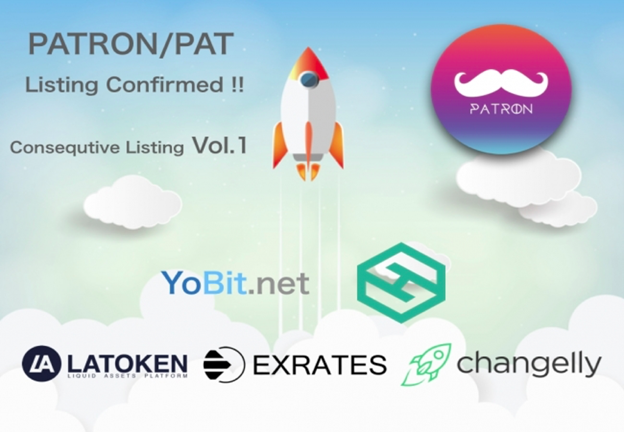 Japan-based PATRON is proud to announce several new updates for their project, including new exchange support, as well as a token buyback program and the burning of tokens.
Disclosure: This is a Sponsored Article
Exchange Listing Details
PATRON's influencer marketing platform, fresh off the success of a $40 million token sale, is continuing their momentum by intending to list their PAT token with two additional exchanges and the burning tokens by the board of directors to benefit the whole community.
The PAT token initially started with five exchanges supporting the token (Hobit, Extrates, Yobit, Changelly, LATOKEN) and now South Korean Exchange Kucoin will join the ranks. The token is also looking to become listed on CoinEx, which you can vote for here.
Buyback and Coinburn, Possible Migration to New Blockchain Platform
The token buyback and coinburn are due to PATRON preparing for a possible platform change. The team is planning a mainnet launch sometime in late September or October. The PATRON platform currently runs on Ethereum, but in the case that a different blockchain is chosen to be the mainnet, token holders will be guided through the migration and swap.
During this migration, the team will be commencing the burning of PAT tokens. While the two events are not dependent on each other, they will be occurring at the same time, to help with liquidity and price valuation of the tokens. Both the public and team pools of PAT tokens will be burned during this time.
Also, in September, the PATRON team will be attending the Crypto Finance Conference in California. The two-day event will begin on September 5th and end on the 7th. The conference will take place at the Ritz-Carlton at Laguna Niguel, California.
PATRON's CEO Atsushi Hisatsumi will be a guest speaker at the conference, with other confirmed speakers and guests including Ripple Chairman Chris Larsen, Tim Draper, and many other prominent figures within the cryptocurrency industry.
With the platform focusing on removing the current inefficiencies of branded content and social media marketing, there are many looking forward to the future of what this platform has to offer. Forbes has even called PATRON one of the top 10 blockchain companies to watch this year.
For more information about the project, make sure to check out PATRON's website. To read up about the projects background, concepts, and technical discussion make sure to read their white paper. For discussions about PATRON as well as other cryptocurrencies, make sure to check out their Bitcointalk thread. PATRON also has a Telegram channel, allowing users to chat with the team and other community members in real time. Blog posts regarding project updates and PATRON announcements will be posted on their Medium blog, with social media updates released through their Twitter and Facebook accounts. Lastly, for more information about the ICO and the team, make sure to check out their LinkedIn.
Image(s): Shutterstock.com