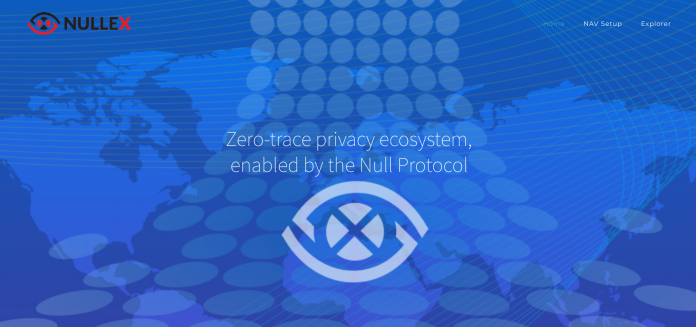 There is no shortage of cryptocurrencies focusing on privacy. NulleX aims to differentiate itself in this market through a zero-trace privacy ecosystem. The currency is powered by the Null protocol, which is designed to offer users the privacy that they look for and deserve. Another competitor has emerged to challenge Monero and Dash.
The NulleX Principle
It is evident major cryptocurrencies such as Bitcoin and Ethereum lack any sort of privacy or anonymity. As such, the market focuses on privacy and anonymity currencies. Notorious names include Monero, Dash, ZCash, and PIVX. However, new projects emerge on a regular basis. Competition is a good thing, especially when it comes to currencies focusing on offering more privacy to their users.
How Does it Work?
Three main layers make up the NulleX concept. There is the Null Blockchain, which makes use of the Null Protocol. Its main purpose is to enable financial transactions and storage usage data. The Null Protocol keeps the information hidden from the public, even though the network is capable of verifying the necessary tidbits to ensure operations can occur as normal.
The Null Array is the part of the network which will seemingly facilitate privacy services. Numerous Null Array Verified nodes will be created around the globe. Owning such a node will result in a financial compensation for providing vital services to the NulleX ecosystem. Moreover, these nodes will oversee the burning and minting of new coins, as well as enforce the governance rules of the network, among other things.
Last but not least, there are the Null Applications or nApps. These decentralized, autonomous, and self-executing applications leverage the Null protocol to offer valuable services and unlock new product models. Potential use cases range from GPS services to social messaging and online shopping. All of this will be achieved while providing privacy features to users at all times.
The Road Ahead
For a relatively new cryptocurrency, NlleX has a rather lengthy roadmap. The team has successfully achieved the rollout of Null Array Nodes, which helps elevate the network to a whole new level. Behind the scenes, the implementation of Zerocoin is slowly inching toward completing. with a testnet release expected for Q4 of 2018. The mainnet release of the Null protocol will not happen soon, by the look of things. although it is still one of the top priorities.
Image(s): Shutterstock.com