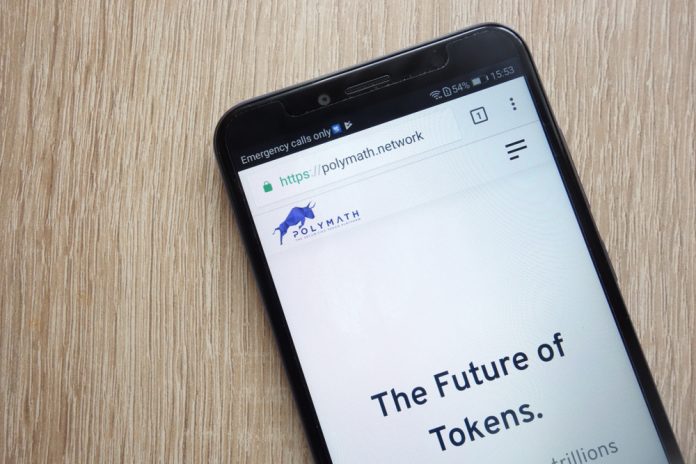 After a somewhat lengthy bullrun, it seems most cryptocurrency markets are suffering from a slight correction. In some cases, the losses quickly mounted up to nearly 4%, which is quite steep. Further down the market cap rankings, Polymath is still doing a good job. The altcoin remains in the green in both USD and BTC value,  at least for now.
Polymath Price Surge Isn't Over
It is quite refreshing to see at least some currencies retain their positive momentum. It was a matter of time until all major markets saw a correction. A multi-day uptrend has not been sustained in this industry throughout most of 2018, and this latest run is no different in that regard. At the same time, there is still room for further upward momentum despite this brief correction.
Over the past 24 hours, the Polymath price has risen by another 7% and change in USD value There's also the strong uptrend against Bitcoin – +8.2% – and Ethereum – + 10% – to take note of. All of these changes seem to indicate POLY is in a very good place right now, despite having a trading volume of just $8.4m.
For speculators of POLY, liquidity plays an increasing role of importance. More exchanges offering trading markets pertaining to this altcoin is always a good chance. While HotBit might not be a big exchange by any means, they do allow for ETH and BTC trading against Polymath.
【#hotbit #newlisting】
Hotbit launched $POLY (#Polymath)on November 7th
2018.11.7 18:30 (UTC+8) open deposit and POLY/ETH,POLY/BTC trading pair
trade now: https://t.co/TRUaN4XyEd#blockchain #eth #btc #poly pic.twitter.com/pEnHjHQdNh

— hotbitio (@Hotbit_io) November 8, 2018
Those who seek some advice in the technical analysis department may not necessarily like what they see in this department. There is still a bullish signal forming across the charts at this time, although that doesn't automatically result in a further gain whatsoever. A very peculiar market to keep an eye on in this regard.
$POLY
Bottom of the daily block is holding. Yesterday's candle wicked but closed inside of it, also might be a bullish hammer. Higher high and higher low on the 4h chart.#poly #btc #bitcoin #polymath #PolymathNetwork #altcoins #cryptocurrency #Crypto pic.twitter.com/n8V5Kf2jtI

— Moody (@TraderMoody) November 7, 2018
Wally530 Offers a slightly different take on things, although his charts date back a few hours. It would appear the current Polymath uptrend falls well within the range projected on this chart, albeit breaking out from the channel in a positive manner may take a while. If all other markets begin to recover, POLY can catch a second wind from that momentum as well.
– Yes, good reaction at 4H OB
– No, it's under resistance right now
– 0.00004096 is the S/R LVL
– Don't long when under resistance. Easy as that.#Polymath $BTC #Bitcoin pic.twitter.com/wyJY3xzSQo

— Wally53Ø (@Wally530_) November 7, 2018
Given the current state of all major markets, it appears to be a time until Polymath either gets its own correction or surges to $0.3 again. All markets are at a pivotal point right now, yet the general direction remains rather unclear. For the Polymath price, things are looking pretty good, although the trading volume is still a bit weak.
---
Disclaimer: This is not trading or investment advice. The above article is for entertainment and education purposes only. Please do your own research before purchasing or investing into any cryptocurrency.
Image(s): Shutterstock.com