Pump and Dump (P&D) is a meme token that deserves its name. It's a community-driven decentralized crypto token supporting a charity with every transaction. The presale starts today, April 11th, with a maximum limit of 100 BNB. Let's look at the project.
What Is Pump and Dump (P&D) Token?
Pump and Dump (P&D) is a recently launched meme token that deserves the name. It holds up a mirror to all cryptocurrencies that don't have any real utility. With its slogan "The last hype," P&D refers to the insubstantial coins and tokens that have no actual use and are powered by hype.
The Pump and Dump token says it how it is. It's a community-driven token that will be powered by investor hype. It will also donate a portion of each transaction to Cancer research and Animal shelters. The funds go to verifiable wallets, enabling users to track the funds and make sure they reach their respective organizations.
One unique feature of the token is the project's announcement of a planned crash for the coin on Dec 21st, 2025. The crash will be triggered when 50% of all tokens that are still locked will be released on the market. If half of the circulating supply of P&D is sold, it will cause a huge crash. This means that users simply need to sell their tokens any time before the planned crash to secure their profits and avoid huge losses.
The planned crash is unique to the crypto world as developers of most projects look to offload the bulk of the tokens to unsuspecting investors. The team wants to change this by announcing and planning its token crash.
Pump And Dump Presale & Tokenomics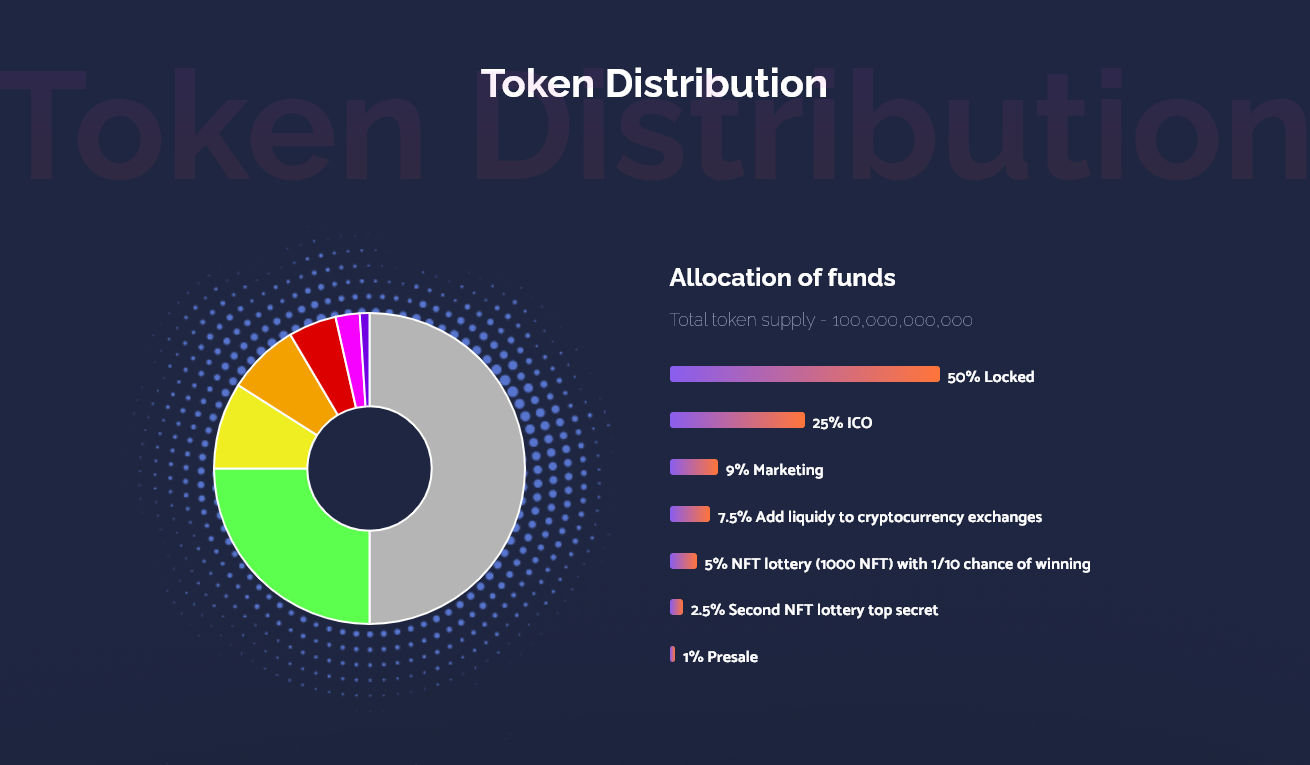 The P&D token also features a complete Audit performed by CoinTool, and KYC verification performed by Nanuqe, the world's first trust bridge platform for investors and new crypto projects.
P&D is a BEP-20 token living on the BSC chain with a total supply of 100 billion tokens. The total tax for cryptocurrency is 3% + 3% automatic LP. Users receive a 64% discount on the price during the presale period, and the automated liquidity pool and tax are set to 0%.
According to the P&D team, most of the money raised during the presale will go towards the marketing of the upcoming ICO. The presale will run from April 11th to April 30th and will be hosted on Cointool.
For a brief overview of the Pump and Dump token, check out this YouTube trailer:
Pump and Dump token's goal is to become the 4th largest cryptocurrency, quite an ambitious plan that could be made possible by building a large enough community that supports the project.
As Elon Musk said, "Paper money is going away," and cryptocurrency is there to take its place. With the right community, marketing and team, P&D could reach the sky and fulfill its mission of becoming the 4th largest cryptocurrency on the market.
Pump and Dump NFTs
Pump and Dump token also features an NFT collection available on OpenSea. The collection consists of 1,000 unique Pump and Dump (P&D) token-inspired artworks featuring cute pixelated Dobermans.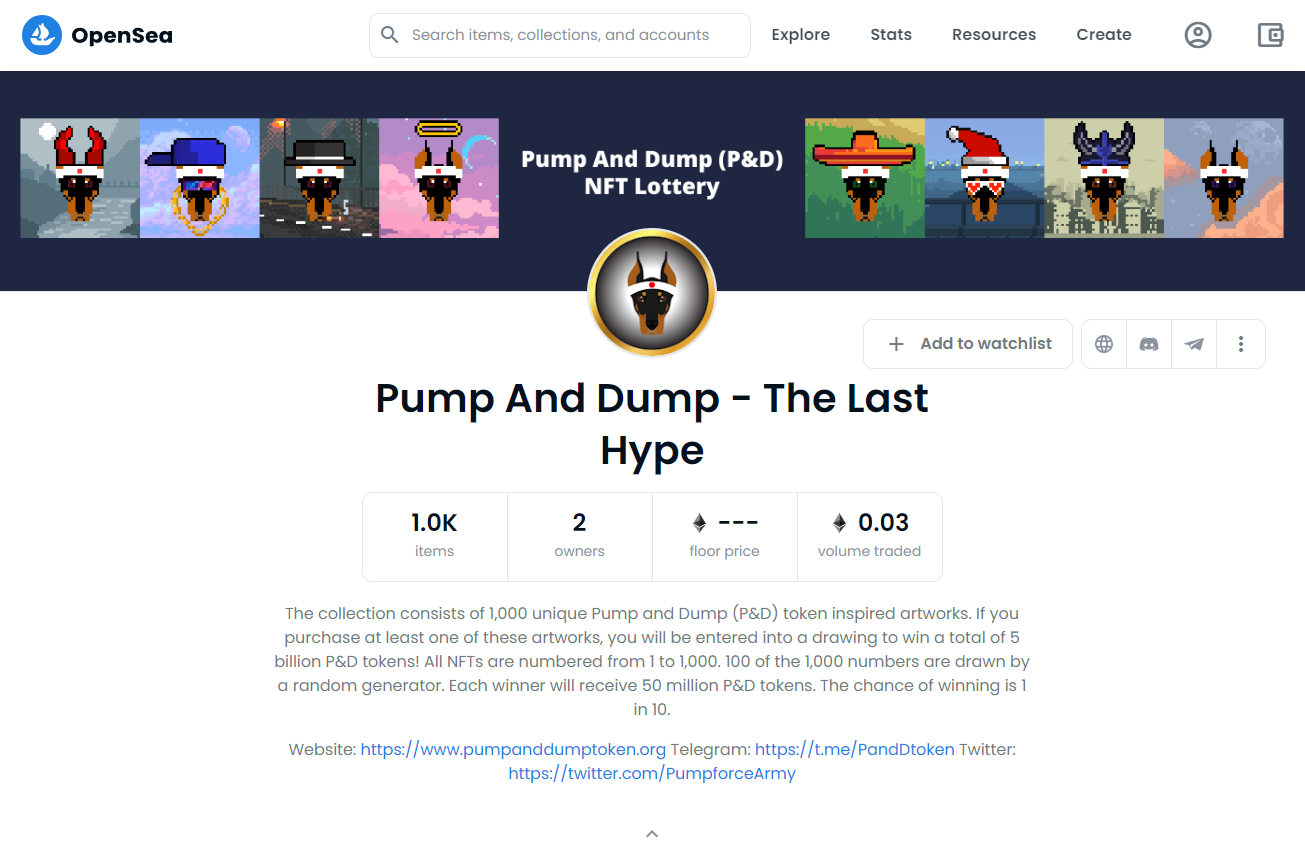 If users purchase at least one of these artworks, they will be entered into a drawing to win a total of 5 billion P&D tokens! All NFTs are numbered from 1 to 1,000. 100 of the 1,000 numbers are drawn by a random generator. Each winner will receive 50 million P&D tokens. The chance of winning is 1 in 10.
This means a total of 700,000 USD worth of tokens will be raffled! This is primarily for marketing purposes. The exception was 10 NFT whitelist slots that were already raffled. The proceeds (after deduction of fees like opensea, currency exchange, etc.) will be donated entirely to charity.
Pump and Dump (P&D) Token Links
Website: https://www.pumpanddumptoken.org/

Presale link: https://cointool.app/ido/exchange?id=236b56727572232b76242150522650552755227175715772242b5655557725552776225622242426512b6f2625
Opensea: https://opensea.io/collection/pumpanddumptoken
Twitter: https://twitter.com/PumpforceArmy
Telegram: https://t.me/PandDtoken
Reddit: https://www.reddit.com/r/PumpforceArmy/
Discord: https://discord.gg/C5NUZEvyaK
Disclosure: This is a sponsored article. Please do your research before buying or investing in any cryptocurrency.