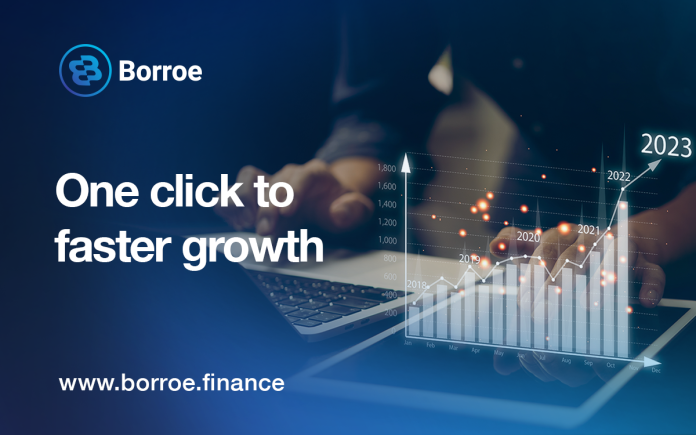 In a landscape of dynamic shifts and evolving trends, the world of cryptocurrency continues to command attention. As traditional investors navigate the ebbs and flows of the market, a notable development is unfolding—a surge in retail investment in AI-led projects, exemplified by the rising popularity of projects like Borroe.
While mega VC firm Sequoia Capital grapples with a downsizing strategy, retail investors are finding a promising haven in forward-looking initiatives driven by the power of artificial intelligence.
The prevailing market conditions have prompted traditional investors to reassess their strategies, seeking avenues that offer both stability and growth potential. In this landscape, Sequoia Capital has chosen to recalibrate its venture funds, a move that underscores the cautious sentiment prevalent among established investors.
The firm has opted to reduce its crypto fund by a substantial 65.8%, shrinking it from $585 million to $200 million. Sequoia Capital has also halved its ecosystem fund, now standing at $450 million. These adjustments reflect a larger trend in the market as investors seek to safeguard their capital against the backdrop of volatile price movements.
Amidst the reshaping of investment strategies, retail investors are carving a distinct path—one that leads them towards projects rooted in the power of artificial intelligence. These projects, characterized by their forward-thinking approach and innovative solutions, are capturing the attention and capital of a new wave of investors.
One such standout example is Borroe, a venture that marries the potential of AI with the dynamic realm of cryptocurrencies.
Borroe: Empowering Creators through AI
At the intersection of AI and cryptocurrency, Borroe stands as a beacon of potential. Fueled by the vision of revolutionizing the way content creators engage with their audiences, Borroe harnesses the capabilities of AI to create a transformative platform.
The project aims to empower content creators with valuable insights, enabling them to optimize their strategies, enhance engagement, and unlock new avenues of growth. By leveraging AI, Borroe is not merely a cryptocurrency venture; it's a catalyst for meaningful change in how creators connect with their communities.
Retail Investors Seize the Borroe Opportunity
As Sequoia Capital recalibrates its approach, retail investors are seizing the opportunity to be part of the future. Borroe's unique fusion of AI and crypto has resonated with investors who recognize the potential for groundbreaking impact.
The project's presale phase has garnered significant traction, with investors eager to participate in a venture that aligns with their forward-looking ethos. With its deflationary token scarcity mechanism and a vision that spans beyond traditional boundaries, Borroe is poised to ride the wave of AI-led innovation.
Unlocking Potential: Borroe's Path to Growth
Experts and analysts alike are taking note of Borroe's potential, with projections hinting at an impressive surge in value. The confluence of AI-driven insights, deflationary token scarcity, and a dynamic marketplace positions Borroe as a contender for substantial growth. The groundwork laid during the presale phase signifies not only investor confidence but also a shared belief in Borroe's ability to redefine content creation and engagement.
Embrace the Future: Borroe Presale Opportunity
As traditional investment avenues face uncertainty, Borroe presents a unique opportunity for retail investors to align with a project that embodies the future. The presale phase, marked by its organic growth and investor enthusiasm, is a chance to become part of a community that values innovation, empowerment, and AI-driven advancement.
With over 34 million $ROE tokens already sold during the presale, the momentum is palpable. As the presale funding fuels the building of Borroe's ecosystem and utility, investors stand to benefit from a project that prioritizes inclusivity and accessibility.
Multiple payment options, including established cryptocurrencies like BTC, ETH, and BNB, ensure that investors can participate seamlessly.
In a landscape marked by change and transformation, Borroe exemplifies the fusion of AI and cryptocurrency—a convergence that has captured the imagination of retail investors seeking to be at the forefront of innovation.
As the market dynamics continue to evolve, Borroe's presale offers more than just an investment; it's an invitation to embrace the future and be part of a movement that is shaping the way content creators and audiences connect.
Learn more about Borroe ($ROE) here:
Visit Borroe Presale | Join The Telegram Group | Follow Borroe on Twitter

Disclosure: This is a sponsored press release. Please do your research before buying any cryptocurrency or investing in any projects. Read the full disclosure here.