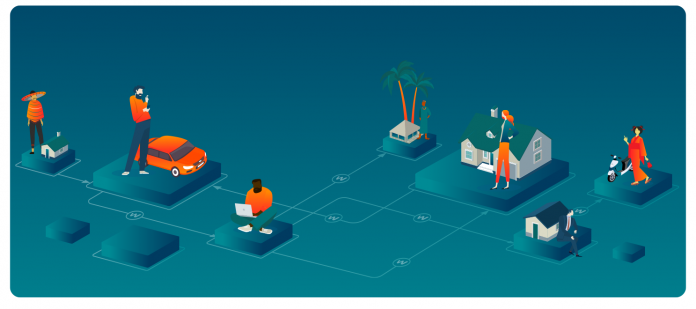 Each day, our world and our interactions within society are changing at a faster rate than ever before. New methods of communication, negotiation, commerce, and so on have rapidly altered the manner in which individuals cooperate with one another. One manifestation of this ongoing change is the emergence of the sharing economy.
Disclosure: This is a Sponsored Article
The sharing economy has already disrupted many niches- travelers can save money by choosing AirBnB over hotels, commuters receive faster and cheaper transport with Lyft or Uber over taxi, and home delivery is faster and more versatile than ever before with Postmates and DoorDash.
However, current implementations of the sharing economy are not fully reminiscent of a revolution to the society of tomorrow. As these startups struggle to become profitable, their role as a middleman becomes more and more taxing on vendors and consumers, diminishing the edge they give both parties versus traditional alternatives. Today, fees for activities within these platforms can reach up to 30% per transaction. When these platforms are used for renting in other countries, those currency conversions translate to extra fees. These components cut into the earnings of vendors and savings of consumers simultaneously, and can result in little to no net savings over traditional alternatives like hotels and taxis.
WONO recognizes this inefficiency, and is working to create the next generation of sharing economy platforms. WONO is a decentralized, peer-to-peer platform that seeks to enable the sharing of everything. On WONO, individuals can connect through systems of deals to orchestrate exchange or rent of assets and services. There is no middleman, all activity happens directly between participants, which eliminates the exorbitant fees associated with sharing economy counterparts.
WONO, built upon Ethereum, leverages the smart contract capabilities of the platform to enable specialized smart contracts known as deals. There are a number of different deals that promote flexibility in transactions between participants. Besides regular deals, users can execute back-to-back deals, where two participants both exchange an asset or service, or chain of deals, where multiple participants can exchange assets and services in a web or community of individuals, among other possibilities.
The platform also strives to create a closed financial ecosystem. All transactions take place in WONO, and the versatility and wide capabilities of the deals enables sharing to take place in all forms. The intention is that WONO will become as fiat-less as possible, allowing participants to borrow and share services and assets fluidly and frequently via the WONO token. From the very beginning, WONO is entering ALL sharing and freelance markets in order to provide users with the opportunity to gain and spend tokens within the platform. The mantra of the ecosystem is that sharing of everything is the key to success.
Token Sale Information
The Pre-ICO for WONO will begin on August 6. The soft cap for the project to continue is US$7 million, with a hard cap of $20 million. The total supply of WONO is 79,166,667. Of this, 60%, or 47,500,000 WONO, is for sale throughout the duration of the ICO at a base token price of US$0.50. The breakdown of the funding can be found in the whitepaper, with some percent going to product development, marketing, business development, legal affairs, and community incentives and growth.
For more information on WONO, check out their website, interact with the community on Telegram, and follow the project on Twitter, Facebook, and Medium.
Image(s): Shutterstock.com