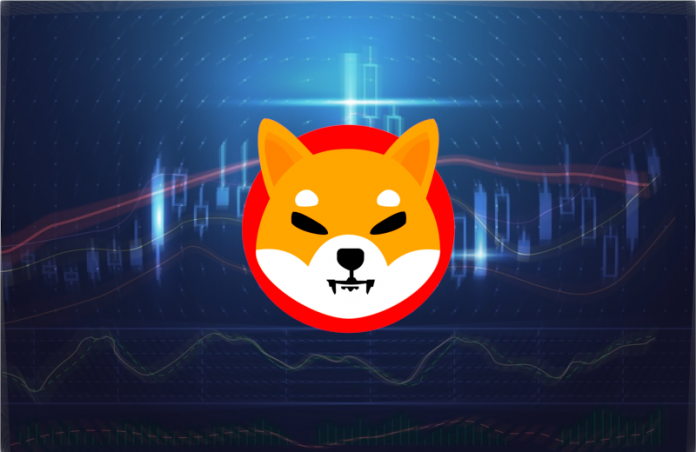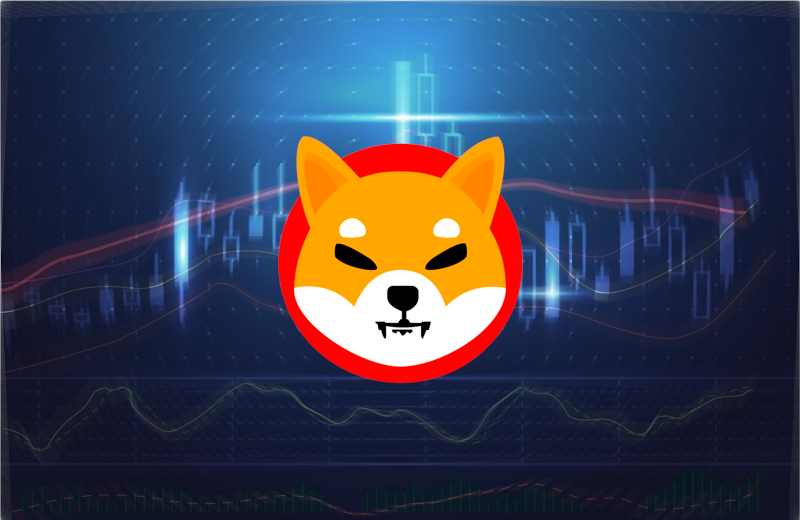 Shiba Inu continues to trade sideways, showing strong support at $0.00004, as cryptocurrency markets continue to struggle. Shiba Inu has been trading between the $0.00004 and $0.00005 level since the beginning of November, after it reached an all time high of $0.00008. Let's take a look at recent Shiba Inu news and see what's going on in the community.
Shiba Inu News
On November 19th, Binance.US announced its support for SHIB on their Buy Crypto portal. Users will now be able to purchase SHIB with USD as either a one-time, or a recurring purchase. In response to the announcement, SHIB's price increased by over 15%.
While SHIB was listed on Binance back in May, adding Shiba Inu on Binance.US is a sure way to increase buy volume for the token. Binance has been a great supporter for Shiba Inu, and is one of the reasons for SHIB's success.
In other news, as with any successful cryptocurrency project, there will be tons of FUD and general nonsense surrounding it. On November 20th, Shiba Inu's official twitter sent out a scam alert about a telegram group that been circulating on social media.
The tweet included a video alerting users to the scam and read:
"A fake SHIBA telegram group is being shared across social media. The scammers impersonate official accounts, and create fake users. These scammers reply to general posts. They target your hashtags: #SHIB #SHIBARMY #LEASH #SHIBASWAP #BONE.

There is no: SHIBA BREAKING NEWS! BIG EVENT!

There is not: Shiba Airdrop"
Stay Alert & Safe #ShibArmy!

We've been made aware of a recent scam, traveling social media, and other communication platforms.

Here's a quick video to provide more information on the matter. pic.twitter.com/UOh50WsJSQ

— Shib (@Shibtoken) November 21, 2021
The scam in question is an extremely popular Copycat scam where malicious players impersonate high profile figures in an attempt to lure clueless investors to join their groups.
Once the investors join the group, the scammers begin advertising a fake Airdrop, which is nothing but a scam to empty your cryptocurrency wallets. Stay Safe.
In addition to the scammer telegram groups popping up, Shiba Inu's Volunteer Project Lead had this to say on twitter: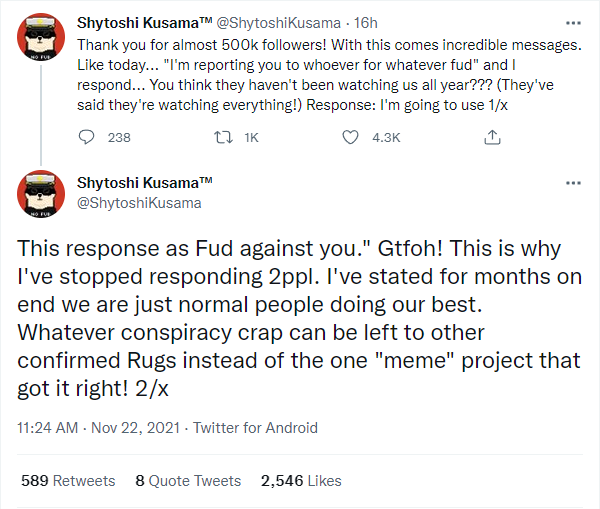 Venting about the verbal attacks directed towards him coming from the bottom feeders in crypto, it's only understandable that Shytoshi cut most of his communication with people who want nothing else but to see their SHIB tokens rise in value.
There are also people on twitter claiming that they have lost money on SHIB. It's hard to believe that you could lose that much money on Shiba Inu, given the fact that its still trading at 50% of its all time high.
If you can't afford a 50% loss in crypto, as Shytoshi Kusama said best, "Gtfoh!"
Disclosure: This is not trading or investment advice. Always do your own research before buying any cryptocurrency.
Follow us on twitter @nulltxnews to stay up to date with the latest cryptocurrency news.