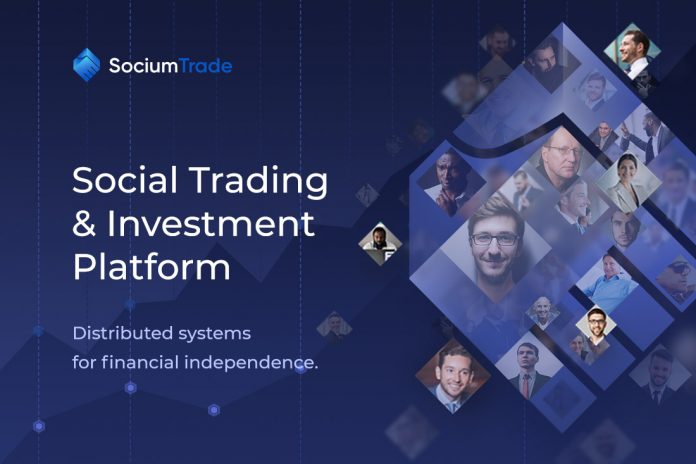 For traders and investors, remaining profitable and growing portfolios in an extended bear trend is hard. Doing it by yourself, without the help of trading and investing networks, is even harder, but existing communities can be insecure, illegitimate, and expensive.
SociumTrade is looking to change the game through its trading and investment platform that  that is accessible, secure, and transparent to all its participants. Akin to a niche social network, users on the platform can communicate and collaborate to share strategies, resources, and research findings with one another.
For the average individual beginning their trek into crypto or traditional markets, connecting themselves with private trading groups, investment pools, and even intuitive trading interfaces is often impossible for those unwilling to sacrifice huge amounts to subscription fees or jeopardize their assets to covertly malicious entities.
SociumTrade is shifting the paradigm of a tokenized-economy with its comprehensive ecosystem that will connect its worldwide users to the products and tools most commonly sought after among traders and investors alike. Moreover, the platform prioritizes transparency and security so that funds and profits are never put in danger. The core features of the platform are as follows:

Peer-To-Peer Transactions: Traders can participate in over-the-counter transactions with one another in a trustless, secure manner. For coins with low liquidity or little support from exchanges, this means traders are never subject to paying massive premiums or having their funds lost on shoddy exchanges.
Decentralized P2P Lending: SociumTrade users can cooperate in peer-to-peer lending operations. Investors can lease their holdings for whatever interest rate they offer, and traders can take advantage of available funds to maximize their exposure or take advantage of trading opportunities without jeopardizing their current holdings.
Follow Traders: Users on the platform broadcast their trades to the ecosystem and other traders can take note of the strategies used by their peers.
Investment Consortiums and Pools: Users can combine their assets in order to cooperate to build larger funds. While investment consortiums allow for effective capital management 24/7, investment pools enable participants to earn passive income with minimal risk.
Intuitive Trading Interface: A key focus of SociumTrade is user experience. The trading interface is straightforward and powerful. Users build their own terminal design, have a custom layout and choose tools to be visible. From the charting interface, users can draw and highlight graphs, input trends, study candles, and more. When they are ready to trade, any amount of market or limit orders can be made simultaneously.
Data-Intelligence:  SociumTrade has a built-in AI driven analytical engine to watch and predict market trends, indicate the potential market opportunities, analyze traders behaviour and ratios, rank traders or funds based on performance data.
As a result, SociumTrade provides a decentralized, intuitive, accessible, and highly powerful financial ecosystem. KYC/AML compliance ensures all users remain honest and regulations are followed. Rating metrics can be applied to different assets, strategies, and traders to further share knowledge and opinions.
SociumTrade is the flagship product of the Socium.net ecosystem, which is headquartered in Malta. The company boasts over 40 team members, and has been building the platform since 2017. There is an opportunity to join the Private Investor Presentation which is filled with tips for every investor, small or big. SociumTrade also holds a partnership with global IT federation, Asseco Group. With significant resources invested, SociumTrade is poised to take on the worldwide traders and investors that make up the crypto space in its mission to provide its users with an unrivaled experience.
---
This is a sponsored article and does not necessarily reflect the opinions or views held by any employees of NullTX. This is not investment, trading, or gambling advice. Always conduct your own independent research.
Image(s): Shutterstock.com