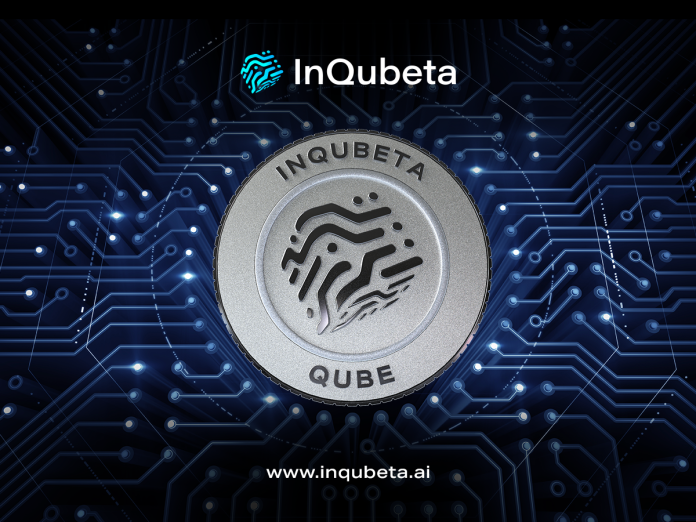 The crypto world keeps evolving by introducing life-changing assets and protocols such as decentralized finance (DeFi), Web3, and non-fungible tokens (NFTs). The most recent member of this group of crypto advancements is AI technology concerned with simulation, automation, and computer programming.
InQubeta (QUBE) is the blockchain-based cryptocurrency of a growing ecosystem that puts the DeFi space, NFTs, Web3 innovation, and AI technology under the spotlight. InQubeta is the first of its kind to utilize the power of blockchain and smart contracts to create a secure, transparent, and trustworthy investment ecosystem. While InQubeta's presale gains traction and shows significant growth potential, Solana (SOL) and Quant (QNT) have been experiencing price stagnation.
InQubeta's (QUBE) Presale is Making Revolutionary Waves
QUBE tokens, which are deflationary ERC-20 coins, power the revolutionary InQubeta project. QUBE token holders are eligible to perform transactions and participate in InQubeta's decentralized autonomous organization (DAO) governance activities. InQubeta has become the first cryptocurrency platform to feature popular NFTs while merging DeFi, AI, and Web3 technology.
InQubeta's presale has positioned the QUBE token as the leading crypto amassing thousands of investors and surprising crypto analysts. The high demand for its presale is drawing the attention of investors to InQubeta's exciting features, vision, and in-built communities. The focus of this crypto is to reshape the means through which new AI companies attract investors and raise funds. The InQubeta platform also features an active NFT marketplace with popular NFTs. AI start-ups can raise funds and offer NFTs as rewards to their investors.
Apart from the InQubeta NFT marketplace, investors can also earn rewards by staking QUBE tokens in their InQubeta wallets. The more QUBE tokens they hold in their wallets, the more rewards they can earn. Investors can also stake their QUBE tokens and be rewarded from InQubeta's 5% sell tax. The staking rewards are transferred to a dedicated reward pool for easy accessibility.
Solana (SOL) is the Victim of FTX Crypto Exchange's Collapse
Solana is a highly functional public project that depends on the permissionless nature of blockchain technology to provide solutions to issues plaguing decentralized finance (DeFi). Solana's protocol was designed to facilitate the easy creation and running of decentralized applications.
One prominent worry users have is that the Solana blockchain has been prone to network outages. In 2022, Solana suffered nine network outages within two months, seven tagged "major." Solana's native SOL coin then lost more than half of its value during the onset of the FTX crypto exchange's collapse in November 2022.
However, when 2023 began, SOL made a relative comeback and rose from the low price of $8.39 on December 29 to a peak of $26.93 on February 20, 2023. Since then, the SOL coin's price has largely stagnated.
Quant's (QNT) Drawbacks are the Source of Its Price Decline
Quant was launched in June 2018 as the missing link that facilitates seamless interoperability between blockchains. The downsides of Quant's crypto, QNT, originate from a series of technical and on-chain service declines which caused affected investors to lose profits.
On October 17, 2022, the Quant Network's daily active addresses (DAA) reached an all-time high of 10,949 during the QNT price uptrend. However, the DAA readings dropped drastically on October 19 to nearly 6,800. At that time, QNT's price fell to $171. Since the start of 2023, the QNT token's price has stagnated, with the hopes of a rise before the end of 2023.
Final Thoughts
Despite the unusual trading activities on the Solana and Quant platforms, their prices need to be more stable to help them to keep up with leading ERC-20 coins in the crypto market. As a result of their 2023 price stagnation, Solana and Quant might lose their long-standing prestige.
On the other hand, InQubeta's presale has made the QUBE token the main attraction, thanks to the project's redefinition of AI and Web3 technology. InQubeta's ongoing presale displays impressive growth potential, which is apparent in the steadily increasing number of investors and funds raised.
Disclosure: This is a sponsored press release. Please do your research before buying any cryptocurrency or investing in any projects. Read the full disclosure here.