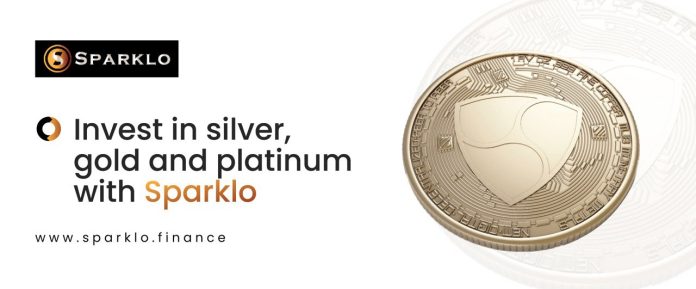 New players are surfacing as the Bitcoin industry develops, which has the potential to upend everything. One of these participants is Sparklo (SPRK), and industry insiders believe great things are in store for this blockchain-based investment platform. Sparklo is swiftly gaining momentum since it can provide fractional investments in precious metals, including silver, gold, and platinum. Analysts suggest that it has the potential to overtake established coins like Loopring (LRC) and Tron (TRX) shortly. In this article, we'll look closely at Sparklo and what sets it apart from the rest of the pack.
Loopring (LRC) Launches Staking Feature as Technical Analysis Predicts a Bearish Future
Loopring (LRC) has announced that its staking feature is now available to users, which allows them to earn incentives by locking up their Loopring (LRC) tokens. This feature has been highly requested by the Loopring (LRC) community.
Loopring (LRC) is currently worth $0.3492 with a market cap of $464M, although it has decreased by 2.76% in the last 24 hours. The trading volume decreased by 2% in the same period, at $33,361,571.
However, the technical analysis of Loopring (LRC) has experts worried about its future. All its technical indicators and moving averages show sell signals, indicating it is in a bearish phase. Its price will likely drop to its support level of $0.2552 by December 2023.
Tron (TRX): A Revolutionary Platform Empowering Content Creators
Tron (TRX) is a popular cryptocurrency known for its unique features and ambitious goals. Tron (TRX) is a decentralized platform that aims to create a global digital content ecosystem, enabling content creators to monetize their work directly.
Tron's (TRX) scalable and effective blockchain infrastructure is one of its advantages. This infrastructure ensures that network transactions are quick, safe, and economical. Delegated Proof of Stake (DPoS), a cutting-edge consensus technique supporting decentralization and energy efficiency, is another Tron (TRX) cryptocurrency feature.
The decentralized apps that Tron (TRX) is compatible with make it suitable for various use cases, including gaming and decentralized banking. Because of its adaptability and agility, it is a popular option among developers and companies using blockchain technology.
Revolutionizing Precious Metal Investment: Sparklo's Innovative Blockchain Platform
Sparklo is an innovative investment platform that allows fractional investment in precious metals like silver, gold, and platinum. However, fusing their advantages with blockchain technology resolves the issue of restricted access to these assets.
On the platform, investors may buy precious metals and get a fractionalized NFT backed by the same value as the actual commodity. By purchasing the complete NFT, they may have the real-world asset delivered to a place of their choice.
Sparklo will establish a worldwide marketplace for buyers and sellers using blockchain technology. However, this enables anyone, wherever they may be, to invest in precious metals.
By the end of 2023, experts estimate Sparklo's immense development potential might have multiplied by more than 5,000. Nevertheless, Sparklo now presents a good investment opportunity.
Currently, in pre-sale, Sparklo's token (SPRK) costs just $0.015. The pre-sale price will increase from $0.015 to $0.017 after this weekend. A 30% discount is offered on all purchases made by our customers.
However, this means that early investors can buy in at a meager cost, which could result in significant gains in the future.
Disclosure: This is a sponsored press release. Please do your research before buying any cryptocurrency or investing in any projects. Read the full disclosure here.