In recent weeks, Tether (USDT), the world's largest stablecoin, has shown remarkable resilience and heightened activity on the blockchain. The surge in onchain activity and accumulation of USDT in specific wallet categories signal growing interest and confidence in the stablecoin.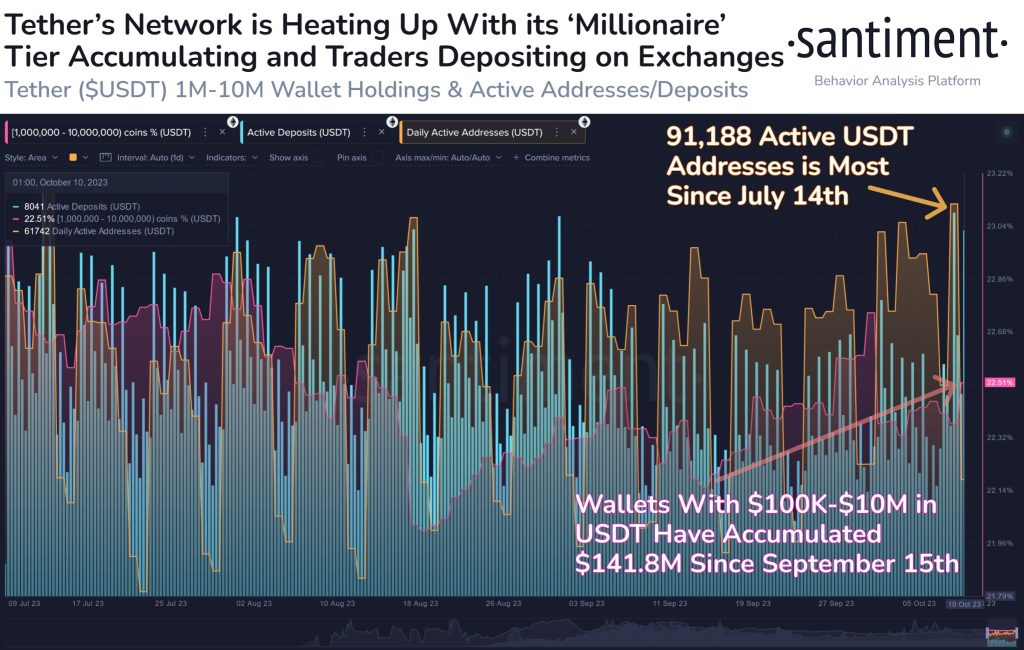 Active USDT Addresses Hits New High
Active addresses for USDT have surged to a three-month high, reaching 92,188. This level of activity hasn't been witnessed since July 14th, indicating a renewed engagement with the stablecoin. This uptick in activity can be attributed, in part, to the increasing number of deposits onto cryptocurrency exchanges, where USDT is widely used as a trading pair and a means of hedging against market volatility.
Massive Accumulation Continues Among USDT Addresses
Furthermore, wallets holding USDT in the range of $1 million to $10 million have been accumulating the stablecoin at an impressive rate. Accumulations totaling $141.8 million have been observed since September 15th. These accumulations suggest that high-net-worth individuals or entities anticipate future opportunities in the cryptocurrency markets and are positioning themselves accordingly.
The increased onchain activity and accumulation of USDT highlight its importance within the cryptocurrency ecosystem. As a stablecoin, USDT serves as a crucial bridge between fiat and cryptocurrencies, allowing traders and investors to quickly move in and out of volatile markets while preserving their capital.
Tether's ability to maintain its peg to the US dollar and its widespread adoption across various cryptocurrency exchanges have contributed to its enduring popularity. Additionally, the transparency provided by Tether Holdings through regular attestations of its reserves has bolstered trust among users.
Final Thoughts
While stablecoins are primarily seen as a means of risk management and stability in crypto trading, their growing usage also signifies the cryptocurrency market's broader expansion and maturation. As investors and traders seek secure and efficient ways to navigate the crypto landscape, stablecoins like USDT continue to play a vital role.
In summary, the recent increase in onchain activity and accumulation of Tether (USDT) underscore its resilience and importance in the cryptocurrency market. With growing interest and trust, Tether is well-positioned to continue facilitating the movement of funds within the dynamic and evolving world of digital assets.
Disclosure: This is not trading or investment advice. Always do your research before buying any cryptocurrency or investing in any services.
Follow us on Twitter @nulltxnews to stay updated with the latest Crypto, NFT, AI, Cybersecurity, Distributed Computing, and Metaverse news!