Tether (USDT), the world's most prominent stablecoin, is making waves in the cryptocurrency market once again, and this time it's the large USDT holders, often referred to as "whales," who are taking center stage. Recent events have seen Tether's top 10 largest wallets accumulating USDT at a rapid pace, resulting in these wallets now holding a quarter of the entire USDT supply. This is the highest concentration of USDT in these wallets since March.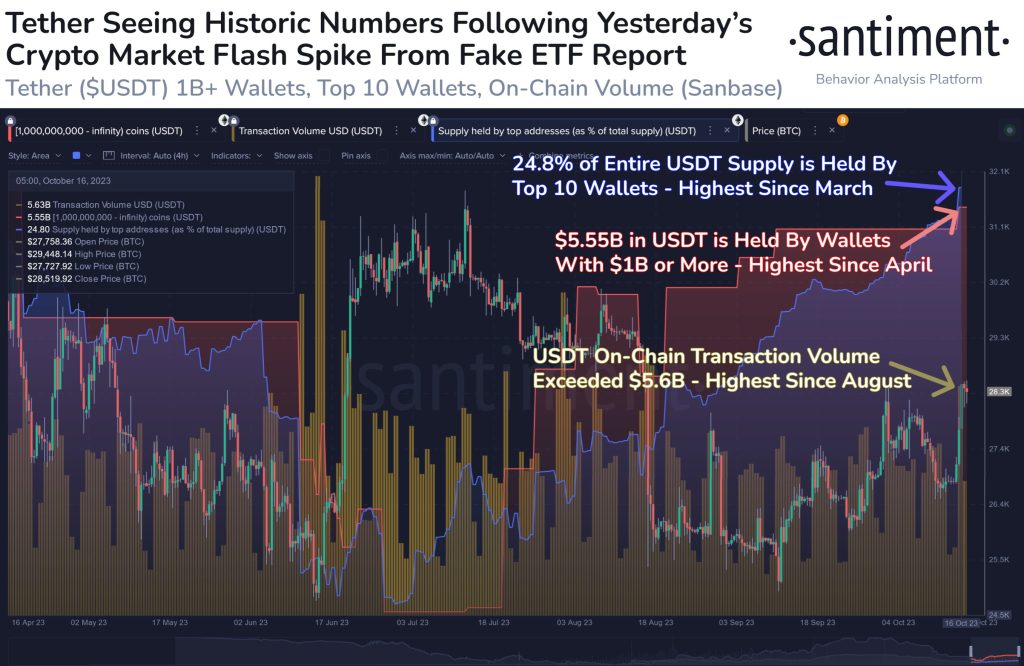 The Resurgence of Whales
It's a comeback for Tether's largest wallets. These significant players have been steadily accumulating USDT, and the top 10 wallets collectively hold 24.8% of the entire USDT supply. Their influence on the USDT market is undeniable, as they can sway prices, set market trends, and influence overall sentiment.
A Billion-Dollar Accumulation
The accumulation by the largest USDT wallets is substantial, with a total of $5.55 billion now held by wallets containing $1 billion or more in USDT. This marks the highest accumulation in this category since April. The significance of this accumulation lies in the potential intent of these large holders.
USDT Onchain Transaction Volume Surge
A noteworthy development is the surge in USDT onchain transaction volume, which has reached its highest point since August, exceeding $5.6 billion. The increased activity in USDT transactions is often an indicator of market movement and the preparations of significant players.
Are Whales Waiting For A Perfect Entry Point?
The collective actions of these USDT whales raise intriguing questions. Are they accumulating USDT in anticipation of a strategic entry into the Bitcoin market? Speculation is rife that this accumulation is tied to the upcoming Bitcoin exchange-traded fund (ETF) approval and the highly anticipated Bitcoin halving event. USDT, being a stablecoin, can provide a stable entry point for investors in anticipation of volatile market movements.
Market Sentiment and Strategy
The resurgence of USDT whales and their accumulation of significant quantities of USDT highlight their influence on market sentiment. Their actions are often seen as indicators of market direction. As the cryptocurrency market continues to evolve and adapt, investors closely watch the moves of these influential players.
Final Thoughts
In conclusion, the rapid accumulation of USDT by the largest wallets, the highest concentration in months, raises questions about their strategies and market expectations. The surge in USDT onchain transaction volume further underscores the potential impact of these large holders on the broader cryptocurrency market. As the market prepares for major events like the Bitcoin ETF approval and halving, their actions are closely monitored for insights into their investment strategies and market sentiment. 
Disclosure: This is not trading or investment advice. Always do your research before buying any cryptocurrency or investing in any services.
Follow us on Twitter @nulltxnews to stay updated with the latest Crypto, NFT, AI, Cybersecurity, Distributed Computing, and Metaverse news!