Self-custody, or the practice of holding cryptocurrencies in private wallets rather than on exchanges, is gaining traction among investors. This shift is particularly notable for coins like SUSHI, REEF, ELF, BICO, CRV, and INJ, as their supplies on exchanges are decreasing. Historically, such reductions in exchange supplies have been associated with positive price movements.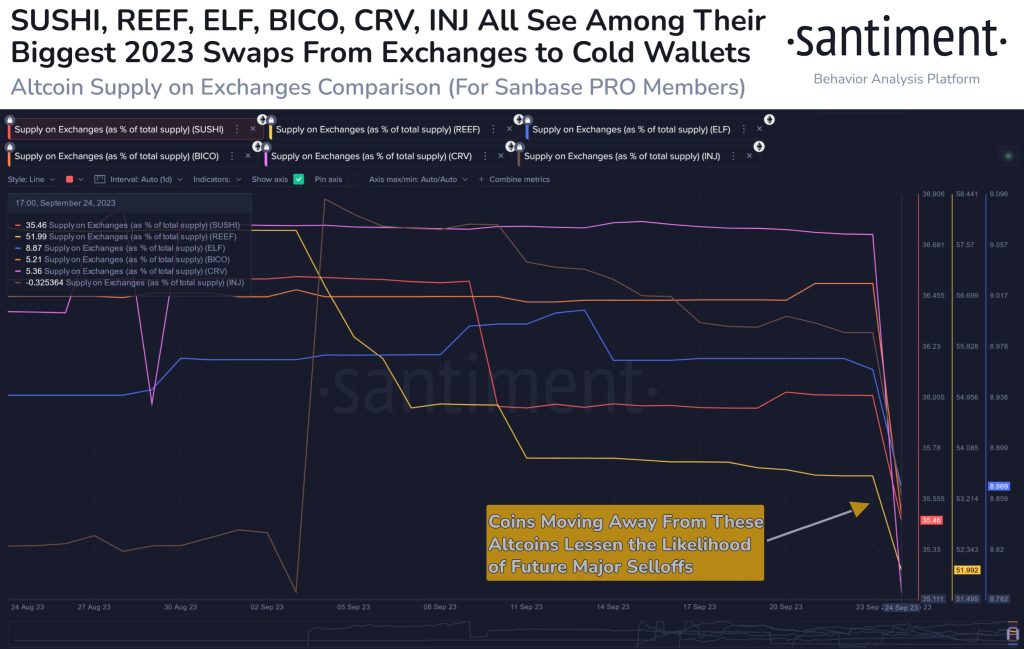 Watch These 6 Tokens
SUSHI, a prominent DeFi token, currently has only 35% of its supply on exchanges. This signifies a growing interest in self-custody among SUSHI holders. Similarly, REEF, with 51.99% of its supply off exchanges, is showing a clear preference for secure private wallets.
ELF, BICO, and CRV also demonstrate this trend, with 8.87%, 5.21%, and 5.36% of their supplies on exchanges, respectively. Notably, BICO's low exchange supply is intriguing given its relatively recent entry into the crypto space.
Perhaps the most intriguing case is INJ, which has a negative supply on exchanges, indicating that more tokens are held in self-custody than on trading platforms. This could be attributed to the growing awareness of the importance of security among INJ investors.
Scarcity And Price Increase
The historical correlation between reduced exchange supplies and future price increases cannot be ignored. When more investors opt for self-custody, it reduces the availability of these tokens on exchanges, potentially creating scarcity and driving up demand. As demand increases and supply diminishes, the stage is set for potential price appreciation.
Final Thoughts
In conclusion, the shift towards self-custody is a noteworthy trend in the cryptocurrency market, particularly for assets like SUSHI, REEF, ELF, BICO, CRV, and INJ. While past performance is not indicative of future results, the data suggests that this move away from exchanges could be a positive sign for the prices of these tokens. Investors should carefully consider the implications of this trend when building or adjusting their portfolios in the ever-dynamic crypto market.
Disclosure: This is not trading or investment advice. Always do your research before buying any cryptocurrency or investing in any services.
Follow us on Twitter @nulltxnews to stay updated with the latest Crypto, NFT, AI, Cybersecurity, Distributed Computing, and Metaverse news!