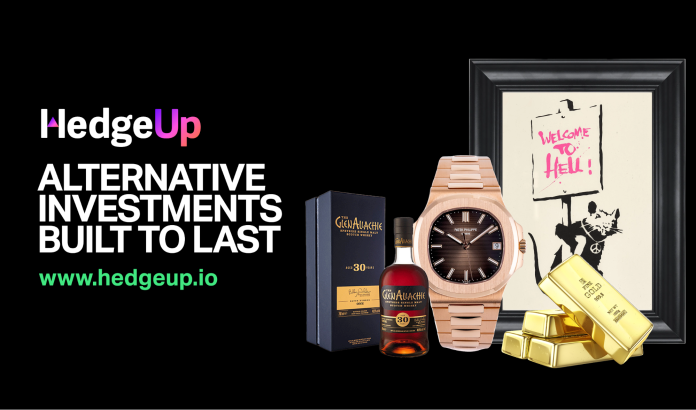 The world of cryptocurrency has seen its fair share of ups and downs, with various digital assets rising to fame and falling into obscurity. One crypto project that has recently garnered attention is HedgeUp (HDUP), a platform that aims to provide access to alternative investment products for everyday investors.
As Ripple (XRP) faces uncertain times, many wonder if HedgeUp (HDUP) could take its place as the new crypto king. HedgeUp has been steadily rising in value and attracting attention from investors and traders. With the recent boom, HDUP seeks to solidify its position as a top player in the crypto market.
In light of this, let's discuss the rise of HedgeUp (HDUP), the new crypto king, as Ripple (XRP) fades away.
HedgeUp (HDUP) Allows Investors to Access a Wide Range of Alternative Investment Products.
HedgeUp (HDUP) was founded to bridge the gap between traditional and cryptocurrency investors. The company aims to do this by offering a wide range of alternative assets such as wine, diamonds, aviation, gold, fine art, and luxury watches.
HedgeUp has partnered with established companies and startups to facilitate user entry into these markets. The platform has negotiated and formulated deals with third-party vendors to be issued on the HedgeUp marketplace.
One unique aspect of HDUP is its use of non-fungible tokens (NFTs). These tokens represent either individual investments or investment baskets and are purchased fractionally. It allows investors to own a percentage of an NFT rather than needing to buy the entire token.
Regarding potential returns, HedgeUp (HDUP) aims for an annual average of 28% or more. The company's "basket" product, a mixture of various asset classes, seeks to achieve an average return of 28–36%. This diversity of assets has helped HDUP hedge against market conditions.
HedgeUp (HDUP) Provides Educational Online Masterclass for its Users.
Aside from its investment offerings, HedgeUp (HDUP) also aims to educate its users through its online masterclass. Professional experts teach the class with over 30 years of experience in alternative investments and are well-known public figures. This education component is meant to help those new to the alternative market space learn while earning.
One problem that has plagued the cryptocurrency industry is the difficulty of converting digital assets into fiat currency. HDUP aims to address this issue by partnering with a card processing company that can convert crypto to fiat, improving users' cash flow and making it easier to spend their gains.
HedgeUp also integrates a decentralized autonomous organization (DAO) and a metaverse platform called HedgeVerse to enhance its ecosystem further. The DAO will oversee investment baskets, liquidity allocations, and the direction of ongoing developments. While HedgeVerse will provide a platform for investors and institutions to communicate and trade.
The features HDUP brought to the crypto space have benefited entrepreneurs operating within global markets, causing the token to rise as the new crypto king.
Ripple (XRP) Struggles To Maintain Market Presence
Ripple (XRP) is a cryptocurrency that was once popular and widely traded but has since faded into obscurity. This decline in popularity and usage is attributed to several factors, including the highly centralized nature of the Ripple network and the lack of adoption by major financial institutions.
In recent years, XRP has struggled to maintain a strong market presence, and it has been overshadowed by other cryptocurrencies such as Bitcoin and Ethereum. Despite its once prominent position in the market, Ripple (XRP) has largely faded into obscurity and is no longer considered a significant player in cryptocurrency.
HedgeUp (HDUP) is a promising player in the world of cryptocurrency. Its wide range of alternative investment products, use of NFTs, the potential for solid returns, educational resources, and efforts to address common problems in the industry make it a unique and attractive platform. As Ripple (XRP) faces an uncertain future, it will be interesting to see if HedgeUp can become the new crypto king.
For more information on HedgeUP click the links below:
Presale Sign Up: https://app.hedgeup.io/sign-up
Official Website: https://hedgeup.io
Community Links: https://linktr.ee/hedgeupofficial
Disclosure: This is a sponsored press release. Please do your research before buying any cryptocurrency or investing in any projects. Read the full disclosure here.