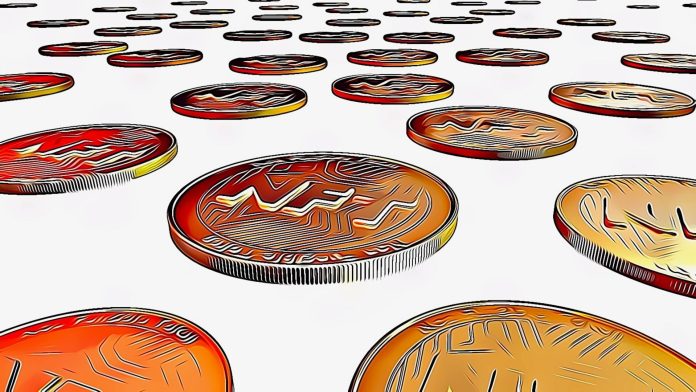 The gaming industry is ultimately going into the Blockchain as adoption continues growing. Most games now offer in-game rewards in collectibles and NFTs, which can be traded for real cash on a secondary marketplace. Collectibles and NFTs Tokens have a robust ecosystem with a massive total market capitalization of $15,850,495,838 and a total trading volume of $1,503,807,128, according to data from CoinMarketCap. 
Note: The tokens are ordered by their market capitalization from lowest to highest.
Aurory (AURY)
Unit Price: $1.16
Market Cap: $11,127,062
Distinct Features: Aurory is a free-to-play game with a low barrier entry. It enables anyone to start playing and owning their in-game assets with no upfront investment, regardless of prior knowledge of cryptocurrencies or financial status.
Built on the Solana Blockchain, Aurory is a tactical, turn-based, NFT-creature battler JRPG. Players are welcomed to go across the worlds of Antik and Tokané as they complete quests, unearth lost artifacts, conquer foes, and engage in competition with other players employing monsters known as "Nefties" in this expansive and varied cosmos.
These magical beings are created as non-fungible tokens NFTs that can be gathered, hatched, traded, and utilized in combat. In this captivating JRPG, they will follow players as they set off on their adventure through several engrossing game modes.
In the single-player Adventure Mode (PvE), an epic plot with allusions to the crypto-universe is presented through visually appealing, vibrant imagery and high-end production values.
Exchange: AURY is currently trading live on CoinTiger, Bitget, FTX, KuCoin, and Huobi Global with a 24-hour trading volume of $776,650. 
Voxies (VOXEL)
Unit Price: $0.2143
Market Cap: $17,317,586
Distinct Features: Players earn VOXEL tokens and collectible NFTs that can be purchased, sold, traded, and lent on the blockchain by participating in PVP battles, just exploring the Voxtopia realm, or playing against the computer.
A free-to-play, 3D turn-based tactical RPG game with a retro aesthetic is called Voxie Tactics. The creators of this virtual world drew inspiration from the traditional tactical games of the 1990s and 2000s while keeping in mind contemporary game mechanics and upgrades. 
The game features two primary game modes called Exploration and Battling that integrate RPG game principles. The primary factor fueling demand for VOXEL tokens is the in-game mechanics of Voxies (market, equip crafting, PvP fights).
The primary game money of Voxie Tactics, known as voxies (VOXEL), enables users to buy armor, weaponry, and other in-game items.
Exchange: VOXEL is currently trading live on Binance, Bitrue, BingX, XT.COM, and Phemex with a 24-hour trading volume of $3,113,223. 
RMRK (RMRK)
Unit Price: $2.21
Market Cap: $20,974,242
Distinct Features: $RMRK is the native utility token used as currency in the RMRK metaverse(s).
Without parachains or smart contracts, RMRK (pronounced "remark") is a collection of NFT legos that enable NFTs' limitless extensibility. It is hosted on Polkadot's canary network, the Kusama blockchain.
Some of the well-noted RMRK Products include:
Singular:

the official NFT marketplace for RMRK NFTs, where users can create and sell advanced NFTs.

Kanaria:

NFT birds that can wear other standalone NFTs, equip and unequip items, and have multiple resources. This is notably the first production demo of RMRK 2.0
When creating collections automatically added to Singular from the various supported chains,the protocol's official token is the RMRK token, is necessary as a deposit for Sybil resistance and spam resistance. It is not required to use the protocol, but it can improve the experience.
Exchange: RMRK is currently trading live on KuCoin, BKEX, Gate.io, CoinEx, and SushiSwap with a 24-hour trading volume of $223,617.
DeRace (DERC)
Unit Price: $0.3155
Market Cap: $22,398,109
Distinct Features: By offering a never-before-seen player-earning model that compensates players for their engagement within the DeRace metaverse and exponentially increases the number of gameplay possibilities, DeRace is poised to revolutionize the GameFi industry.
Derace calls itself a "complete NFT horse racing ecosystem" and out to redefine the GameFi landscape. DeRace users can acquire special NFT horses, breed them, outfit them, and construct their own NFT hippodrome for holding competitions.
Horse racing, in contrast to other sports, is plagued by corruption scandals and a lack of digitalization, a problem that DeRace hopes to address.
DeRace suggests an entirely fair and transparent tailored gaming experience. Through their ownership of distinctive NFT horses, players are encouraged to grab the reins of the process rather than being limited to being merely onlookers.
Exchange: DERC is currently trading live on MEXC, Bitget, KuCoin, Crypto.com Exchange, and BKEX with a 24-hour trading volume of $3,585,535.
Battle World Price (BWO)
Unit Price: $0.3372
Market Cap: $29,561,688
Distinct Features: Battle World offers a fairly dynamic core gameplay loop in which the player always starts on the same battlefield, hunts for weapons, engages in combat with other players, and then moves to the safe zone. 
Battle World is a Gamefi battle royale Metaverse project built on the Polygon network. The players are put into landscapes themed after well-known cities and sites worldwide, where they must fight other players and loot their way to the top of the leaderboard. 

According to details from the website, Each game is unique from the last, giving the game limitless replay potential. 
A range of weapons, simple-to-learn shooting techniques, and the thrill of living until the end, with endearing and relatable characters, all contribute to the game's main gameplay loop.
Exchange: BWO is currently trading live on Huobi Global with a 24-hour trading volume of $619,179.
Disclosure: This is not trading or investment advice. Always do your research before buying any cryptocurrency or investing in any services.
Follow us on Twitter @nulltxnews to stay updated with the latest Crypto, NFT, AI, Cybersecurity, Distributed Computing, and Metaverse news!
Image Source: galitskaya/123RF // Image Effects by Colorcinch