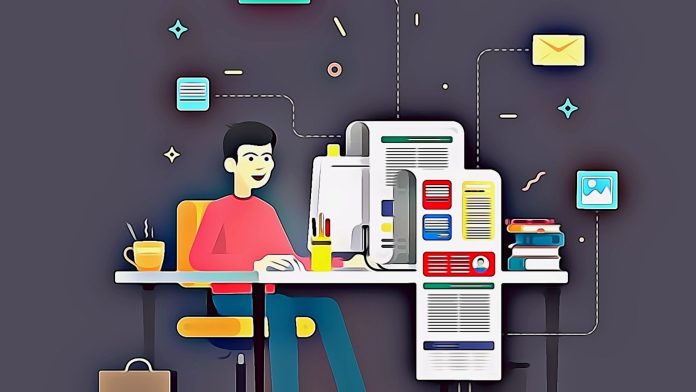 Content Creation Tokens are tokens that recognize the work creators put into a system such as social media and seeks to compensate them for their contribution. Content Creation Tokens have a growing total market capitalization of $9,990,872,311 and a total trading volume of $1,133,216,396.
Note: The tokens are ordered by their market capitalization from lowest to highest
Kin (KIN)
Unit Price: $0.00001196
Market Cap: $23,357,505
Distinct Features: The Kin Pays Engine (KRE) is an incentive-based revenue model that rewards developers for building engaging cryptocurrency-based experiences that add value to Kin.
With a built-in incentive model that compensates developers for higher usage, Kin is a decentralized cryptocurrency created to connect effortlessly across Mobile and Web Apps. 
Applications created using Kin are compensated for delivering engaging cryptocurrency-based user experiences, where higher user engagement generates benefits for both users and developers.
The Kin ecosystem has distributed over $70M in incentives to over 60+ apps since its creation, and it currently claims 60+ million wallets.
Exchange: KIN is currently trading live on Bitrue, XT.COM, MEXC, CoinTiger, and Bitget with a 24-hour trading volume of $428,759.
Steem Dollars (SBD)
Unit Price: $2.38
Market Cap: $27,810,647
Distinct Features: With the help of Steem, business owners can create apps and monetize content to develop and expand their own social media communities on the blockchain.
Steem is a social blockchain that strengthens communities and enables users to immediately earn money by rewarding them for sharing content. It's the only blockchain available right now that can power actual applications through social platforms like Steemit.
User-created content produced billions of dollars for social media network shareholders. In contrast, the content creators get nothing.
By flipping the model, Steem gives value back to those who contribute the most. Users take on the role of platform owners, keeping ownership of their data and collecting cryptocurrency rewards for each donation. The website confirms over $59,595,935 in Rewards have been paid out to Steem users since June.
Exchange: SBD is currently trading live on HitBTC, Upbit, Bittrex, and PancakeSwap. with a 24-hour trading volume of $1,602,703.
Mask Network (MASK)
Unit Price: $1.10
Market Cap: $32,094,844
Distinct Features: Mask Network brings privacy and benefits from Web3 to social media like Facebook & Twitter – with an open-sourced browser extension
Users of the Mask Network protocol can transmit secure communications over Twitter and Facebook. In essence, it is a link between a decentralized network running on top of the internet.
Mask Network was initially introduced in July 2019 allowing Facebook and Twitter users to encrypt postings on social media platforms. Currently, Mask Network stimulates users to contribute to Gitcoin grant campaigns from Twitter directly. It also has plans to introduce peer-to-peer payments and decentralized storage features.
It is a decentralized portal that facilitates users to use DApps such as crypto payments, decentralized finance, decentralized storage, e-commerce (digital goods/NFTs), and decentralized organizations (DAO) over the top of current social networks without migrating, creating what is known as a decentralized Applet (DApplet) ecosystem.
Exchange: MASK is currently trading live on Binance, BTCEX, Bitrue, OKX, and XT.COM with a 24-hour trading volume of $8,941,315.
StreamCoin (STRM)
Unit Price: $0.02499
Market Cap: $35,192,221
Distinct Features: MeiTalk is the first live-streaming network to use STRM to pay out streamers and viewers. The Stream NFT Marketplace maintains users' complete content ownership while integrating multi-streaming to over 50 platforms.

Viewers and streamers are directly connected by the

StreamCoin blockchain

. Users and streamers can make and receive donations using blockchain technology without worrying about paying exorbitant third-party transaction fees or poor speed. 
MeiTalk aims to give streamers greater pay because live streaming has restrictions, including platform costs, earnings, and profits.
It also has a native cryptocurrency, StreamCoin (STRM), which fuels MeiTalk's fundamental features and ecosystem because it is blockchain-powered.
According to the whitepaper, MeiTalk will enable Viewers from all over the world to:
Search and view all current and trending live streams from different platforms.
Comment and engage with live streamers from their preferred streaming platform.
Earn StreamCoin (STRM) by watching ads on the MeiTalk platform.
Reward StreamCoin (STRM) to their favorite live streamers.
Exchange: STRM is currently trading live on BTCEX, Bitrue, XT.COM, MEXC, and AAX with a 24-hour trading volume of $3,879,662
MovieBloc Price (MBL)
Unit Price: $0.003395
Market Cap: $49,031,832 
Distinct Features: In the long run, MovieBloc wants to build the most extensive participant-driven film ecosystem.
MovieBloc is the platform for distributing movies and other content. The reverse ICO project MovieBloc is sponsored by the South Korean video streaming service Pandora.tv. 

MovieBloc aims to employ blockchain technology to address issues brought on by the monopolization of the theater and home entertainment industries by corporations.
The viewers will have access to various films and content and will get compensated for providing curation, subtitles, and marketing materials to the community. The creators will receive a transparent revenue share, audience data, and equal screening opportunities.
Exchange: MBL is currently trading live on Binance, MEXC, KuCoin, Crypto.com Exchange, and Gate.io with a 24-hour trading volume of $10,969,700.
Disclosure: This is not trading or investment advice. Always do your research before buying any cryptocurrency or investing in any services.
Follow us on Twitter @nulltxnews to stay updated with the latest Crypto, NFT, AI, Cybersecurity, Distributed Computing, and Metaverse news!
Image Source: goodgraphic/123RF // Image Effects by Colorcinch