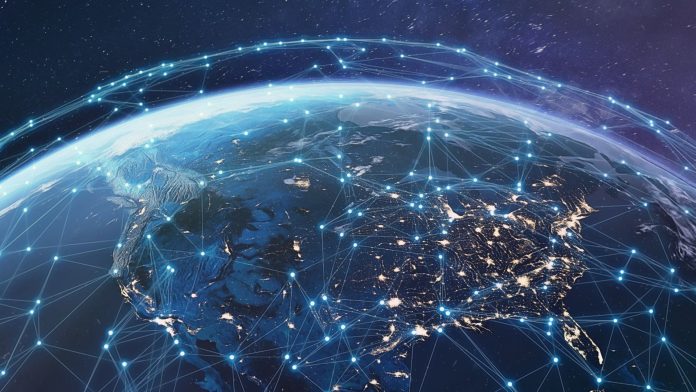 The Internet of Things defines physical objects that are equipped with sensors, processing power, and other technologies. It aims to exchange data with other systems over the Internet. It's one of the fastest growing industries judging from how much funds are being poured into the system, together with many projects building on it.
The IoT ecosystem has a growing total market capitalization of around $4,605,084,710 and a total trading volume of about $167,948,095.
Let's examine the Top 5 IoT Cryptocurrency Tokens below $10 million market capitalization worth adding to your portfolio in August 2022. 
Note: This List is ordered by their market capitalization from lowest to highest.
INT (INT)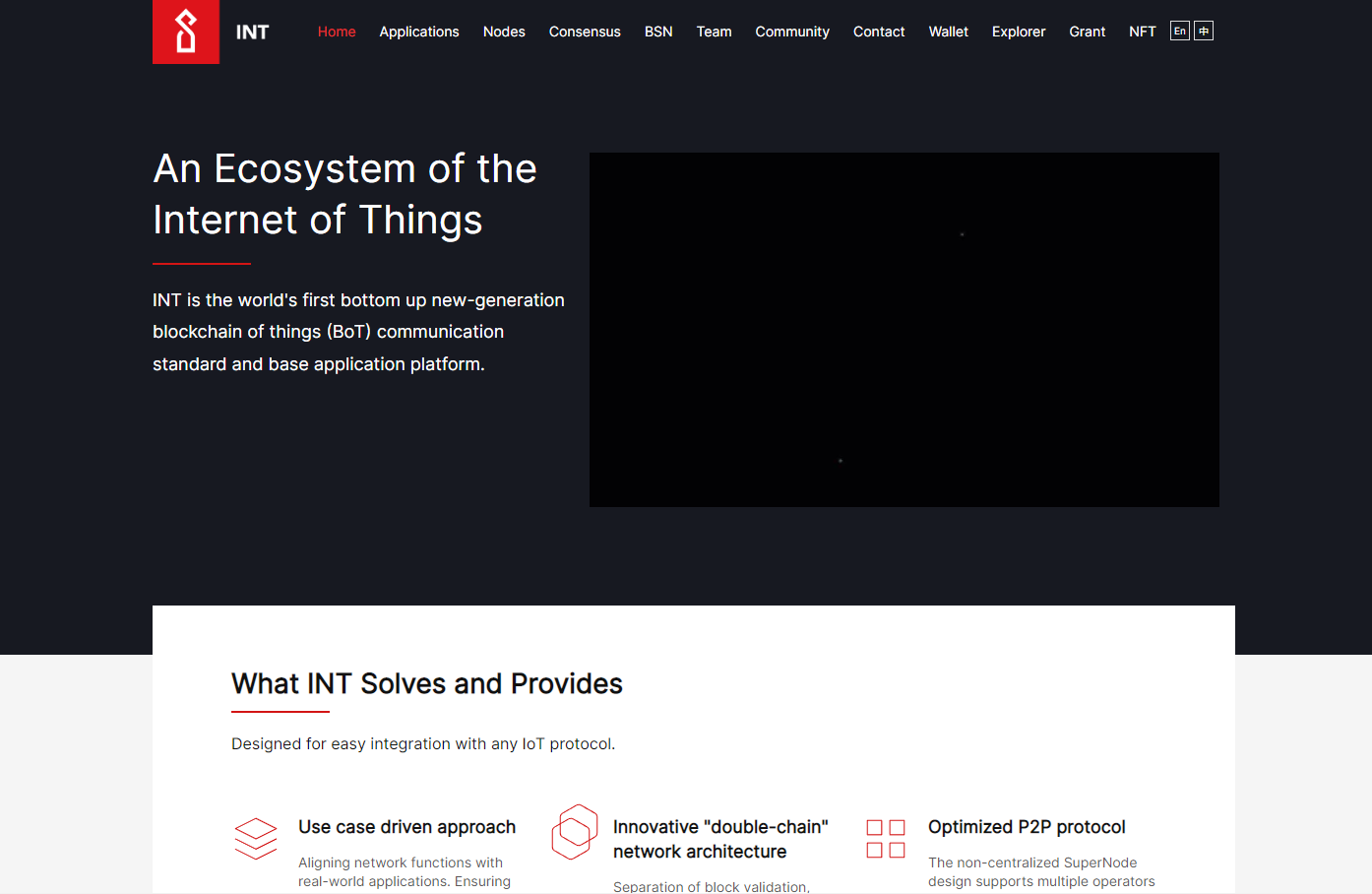 Unit Price: $0.003491
Market Cap: $1,698,867
Distinct Features: The team behind the project targets building an infrastructure with zero-knowledge proofs to increase users' privacy and achieve security.
According to INT, it is a bottom-up blockchain of things (BoT) that will serve as an IoT communication standard, a base application platform, and a DeFi ecosystem. It is also explicitly made to integrate quickly with any IoT protocol.
It describes itself as the Ecosystem of the Internet Of Things (IoT). INT provides for easy integration with any IoT protocol:
Use case-driven approach:

Connecting network operations to practical applications, ensuring that the architecture of the INT public chain evolves to accommodate new and existing IoT application scenarios.

Innovative "double-chain" network architecture: Involves separating

 block validation, consensus, and transactions between the main chain and subchains to achieve better efficiency.

Developer-friendly smart contracts:

INT is developer-friendly

,

INT enables the development of smart contracts in multiple languages and is EVM and WASM compatible. DAPP on INT can be developed for a very low cost using existing techniques.

Leading application development framework:

INT provides integrated and optimized SDN, blockchain, and fog computing technologies that follow the "cycle progressive application" model. These application development methods are employed by INT while implementing applications for its partners.
Exchange: 
Some top cryptocurrency exchanges for trading INT are OKX and PancakeSwap (V2), with a 24-hour trading volume of $996,826.
Geeq (GEEQ)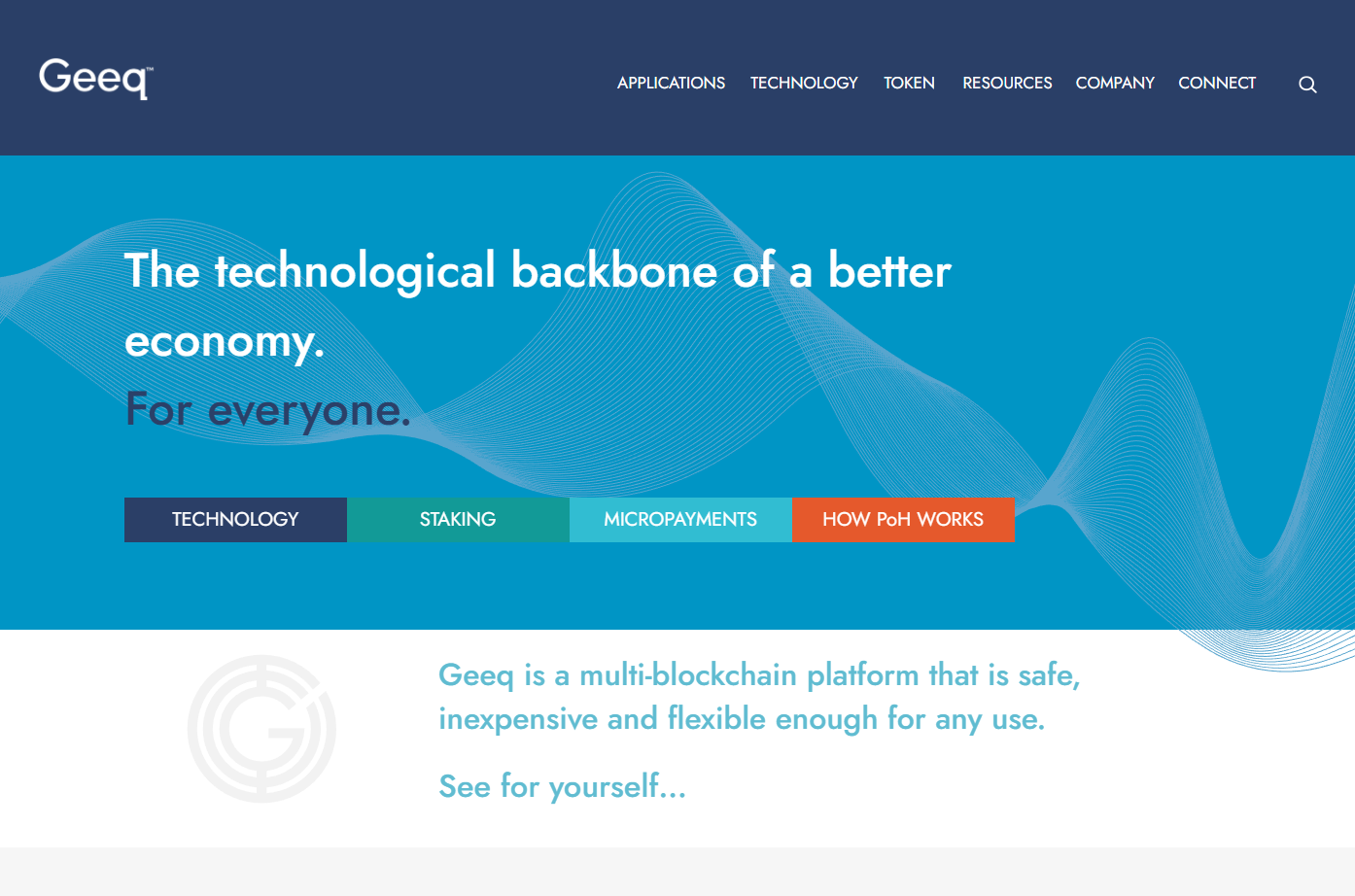 Unit Price: $0.1543
Market Cap: $4,109,871
Distinct Features: Geeq is a multi-blockchain platform that is safe, inexpensive, and flexible enough for any use.
Any blockchain-powered application can run on Geeq's decentralized platform, providing you with all the room you need. Unlike older blockchain technology, there is no "main chain" bottlenecks or shared overheads.
Because each application is supported by its blockchain, businesses, independent developers, and organizations can concentrate on what they want from their applications.
Geeq Chain – POWERING THE SYSTEM
Geeq Chain is a blockchain infrastructure that is incredibly safe, user-friendly, and prepared for the future.
Geeq Pay – PAY AND GET PAID
Geeq Pay is a blockchain-based payment system that offers radically affordable digital payments of all sizes.
Geeq Data – SAFE FOR ALL TIME
Geeq Data provides the precise specifications for adoption: light, unbiased, consistent records of genuine transactions.
The Geeq protocol offers a durable, quantum-ready validation layer that is very secure and upgradeable.

Geeq was created as an ecosystem of custom, decentralized networks to address particular use cases. Geeq may be your solution if you need to exchange cash, monitor devices, or securely store data.
Exchange:
Some top cryptocurrency exchanges for trading Geeq are KuCoin, Hotbit, AscendEX (BitMax), Uniswap (V2), and Bilaxy, with a 24-hour trading volume of $569,216.
Robonomics.network (XRT)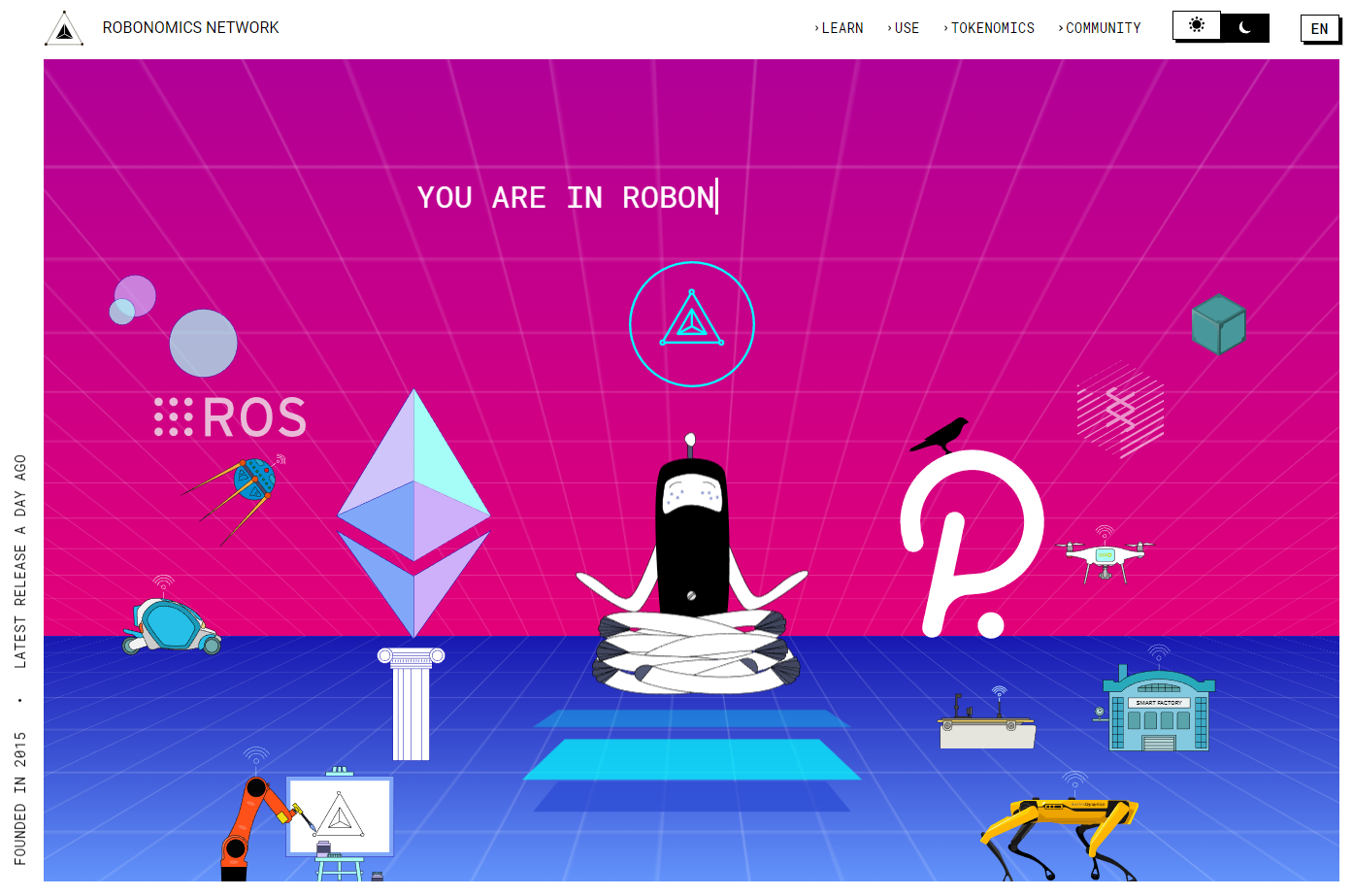 Unit Price: $4.66
Market Cap: $4,297,296
Distinct Features: By establishing a market for robot liability contracts, the Airalab Robonomics Network intends to launch direct robot-to-robot and robot-to-human communication access fully.
Robonomics is an open-source platform for IoT applications that enables the exchange of technical and economic information in the form of atomic transactions between user applications, IoT services, and complex robotics.
XRT is the utility token, making it possible to control IoT devices on top of the Ethereum network and the Robonomics parachain.
Robonomics seeks to provide the Internet of Things market with safer and more sophisticated Internet solutions at every stage of human-machine connection.
The following are the primary objectives for which Robonomics is being created:
IOT DEVICE MANAGEMENT WITH A DECENTRALIZED CLOUD:

When adopting a permissionless blockchain, we can be sure that providers are available everywhere and that the digital twin is well-protected from unauthorized changes.

TECHNO-ECONOMIC TRANSACTIONS BETWEEN HUMANS AND MACHINES:

If the payment and terms of service are inextricably linked to the launch parameters of the device, the applications developed today to connect the end user, and IoT devices will be much more effective.

SERVERLESS IOT APPLICATIONS FOR USERS:

To obtain telemetry and control the device, there is no requirement for authentication or a connection to any particular server.
Exchange:
$XRT has a 24-hour trading volume of $268,367 and is currently traded on exchanges like Huobi Global, Kraken, Jubi, Uniswap (V2), and Bancor Network.

0Chain (ZCN)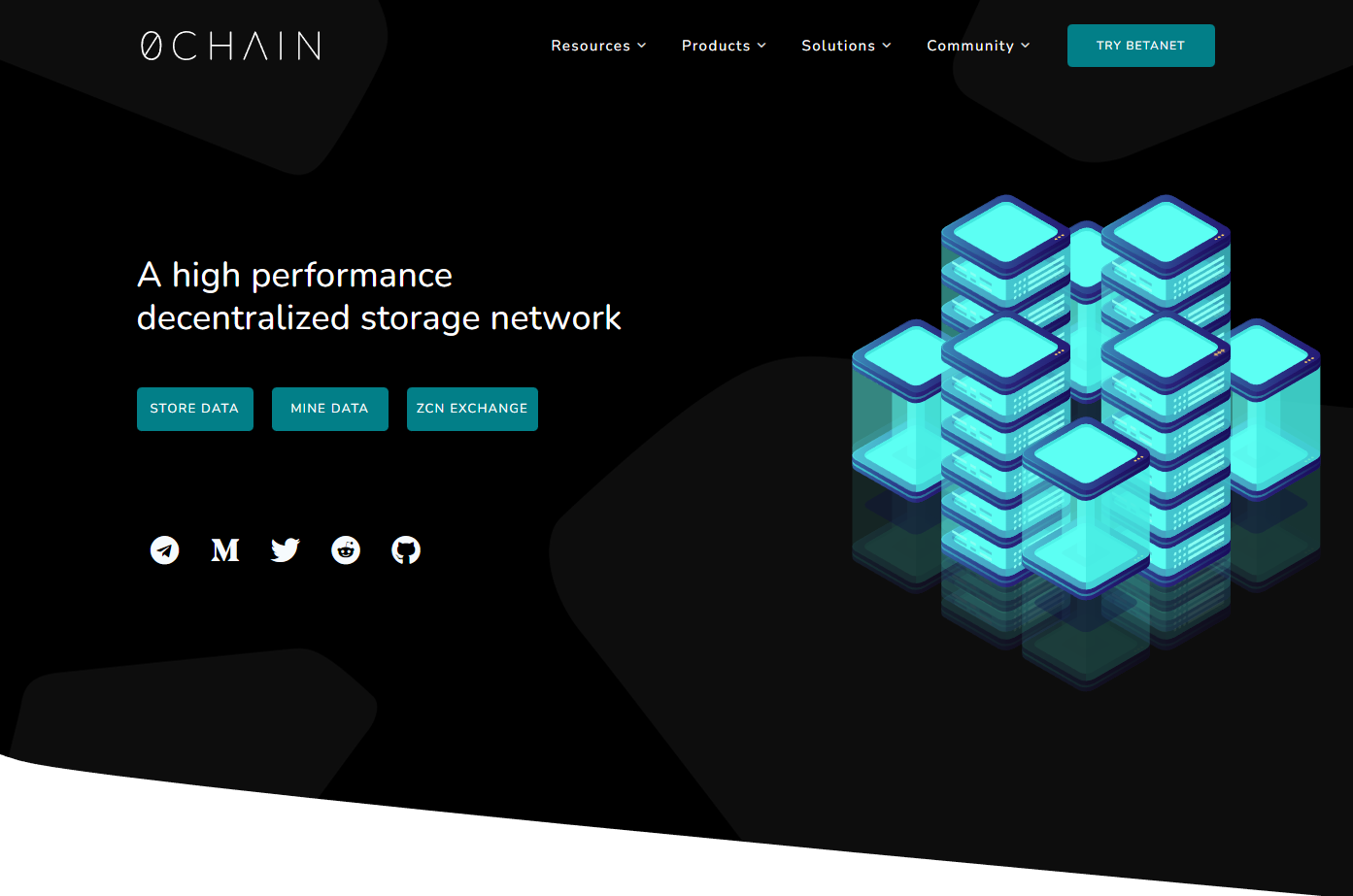 Unit Price: $0.1603
Market Cap: $7,786,881 
Distinct Features: 0Chain solves one of the blockchains' most significant issues, scalability, through storing data off-chain, which handles congestion issues in the system. It also separates this data storage from the tasks of reaching a consensus and forming block storage.
Launched in July 2017, 0Chain is a decentralized storage system with the goal of delivering data privacy, protection, and even private sharing. 0Chain is designed to provide organizations with zero-risk assistance in achieving GDRP and CCPA compliance and transparency.
Because it provides a single source of truth for documents and a better method to protect data with excellent performance and minimal risk, developers and corporations are its primary clients.
Numerous cryptocurrencies, including Bitcoin, use the energy-intensive classical proof-of-work consensus. Due to the high cost of the operation and the need for specialized equipment to mine effectively, mining centers tend to cluster. However, by adopting a proof-of-stake consensus mechanism to establish consensus and mine blocks, 0Chain solves this issue.
Exchange: 
$ZCN has a 24-hour trading volume of $20,957.84, and it's trading live on these top cryptocurrency exchanges: Gate.io, Bitfinex, Uniswap (V2), and Bancor Network.
Ambrosus (AMB)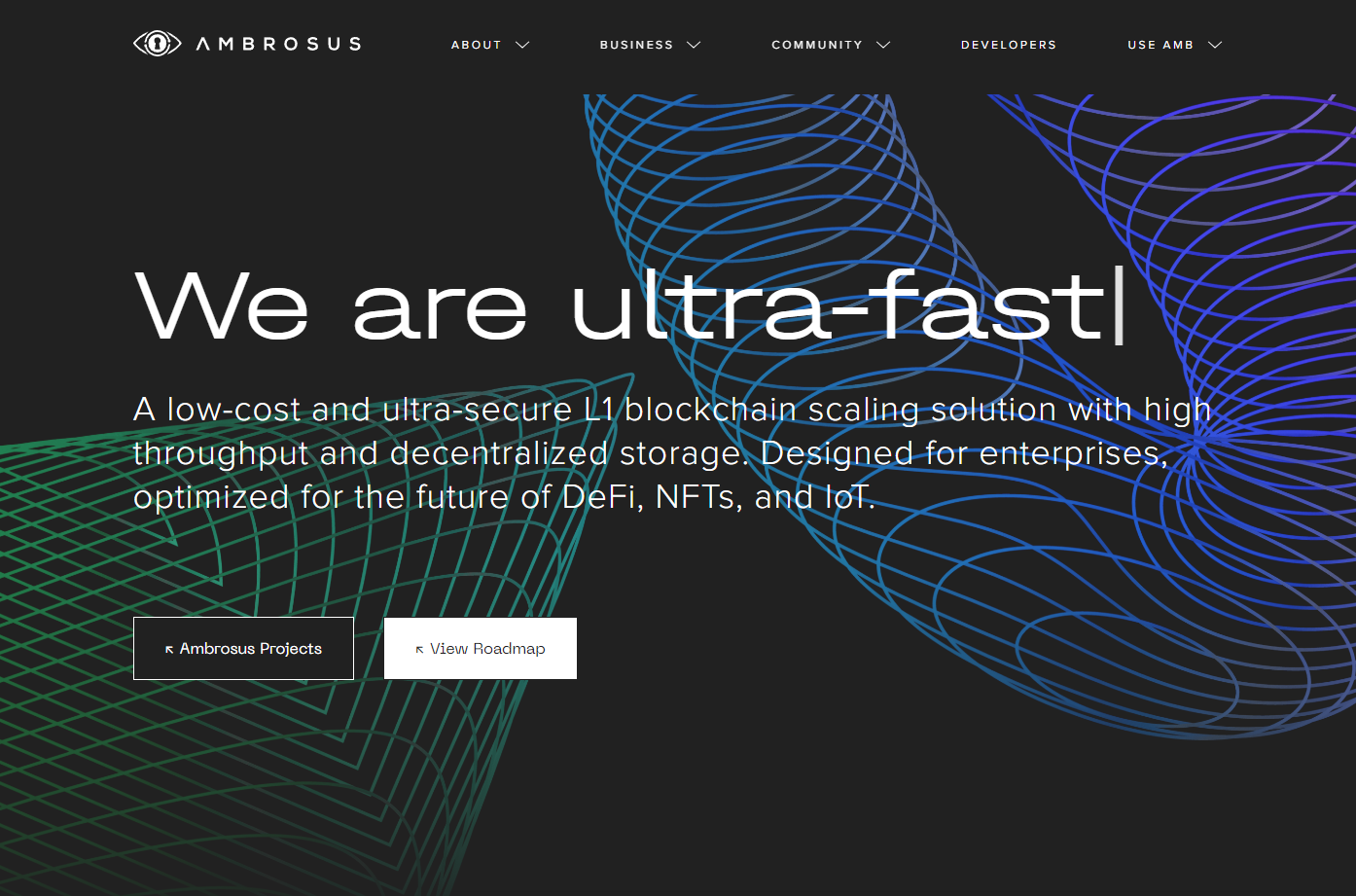 Unit Price: $0.01041
Market Cap:  $8,665,442
Distinct Features: The Ambrosus Ecosystem gives entrepreneurs, businesses, and industries a framework to store and distribute data securely and practically by fusing blockchain with the Internet of things (IoT).
Ambrosus is a blockchain-based ecosystem that handles the industrial sector's sensing devices, supply chains, and smart cities.
Ambrosus seeks to drive secure, transparent and integrated data management throughout the global economy's industries. It's self-described as a low-cost and ultra-secure L1 blockchain scaling solution with high throughput and decentralized storage. It's mainly made for enterprises optimized for the future of DeFi, NFTs, and IoT.
According to information from the website, its large ecosystem is governed by over 700 nodes, scaling the network and offering decentralization much more robust than other layer-1 blockchains.
Ambrosus is pushing with the deployment of their bridges to ETH and BNB Chain, DEX, DAO, and other platforms, thereby establishing Ambrosus as a prominent participant in the DeFi space.
Exchange:

$AMB has a 24-hour trading volume of $904,148, and it's currently trading on top cryptocurrency exchanges like Binance, KuCoin, HitBTC, ProBit Global, and Mercatox.
Disclosure: This is not trading or investment advice. Always do your research before buying any cryptocurrency or investing in any services.
Follow us on Twitter @nulltxnews to stay updated with the latest Crypto, NFT, AI, Cybersecurity, Distributed Computing, and Metaverse news!
Image Source: nicoelnino/123RF // Image Effects by Colorcinch