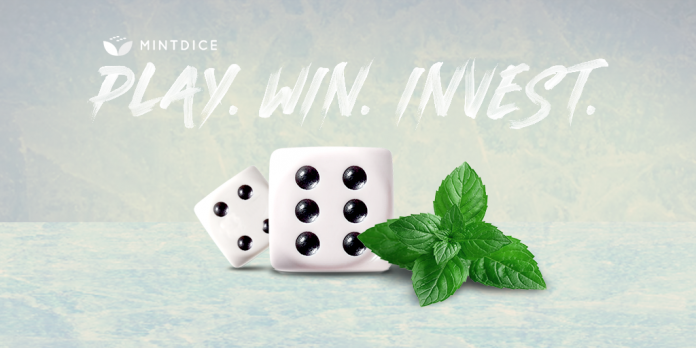 Bitcoin casino MintDice is the latest iteration of fast-paced cryptocurrency casinos delivering a new concept of fair gaming via blockchain-enabled provably fair betting algorithms. MintDice delivers unique opportunities to be utilized by both player and casino by tapping into the intrinsic feature of blockchain technology. MintDice will ensure a transparent and trustless ecosystem where players are not taken advantage of. 
As a thorough-put solution to trust issues within casino systems, MintDice is set to build solid trust between gamers and crypto casinos, by allowing players to review their bets, and know they are playing on reliable casino each time they play on Online Slots, Plinko or the upcoming PowerMint Bitcoin Lottery Jackpot.
Investing in a Casino
The platform is also set to offer unique investment opportunities for players to leverage. These offers on MintDice are risk-free methods of generating passive steady income, thanks to the confidence of the operators willing to guarantee returns on investment. The first option is the MintDice Masternode/Staking investment mechanism that enables cheap investment opportunities in shared Masternode pools where users will receive profits based on their investment size and staking proportion.
Following the Masternode/Staking investment mechanism is another technique called "Be the Bank". This is also a zero-risk investment that allows users to receive a share of 15% of each wager placed on the casino. User profit will be calculated on how much they hold on MintDice. Both Masternode/Staking, and Be the Bank are designed to provide risk-free income opportunities with guaranteed returns for MintDice users. 
On a Mission of Democratic Gaming
MintDice is set to become the flag bearer of transparency in crypto-casino with unique and simple interface design for everyone regardless of their level of experience in casino games. MintDice will act as a risk mitigator, offering adequate protection for the casino against unlikely but possible series of massive losses, while players can enjoy MintDice cryptocurrency bankroll and winnings on the platform. 
MintDice cryptocurrency bankroll will support a crowdfunding approach to enable users to place larger wagers which would not be possible with self-funded bankrolls. This strategy will increase the size of pot for players playing in the pool. 
As part of efforts to develop unique and value-added services, several features such as a a rewards program, and social games touted as "brand new/first to market" will be released by the end of 2019.
MintDice CEO, Bryce stated;
"We are relatively new to the scene in what seems like a somewhat sleepy market but we are slowly gaining interest that is fairly apparent on our backend sheets and trust in the community."
MintDice the Next Evolution for Dice
MintDice already has major features and services and many more surprises in the pipeline. Visit MintDice website here and help yourself to free crypto with their Bitcoin faucets!
Disclosure: This is a sponsored article