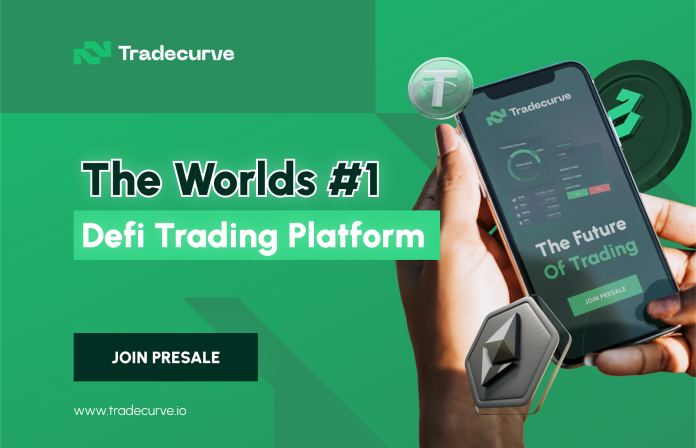 Those looking to start trading may consider the Plus500 trading platform the perfect pick. However, one up-and-coming platform has taken over the limelight recently, with some experts even predicting it may rival the already-established Plus500. This platform currently in Stage 2 of its presale is Tradecurve (TCRV) which aims to become one of the top 3 global trading platforms, surpassing the likes of Huobi and Robinhood. Let's find out what both of these platforms have to offer. 
Plus500 vs. Tradecurve – Sign-up KYC
There are several things to think about before joining up for an exchange. The KYC criteria are crucial since they might affect how soon you can begin trading and when you can gain exposure to particular services. On Plus500, you will need to undergo a sign-up KYC check. With more than ten questions, this procedure is lengthy and tests users' understanding of CFD trading, which may be tedious for some traders.
Tradecurve will require no KYC checks, allowing traders to create an account with just an email. On this platform, users can trade derivatives in complete anonymity, which has been a feature other exchanges shy away from. Moreover, Tradecurve users can begin trading immediately by connecting their crypto wallet to the account and making a deposit – quick and straightforward. 

Plus500 vs. Tradecurve – Range of offerings
Tradecurve and Plus500 provide a variety of trading-related goods and services to meet the demands of a broad spectrum of consumers. Plus500 offers over 2800 CFDs in many asset classes, including cryptocurrencies, foreign exchange, and commodities. Plus500 offers a maximum leverage of 300X; for retail forex users, the maximum leverage is 30X.
On the other hand, Tradecurve will allow the trade of all derivatives while using cryptocurrency as collateral. Moreover, Tradecurve will offer a higher leverage ratio of 500:1 and negative balance protection. This tips the scales favoring Tradecurve in the trading options area as it offers a higher leverage ratio and more assets to trade. 
Plus500 vs. Tradecurve – Social trading 
Another critical difference between Tradecurve and Plus500 is the fact that Plus500 does not have any social trading features. This eliminates any sense of community among users and may not suit those beginning their trading journey.
In comparison, Tradecurve will offer a copy trading feature allowing beginner traders to copy what other individuals are doing for a subscription fee. With copy trading, users can create their communities where everyone may replicate what others are doing and generate profits socially. Because of this feature, Tradecurve is the clear winner in social trading.

Final Verdict
When it comes to picking between Tradecurve or Plus500, we believe that Tradecurve may provide a more technologically superior service as this hybrid DEX combines the best aspects of CEXs and brings something new to the table – the ability to trade all derivatives on one account that requires no sign-up KYC checks.
The Tradecurve platform will be fueled by its utility token, TCRV, which can now be bought for a presale price of just $0.012. Experts are bullish about this presale and its growth potential, with some even forecasting a 50x increase during its presale and a 100x one when it gets listed on Uniswap following its launch. With the potential to become a future blue-chip token, now would be a fantastic opportunity to purchase TCRV for an affordable price.
For more information about the Tradecurve presale:
Click Here To Buy TCRV Presale Tokens
Join Our Community on Telegram
Disclosure: This is a sponsored press release. Please do your research before buying any cryptocurrency or investing in any projects. Read the full disclosure here.