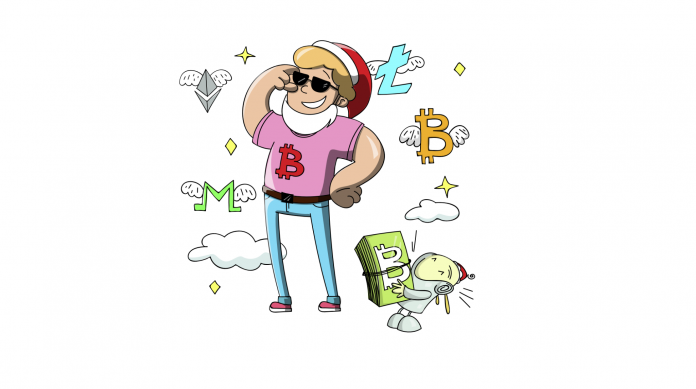 Cryptocurrency trading is often considered to be a very time-consuming effort. While some people don't mind starting at charts for hours on end, others prefer more automated solutions. TradeSanta, a provider of cloud trading cryptocurrency services, aims to make this process as simple and accessible as possible.
The TradeSanta Concept and Functionality
Trading bots and similar solutions have become increasingly popular in the cryptocurrency industry over the past few years. A lot of people demand exposure to Bitcoin and altcoins, preferably through automated solutions. The TradeSanta team acknowledges there is a demand for such services, which is why they provide cryptocurrency cloud trading software free of charge.
In doing so, the company offers a service most cryptocurrency traders have been looking for. This platform allows users to create or use existing bots to trade on their behalf by using specific technical indicators or patterns. It is a straightforward solution which is of great value to both novice and advanced traders.
The main bread-and-butter of TradeSanta comes in the form of its automated trading solution. Users can rely on a manual strategy and allow the platform to execute this model on a 24/7 basis. It takes away all the stress associated with cryptocurrency trading. More importantly, this approach makes the platform more accessible and appealing.
Supported Exchanges for Automated Trading
Giving users access to their favorite cryptocurrency trading platforms is a strong suit of TradeSanta It is currently possible to connect API keys for Binance, Bittrex, HitBTC, and Bitfinex. All of these platforms provide users with exposure to most of the top currencies and major altcoins. Other exchanges will be added over time, as the website mentions upcoming support for Huobi, OKEx, and BitMEX. This further confirms the company is looking to increase the appeal of its trading platform.
Very User-Friendly
When accessing the platform for the first time, users will be greeted with a very intuitive user interface. Navigating through the menus is straightforward and easy. Everything one needs to begin trading is within reach, regardless of how acquainted one is with cryptocurrency trading in general. The platform does not require personal information to create an account, except for a valid email address.
Technical Indicators to Build a Strategy
TradeSanta users can use up to three different filters to build their own trading strategies. The Bollinger signal, Volume filter, and Daily filter will all provide key insights as to how individual markets are moving at any given time. Combined with the option to go both long or short on a market, there are many different ways to successfully make money by trading cryptocurrencies.
Using the TradeSanta Bot Service
To begin trading cryptocurrencies through TradeSanta, users need to create their own trading bot. This is done through the appropriate menu tab. All options are customizable, including the name, preferred trading pairs, and the trading strategy one wants to pursue. It is also crucial to determine one's profit level and how much of one's exchange balance will be used for this trading strategy.
Once the bot is created, it will buy coins on behalf of the user and execute the chosen long or short strategy. As an extra feature, users can explore the "Extra Order" which triggers every time the market moves in the opposite direction of the user's strategy. The bot will ensure users buy their coin of choice at lower prices accordingly.
Last but not least, there is the Smart Order option. This is crucial for TradeSanta users looking to buy or sell large amounts of crypto at a specific price. More specifically, this tool will not affect the market as a whole, which in turns keeps price fluctuations in check. One big order is split into several smaller parts which are automatically put at the top of the exchange's order book. This feature is currently only available to Binance users.
Users Remain in Control of Funds
It is crucial to point out TradeSanta will never modify users' funds on their behalf. All the bots can do is perform trading on one's behalf, but they are not able to deposit or withdraw funds. There is no extra risk involved in using this service, as the user remains in control of their exchange balance at all times.
The Growing Telegram Community
Determining the popularity of a cryptocurrency trading service provider can be done in many different ways. In the case of TradeSanta, it is evident the project is gaining a lot of attention on Telegram. As its Telegram community continues to grow, more and more people are willing to give this platform a try. Given how it is free to use and the core functionality being provided, there appears to be further growth on the horizon for this platform. The TradeSanta Telegram community is also a good place for newcomers who have questions or are simply looking for ways to optimize their trading strategies.