A lot of cryptocurrency traders have high expectations for the many different altcoin markets. It is certainly true some interesting trends have become apparent, albeit it remains to be seen how things will play out. As far as the Litecoin price is concerned, reaching $150 is not out of the question, but it might not necessarily happen right away.
The Litecoin Price Uptrend
Over the past few weeks, there has been a rather steep uptrend as far as the silver to Bitcoin's gold is concerned. Whereas it seemed as if the price would remain near the $70 level for some time to come, the market shot up rather quickly. Several weeks later, the Litecoin price sits at just under $130, which is nearly a 100% gain in just over a month. For speculators and traders, that is great news, but one always had to wonder if such a trend is sustainable.
LTC/USD Technical Analysis (Coinbase)
When looking at the daily chart for LTC/USD, one can clearly see the uptrend which is still going strong as of right now. There have been a few setbacks along the way. A drop from $95 to $88 occurred not too long ago, as did the minor dip from $113 to $104. Both of these brief corrections allowed the uptrend to resume without too many problems, albeit it seems another minor correction might be coming up. This is not uncommon in the cryptocurrency industry ahead of the weekend.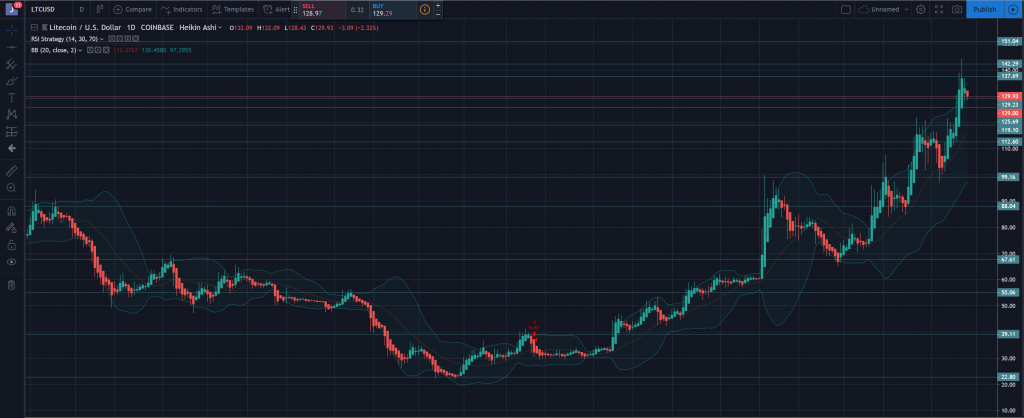 The bigger question is where the next key resistance levels will materialize. For now, it seems the next push could bring LTC to $137, after which it will face an uphill battle at $142 and $151. This means there are still some potential gains on the horizon, albeit much will depend on how steep the current correction will become. It seems unlikely any major drop will occur, but weekends tend to shake up cryptocurrency markets quite significantly.
In terms of finding support levels, Litecoin seems to have a decent buy volume just above $129 and $119. Further down the line, one has to look near the $112.6 and $99.16 levels. There are some pretty big gaps in between, albeit it seems unlikely any of the lower values will be reached as long as Bitcoin continues its strong trend. The coming weekend will be rather interesting for LTC/USD, by the look of things.
LTC/BTC Technical Analysis (Binance)
For those users who want to get in on the LTC/BTC action, the trend looks a bit different. As one would expect, the altcoin/Bitcoin markets are a lot more volatile. Litecoin has seen a strong dip to 0.0112 not that long ago, yet quickly bounced to 0.017 Bitcoin in the past few weeks. This is in line with how the LTC/USD chart above is performing.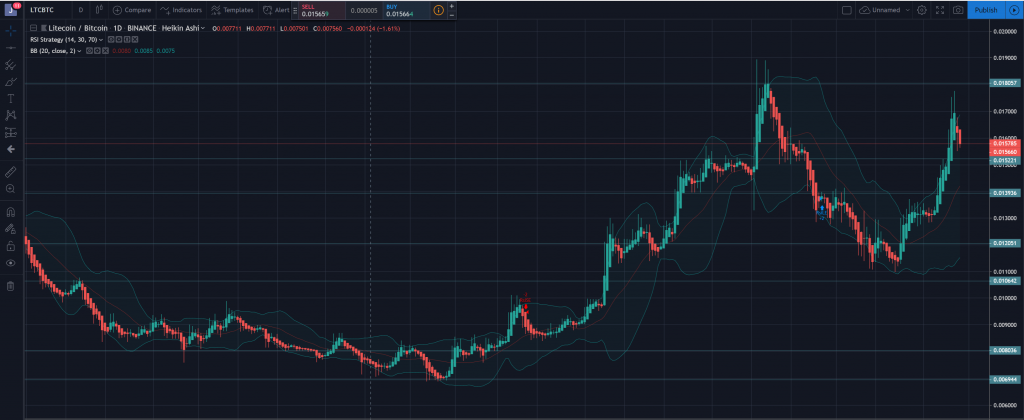 However, it appears there is a bit of a steeper correction going on in this regard. The ratio quickly dropped from 0.0165 BTC to 0.015787 BTC over the past few days. Given the strong Litecoin price uptrend of late, that is not entirely surprising. As the bearish candles are growing bigger, however, one has to wonder if a drop to 0.015221 Bitcoin will materialize over the weekend. Further support levels can be found at 0.013936 and 0.012051 Bitcoin.
In terms of pushing LTC/BTC higher, it remains to be seen if 0.018057 is even a viable target. It is far from impossible to reach, but the MACD is slowly turning around for this trading pair. That could indicate a strong sell-off will materialize, although these indicators are never as black-and-white as some may think. Considering how most altcoin markets are turning bearish in terms of BTC value, it is only normal Litecoin falls into the same category.
---
Disclaimer: This is not trading or investment advice. The above article is for entertainment and education purposes only. Please do your own research before purchasing or investing into any cryptocurrency or digital currency.
Image(s): Shutterstock.com