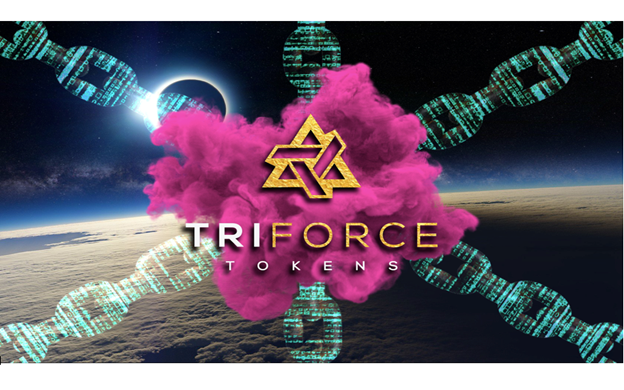 UK blockchain based startup TriForce Tokens has been hard at work, making their dream of disrupting the gaming industry a reality. In order to remove intermediary inefficiencies and costs, technological advancements have been in the works.
Current State
While the ecosystem is already experiencing growth regarding users and strategic partnerships, with successful launches of new games and more in the pipeline, at current rates, a bottleneck will be reached.
That's because despite however efficient, fast, or secure TriForce's network design is, they are still limited by Ethereum's limitations.
Since the TriForce Token team recognizes this impending issue, they have been steadily at work, developing their own blockchain ecosystem.
Future System
The future system starts with transferring over to the Lisk blockchain and forking their own chain off of Lisk. Lisk offers a higher transaction per second capability, as well as comparable speed and security to Ethereum.
A high TPS is especially crucial for TriForce Tokens as recording the numerous movements, trades, and other actions that gamers perform can quickly bring a network to a stall if there isn't enough network throughput.
To keep all these transactions economical, TriForce Tokens will charge zero gas, meaning all operations mentioned above will not incur an economical penalty for gamers.
JavaScript will also be implemented, one of the most commonly used languages. This allows talented developers to be more inclined to develop DApps or games on the blockchain without the barrier of having to learn a language.
Another significant update in the works is the implementation of Proof of Play (PoP) and Proof of Stake in combination for a unique hybrid consensus model that empowers the gaming community.
A testnet is expected at the beginning of 2019 with the above features, with mainnnet deployment expected sometime in the middle of next year. New gaming tokens will also be released, which will be swapped with the current ERC20 tokens at a 1:1 ratio.
About TriForce Tokens
Disrupting the gaming industry through blockchain, the decentralized gaming platform offers developers to connect directly with game players, creating a unique community where players can actually interact with the developers and discuss different aspects of games, such as new updates and releases. Through the direct contact of creator and consumer, the entire traditional distribution channels are eliminated, making games cheaper and having a higher retention rate.
TriForce Tokens has already released a number of PC and mobile games, including Eximius, a combination of FPS and RTS game that pitches 5 men teams against each other for domination.
The last phase of their token sale is in progress, with a price of $0.15 USD for 1 FORCE. The last stage carries weekly lowering bonuses, from 5 to 15 percent.
To visit the FORCE tokens website, click here. Those interested in reading the whitepaper to learn more about the project can do so here. To talk with the team as well as community members, hop into their Telegram channel here. Gamers can also communicate on their Discord server here. For social media updates, make sure to follow TriForce tokens on Twitter and Facebook.
---
This is a sponsored article and does not necessarily reflect the opinions or views held by any employees of NullTX. This is not investment, trading, or gambling advice. Always conduct your own independent research.
Image(s): Shutterstock.com